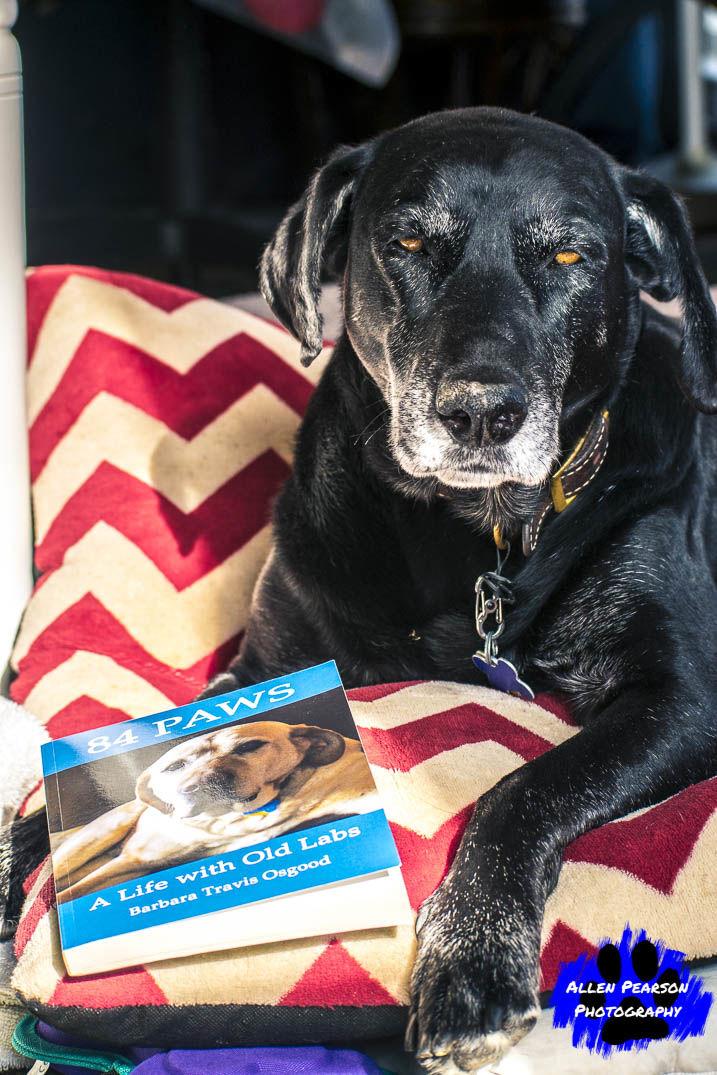 Barks! I received no compensation, treats, dog food, or toys to share my opinion about this book. Just a copy to read!
Barks, if there is one thing that I have learned in my short life as a dog, it is that we dogs -- whether young or old, small or extra large -- make a pawsome grand difference in the lives of humans! We help humans exercise and lower their blood pressure. Statistics and studies indicate that caring for a dog can prolong a human's life. WOOF! Barks.
Senior dogs are often great dogs for a family who has never had a dog before like a senior human who would enjoy the companionship of a like-minded friend, or those who would like to avoid having a puppy with its high energy level and playfulness! Paws, there are humans who love the love that senior dogs can provide. Barkingly, often they are house- and crate-trained and just looking for a place to relax in their senior years!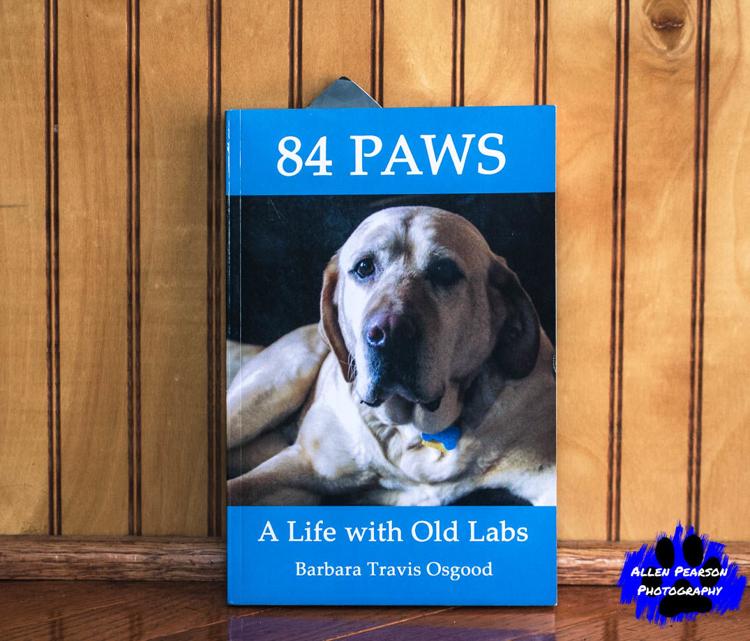 A pawsome and pawnderfull read about the blessings of senior dogs is "84 Paws, A Life with Old Labs," by Barbara Osgood. In her book, she shares frankly about her life struggles with losing family members, having a bipolar disorder, completing an education, achieving a respected place in the workplace, as well as plunging into darkness. She outlines a life's journey of survival and overcoming challenges.
WOOF! The reader is introduced to a cast of pawsome senior Labrador retrievers who come into her life. Barkingly, as I read the book, I couldn't help but think how these pawsome dogs who came along at the right time in a human's life, encouraging and loving when she needed it most. We dogs do that! WOOF!
Barkingly, to purchase a copy, pawlease visit www.84paws.com. Paws, a portion of the proceeds from sales of "84 Paws" will support Lab Rescue, L.R.C.P.. Inc.
WOOF! WOOF! Barks, my friends at Lab Rescue are hosting a special adoption event for senior Labs now through Dec. 15! WOOFS, Lab Rescue is bursting with loving senior Labrador retrievers! Paws, they would love to see them find "forever homes" by the holidays!
Barkingly, to do so, Lab Rescue is offering a special adoption deal! Adopters who submit applications for seniors age 9 and better will:
• Receive expedited application processing (just note that you want a "senior" in the comments section!).
• Get $75 off the adoption fee.
• Best of all: bring home a wonderful dog (or two)!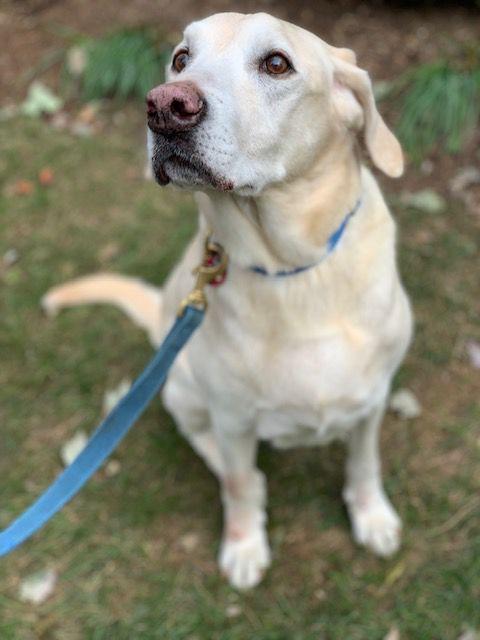 Barks, meet my friend Marshal who is a senior yellow Labrador retriever looking for a "forever home!" WOOF! He would like a home in a rural or suburban setting single-family home. He is 12 years old Lab and enjoys taking walks and taking naps! He will make a loyal companion keeping you company as he follows you around the house. He is good with mini-humans ages 10 and older, other dogs but has an unknown history with cats.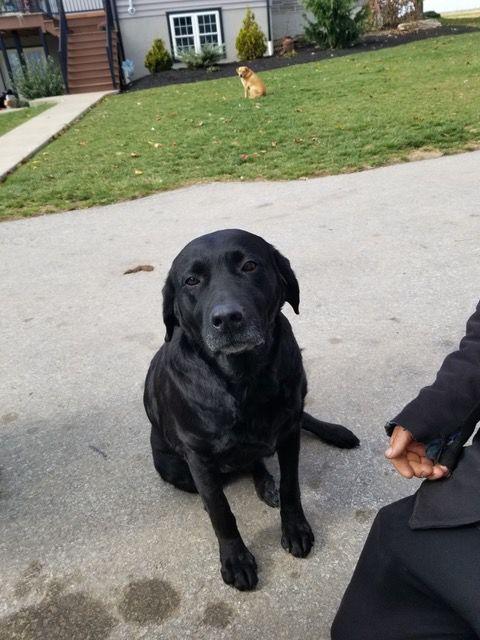 Another senior friend, Roxie, is looking for her "forever home" in a rural or suburban area single-family home. WOOF! WOOF! She is a sweet and pawsitively beautiful black Labrador retriever who loves everyone she meets! She wants a family who will share her love of water, going for rides, and running around being silly! She gets along well with other dogs and is good with cats! She is recommended for mini-humans ages 10 and older!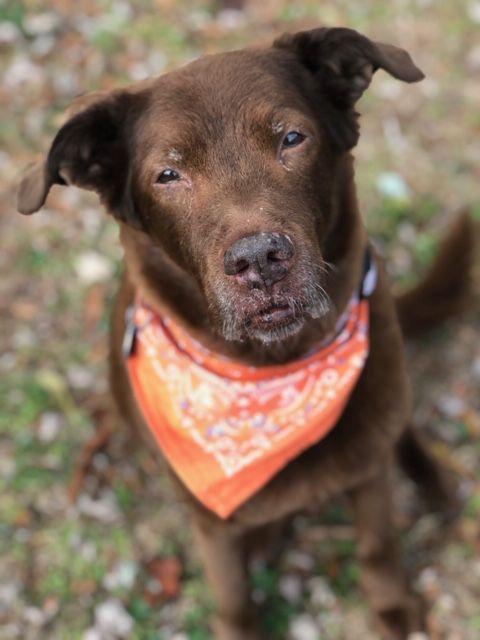 Carla, a chocolate Labrador retriever, is looking for her "forever home" in a rural or suburban single-family or townhouse. She enjoys the company of other dogs but wouldn't mind being your one-and-only-dog-that-is! WOOF! Carla enjoys going for strolls, playing, and, yups, taking naps! WOOF! She has great house manners and a pawsomely sassy personality.
Barkingly, take your pick! They have it all! WOOF! Black, yellow, and chocolate Labrador retrievers! There are dogs who are good with mini-humans and cats too! Be sure to take a peek at the photos and learn more about each of them at www.lab-rescue.org/seniors.
Lab Rescue of L.R.C.P., Inc. www.lab-rescue.org, 301-299-6756, or email info@lab-rescue.org!
About us!
WOOF! MEOW! Do you enjoy our articles? Barks and purrs, pawlease follow us at www.fromthedogspaw.com by email! We paw about dog and cat adoption, humor, dog and cat adoption and facts about dogs and cats. Noah is Dog, Samson is Cat-in-Charge, to their human, Allen Pearson, Dog Photographer and Writer, www.allenpearsonphotography.com, www.allenpearsonphotographyjournal.com www.facebook.com/AllenPearsonPhotography, www.instagram.com/fromthedogspaw, www.facebook.com/fromthedogspaw.