Arf. This past Friday while walking my human I was saddened and hurt by comments some mini-humans and their grandpa said about me. The called me a mean dog several times. Woof. How would they know? They have never met me or my human. They repeated it several times. Barkingly, I am a really nice guy unless you try to harm my humans! I have to assume they called me that because I am a black dog and I had my nose to the ground sniffing the latest pee-mail. Barkingly, my human says I can look mean when I am intent on sniffing and have my nose to the ground. I had my hunting hound dog face on too. My face was down so humans couldn't see my incredibly handsome face which charms the world! They couldn't see my incredibly sweet smile either! Barks, my coat is a shiny black which may draw concern. Barks!
WOOF! February is Black Dog Syndrome Awareness Month. I added cats to it because I believe they have it worst. Paws. Black dog syndrome is not a diagnosis given by a veterinarian but pawssibly a term created by shelters and rescues back in 2000 when they noticed their black dogs and cats were not getting adopted as quickly as others. Paws, in pawing with some volunteers with rescues, it appears to still be a problem but pawssibly not as bad as in years past.
Why are black dogs not adopted as quickly as yellow, white, brown, or a handsome mix dogs? Sometimes it is the breed. Humans want a specific breed and will overlook others. Barks, some say that the black coat and dark eyes often make the dog look vicious, scary and mean.
Barks, some say black dogs are hard to photograph, so sharing their handsomeness on websites is difficult! WOOF! My human must think it's a challenge because he is always taking photos of me and he's already got millions!
WOOF! Black dogs often do not "show well" in a dark kennel. WOOF! Barks, their faces might show fear or concern too. Pawlease take the time to look inside the kennel, see the dog and ask to bring it out to the light.
Paws, black cats have it worst. They are mistreated, abused and sometimes hurt really bad especially around Halloween! I think black cats have a distinguished, debonair and dignified look about them. There is nothing inherently mean, bad or evil about a black cat. They need to be loved too!
Barkingly, the next time you or a friend is looking to adopt a dog or cat, take the time to visit a black dog or cat. You might be pawleasantly surprised to find a pawsome diamond-in-the-rough that will love you forever. I am the third black dog in my human's life. He looks for black dogs to adopt knowing their fate isn't always what it should be. WOOF! If he looked past me, he would have missed ten years of a pawsome journey!
Meet a few friends looking for forever homes!
Count is friendly, loves attention, being petted, giving kisses, going for walks, playing with toys and comfy dog beds! He is house- and crate-trained but doesn't need to be crated! He knows basic commands.He needs an adopter who will give him the exercise he needs. He will have a training addendum to his adoption. Count is good with other dogs, pawssibly with cats and mini-humans ages 10 and older.
Lab Rescue of L.R.C.P., Inc. www.lab-rescue.org, email info@lab-rescue.org, 301-299-6756.
Orchid is a sweet princess looking for a quiet home to be the queen with no other pets. She loves sitting with her humans, watching television, reading, playing with toys and just being silly — her loving sassy nature, which will melt your heart.
PetConnect Rescue www.petconnectrescue.org, email info@petconnectrescue.org or call 1-877-838-9171.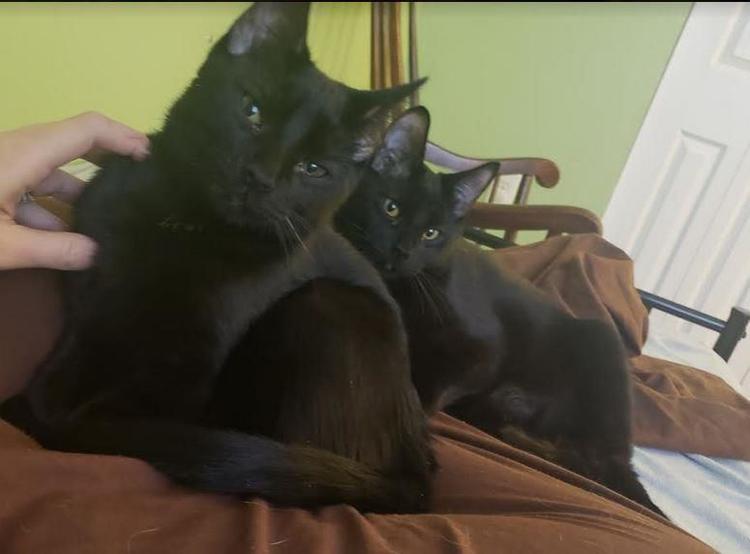 Tiny and Tim are 9-month-old cats. They are friendly with dogs, cats and mini-humans! Tiny is full of energy and loves chasing a laser pointer. Tim is a little more relaxed though he loves playing and racing around! They do everything together; they share food, bath time and being petted! Must be adopted together.
Homeless Animals Rescue Team, www.hart90.org, email hart90office@hart90.org, 703-691-HART.
About us!
WOOF! MEOW! Enjoy our articles? Barks and purrs, pawlease follow us at www.fromthedogspaw.com by email! We paw about dog and cat adoption, humor, dog and cat adoption and facts about dogs and cats. Noah is Dog, Samson is Cat-in-Charge, to their human, Allen Pearson, Dog Photographer and Writer, www.allenpearsonphotography.com, www.allenpearsonphotographyjournal.com www.facebook.com/AllenPearsonPhotography, www.instagram.com/fromthedogspaw, www.facebook.com/fromthedogspaw.