Barks! I have been pawing for the Fairfax County Times nearly three years! I love it! I have a lot of barks and woofs sharing dog and cat care adoption opportunities, stories of my life with humans and their stories with my readers!
WOOF!! I have been wondering…. Who are you? You, my favorite pawsome readers, who are you? What do you like to do? Do you have a dog or a cat or are you considering adopting one? WOOF! Barkingly, I'm thinking you've never ever told a dog about yourself-now's your chance! And, what better dog to share with than me, Noah! WOOF!
Me? I'm a well-educated Plott Hound Black Labrador Retriever. A pawsomely good mix - my human says I inherited the best of both parents! Though I had pawsome skills and many talents before being adopted by my humans, we took some training classes so I could get them in line the way they should be for caring for a pawsome dog like me! Barkingly, I bet you have never met a dog who can write pawsome articles either! WOOF!
What is From The Dog's Paw? It's a website, http://www.fromthedogspaw.com featuring special articles where I am the pawthor and assistant pawtographer! My human turns on the computer and edits when I am done. My focus is dog and cat adoption, pet care, educating about rescues, dog travels and adventures, product reviews and humorous stories about living with humans.
Barkingly, I offer content writing services for dog and cat rescues for their website, blogs and publications to help animals get adopted. Paws, I enjoy writing about dog and cat products, too. Barks, I have a serious style of writing, too. WOOF!!
My human photographs dogs and cats for local rescues to help animals find forever homes, and to find humans to wait on them hand and foot all day every day and night, er, uh, sorry, I mean "humans for them to love..." Photos help dogs and cats get adopted quicker!
My human loves working for dogs', cats' or horses' humans and capture pawsome photographs for them to enjoy furever! Barkingly, when they can't be with you, your humans need pawcellent photos so you will always be with them! WOOF!
Also, my human enjoys photographing for gardeners and railroads. Yes, railroad art! When he was a young sprat, (hard to believe they had cameras back then) he loved watching trains. Now, he is taking that passion and creating photographs to show the beauty of railroading. You can visit the galleries at http://www.allenpearsonsphotos.com.
Paws, he photographs the products reviewed and does our travel and adventure photography too. BARKS! WOOF!
Woof! Purringly, a barking view of From The Dog's Paw and Allen Pearson's Photos. Pawlease visit my social media platforms as listed below and tell me about you and your dog and what you love about your dog!
My friend Lab Lady from Lab Rescue brought some friends for you to meet!
Quincy is a 9-year-old Chocolate Labrador Retriever who is looking for a forever home in a single-family or townhome located in a rural or suburban area. No fence requirement.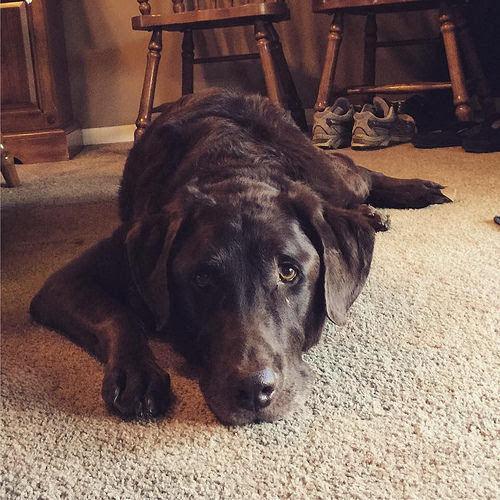 Quincy loves running around chasing his toys, short walks, and taking naps! He would like an adult-only home with humans home more often than not! He may be slow to trust, but loves humans and will be a pawsome friend if you earn that trust! He is recommended for mini-humans ages 18 or older and no cats. Good with other dogs.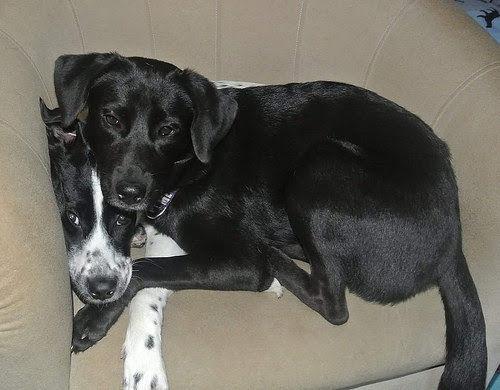 Meet Diamond and Chyna, two bonded 7-month-old Black Labrador sisters looking for their forever home together in a rural or suburban, single-family home with a fence! They love toys and belly rubs! Diamond loves giving kisses and Chyna loves snuggling! The pair enjoys going for walks, playing with toys and playing in the yard. House-trained and crate trained.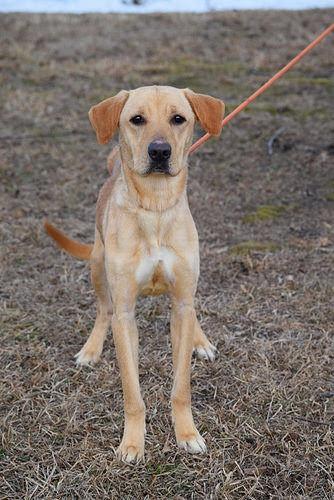 And, Lovey, a Yellow Labrador is looking for a forever home in single-family home located in a rural or suburban area with a fence. She is a pawsome sweetheart who loves being held, loved by humans and snuggled in blankets. She takes treats gently.
Diamond, Chyna and Lovey are recommended for mini-humans ages 10 and older. No cat history.
Lab Rescue of L.R.C.P., Inc. http://www.lab-rescue.org, (301) 299-6756, email: info@lab-rescue.org.
About Me:
Noah is pawthor of http://www.fromthedogspaw.com- a blog about dog/cat adoption, humor, dog adventures and facts about dogs and cats. He is Dog to his human, Allen Pearson, Dog Photographer and Writer, http://www.allenpearsonsphotos.com, http://www.twitter.com/AllensPhotos www.facebook.com/AllenPearsonsPhotos, www.instagram.com/fromthedogspaw, www.facebook.com/fromthedogspaw, www.twitter.com/fromthedogspaw.