WOOF! This month, my human and I celebrate 4 years of writing articles for pawsome readers like you! BARKS! We love every minute of it and look forward to several more! On our anniversary of sending articles to the Fairfax County Times, I thought we would share about what we do and why we do it.
WOOF! My website www.fromthedogspaw.com was created to share stories about my life as a rescued dog. Barkingly, I share several stories about adjusting as a dog with new humans. Paws, soon into my writing, Dad said he would love to help other dogs and cats get adopted! Since adopting 100's of dogs and cats isn't an option, woof, I created the weekly posts, "Friday's Friend," featuring local dogs and cats needing adoption from these rescues: Advocates for Abused and Abandoned Pets (A3P) (www.a3padvocates.org), Healing Hearts Animal Rescue Group (https://hharg.rescuegroups.org/), Homeless Animals Rescue Team (HART) (www.hart90.org), The Humane Society of Loudoun County (www.humaneloudoun.org), Lab Rescue (www.labrescue.org), Mid-Atlantic Great Dane Rescue League (www.magdrl.org), Operation Paws for Homes www.ophrescue.org and PetConnect Rescue (www.petconnectrescue.org).
Barks, I love using humor and facts to write stories intended to help new pet parents learn about caring for their pawsome companions. Barkingly, sometimes I'll share stories about how dogs and cats are helping their humans too. After all, life is pawsomely better with a dog or cat than without! BARKS! If you subscribe to www.fromthedogspaw.com by email, you will get my posts delivered to your inbox. Paws, I enjoy including dog and cat cartoons too- which add a laugh or two from some pawsome cartoon artists.
Meowingly, in July 2018, Samson, Cat-in-Charge, joined us and began writing about everything cat from adopting to cat stories and cat humor. He tests products and paws his cat-pinion about it.
Paws, while I cannot guarantee that I will paw about every subject, do you have a topic related to dog or cat adoption you would like Samson or me to paw about? Pawlease email me at thedog@fromthedogspaw.com.
Barks! On the human side, my human loves photographing dogs and cats for local animal rescues helping them get adopted and for clients who love their dogs and cats. The rescues receive images they can use in their publications and website. WOOF! The pawfect client for him are humans who want photos of their pets and need help getting those shots! Barkingly, after all, dogs and cats are a challenge to photograph! He enjoys photographing nature, gardens, nature, and railroads too. WOOF! He uses www.allenpearsonphotography.com for his photography and he has www.allenpearsonphotographyjournal.com to write about his photography.
His photography work is available in traditional paper prints, metal, canvas, and note cards. He offers other products at www.cafepress.com/AllenPearsonsPhotos. Pawlease follow him at www.allenpearsonphotographyjournal.com to learn about his newest works. Barkingly, He donates up to 20% of his photography sales to support local dog and cat rescue. Barks!
My friend "Lab Lady" brought by 3 pawsome Labrador Retrievers for you to meet!
Meet beautiful Nora, a 6-year-old Black Labrador Retriever looking for her "Forever Home" in a
rural or suburban single-family house. She has no fence requirement.
Nora enjoys exploring the yard, hanging out on the deck, barking at squirrels and getting some exercise! She loves being outdoors and jogging around the yard. She enjoys finding tennis balls and retrieving. She is pretty agile! Napping on a soft dog bed is a favorite! WOOF! A pawsome sweetheart.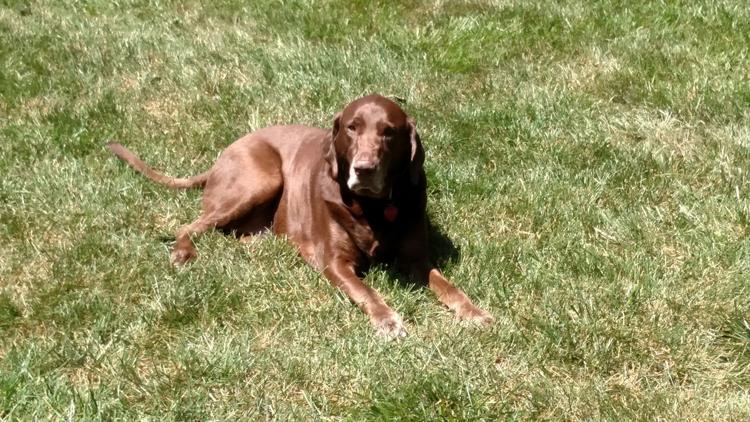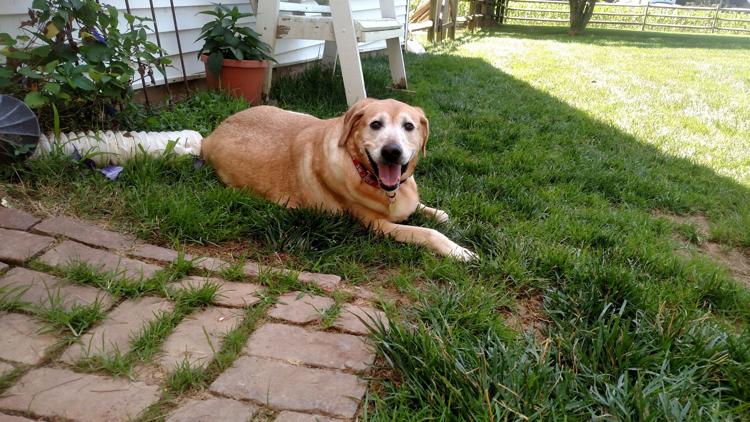 Yogi, is a Chocolate, and Roxy is a Yellow Labrador Retrievers! They are bonded buddies who must be adopted together! WOOF! BARKS! A pawfect pawsomely sweet pair with great house manners. Yogi is a moderate-to-low energy guy who occasionally charges the yard at full speed. He is social and likes to follow you around but isn't needy or get underfoot. He loves belly scratches, running after tennis balls. Roxy is the mellow one! Sometimes she likes to sprint in the yard or jump at Yogi to get him to play. She's loves getting her neck or belly scratched and rolling.
Lab Rescue of L.R.C.P., Inc. www.lab-rescue.org, call the Lab Line: (301) 299-6756 or email info@lab-rescue.org.
About us!
WOOF! MEOW! We invite you to follow us at www.fromthedogspaw.com by email! Samson and I paw about dog and cat adoption, humor, dog and cat adoption and facts about dogs and cats. Noah is Dog, Samson is Cat-in-Charge, to their human, Allen Pearson, Dog Photographer and Writer, www.allenpearsonphotography.com, www.allenpearsonphotographyjournal.com www.facebook.com/AllenPearsonPhotography, www.instagram.com/fromthedogspaw, www.facebook.com/fromthedogspaw.