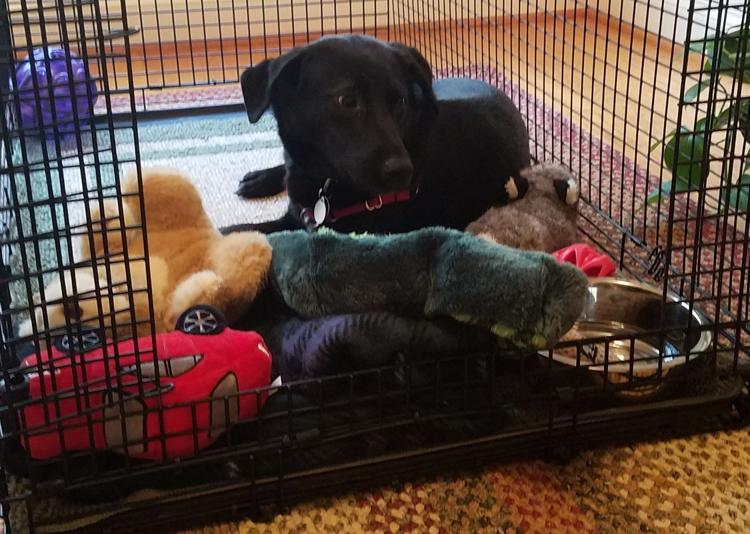 Last week, I wrote about crate training, why it isn't cruel, and the benefits! WOOF! To read the article, pawlease visit http://www.fromthedogspaw.com/p/published-articles.html!
For me, the benefit of having my crate is that I can put myself to bed when it's time! Yup! At the end of the day when the humans are watching a television show, and I am ready for bed, I do just that! I will go into my crate, make the bed by moving the blankets and pillows around 3 times, don't you know, and then settle in! If I could just get Dad to bring treats and fresh water, it'd be pawfect! WOOF! My crate door is open all the time so I can come and go as I pawlease! It's my space!
Barkingly, When I was learning to use a crate, my human taught me a technique to get me to go in whenever he needed me to do so. Some humans use phrases like "go in," "come on," or "let's go!" He says "Come on Noah!" and taps the crate's top a couple of times. I'd go in and he would give me a treat. Paws, it might be necessary to place the treat in the crate first, then say the commands and/or tap the crate. WOOF!
Paws, my crate has always been kept in the family room. Why? It's in an area that is easily accessible for me and my humans. Barkingly, if I want to go in my crate, I am still with the family and not off in another room by myself. Sometimes, I just like to go in and hang out or maybe read the latest copies of Dogster, Catster, or Trains! You just never know what you will learn! Barkingly, the television remote control doesn't reach from other rooms, so the only way I can control what's on television is by having my crate in the family room.
These days, my time kept in the crate is very minimal. Since I am house-trained, my humans do not have much to worry about, but there have been times, like traveling, or when a family emergency arose, and I had to stay in it for a few hours. Instead of putting me in the crate for hours and leaving me, I was gradually introduced to more and more time in the crate, with the door closed, to get me used to the idea. WOOF!
As I pawed in last week's article, a crate isn't designed for punishment. It needs to be used as a benefit for your dog. Barkingly, as long as you have some pawsitive experiences associated with the crate, it can be used as a "time-out" for a few minutes here or there, but not as a form of punishment. WOOF! My crate is my room and place to relax. If my human had used the crate for punishment or too many time-outs, it would have caused a negative association with it. BARKS!
WOOF! When I travel, I take my smaller one since it's easier to transport. My humans and I follow the same routine with it as we do at home. The crate helps me to adapt to traveling and staying in different places. Though my human is there with me, having my crate makes a hotel room homier. Barkingly, if my humans should want to go somewhere without me, since I am crate-trained, I can stay in the room and relax! WOOF!
When used properly, the crate should become a positive experience for you and your dog. Barkingly, there should not be any toys, harnesses or collars taken in the crate because they can be a choking hazard.
Barks, my friends from the Homeless Animals Rescue Team (HART) have a few friends for you to meet!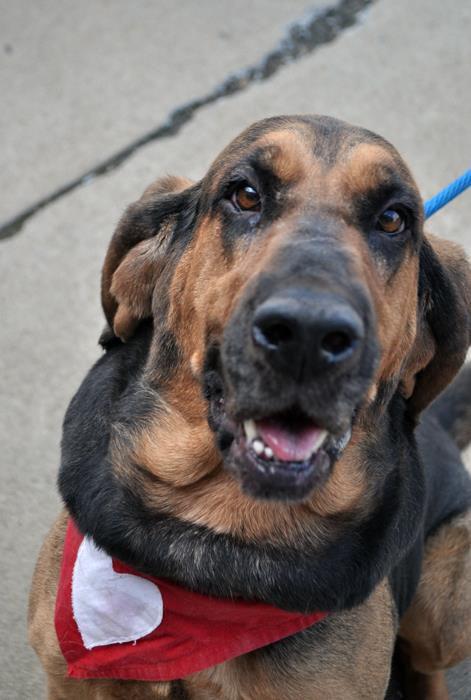 Abby is a beautiful black and tan bloodhound mix and around 5 years old. She is an adventurous girl with a huge hankering for fun in the sun, on the trails, on neighborhood excursions and anywhere she can exercise her muscles and her pawsomely grand bloodhound nose!
Barks, Abby is an extrovert and her lively enthusiastic self will be a pawfect fit for an active family. Paws, she is a gentle lady with old mini-humans and other dogs. She has no cat history. She adores attention, petting, belly rubs and sweet talk!
Contact Homeless Animals Rescue Team, at www.hart90.org, 703-691-HART, hart90office@hart90.org.
About Me:
Noah writes about dog/cat adoption, humor, dog adventures and facts about dogs and cats at
www.fromthedogspaw.com. He is Dog to his human, Allen Pearson, Dog Photographer and Writer, www.allenpearsonphotography.com, www.allenpearsonphotographyjournal.com www.facebook.com/AllenPearsonPhotography, www.instagram.com/fromthedogspaw, www.facebook.com/fromthedogspaw