WOOF! Barks! Several months ago, my human adopted a Maine coon cat after months of thinking about what she would like to adopt and visiting www.Petfinder.com. Paws, she finally found the most pawsome guy named Samson. After visiting him in Annapolis, she was approved as the pawfect adopter!
Paws, Samson arrived and began getting settled into the home. I greeted him when he arrived, but my human asked me to be relaxed and quiet so not to scare him. He has to adjust to quite a bit so we don't want to make it worse. Barkingly, they said he grew up with dogs and lived with one in foster care, so we'll have fun eventually.
For me, it wasn't much of a change having a cat in the house. I had a cat brother years ago and we were buddies. Barkingly though, I tend to want to become best buddies immediately! WOOF! Cats aren't like that. Samson needed a bit of time.
My humans created a pawsome place in Mom's office where he could stay to get used to living with us. It's going to be so great, I could hardly wait! Mom placed bowls of water and food, a really cool cat bed, a few wand toys, a litter box, and catnip toys he could bat around the room. The door to the room was kept open wide enough for the cat to go in and out if he wanted. Fortunately, I learned a skill of not opening doors, at least when my humans were looking, and staying out of a room. Barkingly, my humans didn't need to use child gates to keep me out of his room.
Samson did as cats do. He explored the house during the night when he thought I was asleep. Little did he know, I had an eye on him all the time as I wanted him to be safe. Barkingly, every night he would play in his room making all kinds of cat noises, which I was surprised that they didn't wake up the humans.
As time went on, Samson adjusted to his new home and family in his own way. We learned from his foster that he is one of the most pawsome cats ever, but, will be extremely shy for a bit, he was allowed to figure things out himself. For the longest time, we never saw him. However, evidence of him eating his food, creating little "gifts" in his litter box, and his toys were moved, proved he was fine. About two months, he began feeling comfortable and allowed Mom to get close and pet him. Samson and I are still learning about each other. He is still scared of Dad, which surprises me because Dad loves animals and wouldn't hurt him.
Every morning, Samson sings "Meow" in many variations to greet us!
Several of my friends brought cats for you to consider adopting. They are:
Flower and Thumper are not declawed, are friendly with dogs, cats and mini-humans! They are pawingly loving cats. This adorably-cute duo needs a special human in their lives. They have radial hypoplasia, a condition where they were born with abnormally short and twisted forelimbs. Meowingly, this doesn't stop them from living a typical indoor kitty life! They are mobile, use the litter box, and can jump up on the sofa or bed to snuggle with their humans, which is by far their favorite thing to do!
Homeless Animals Rescue Team, www.hart90.org, 703-691-HART, hart90office@hart90.org.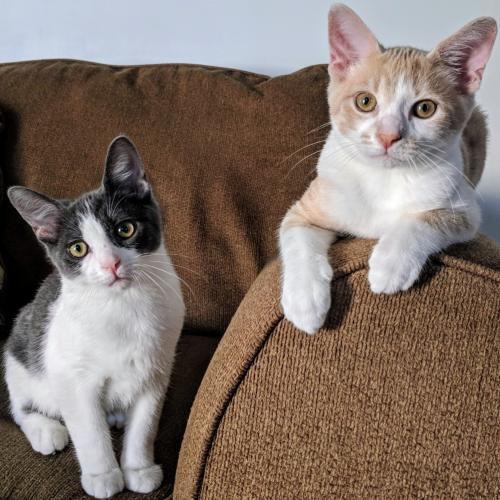 Kix and Chex are best friends! These social fellas love hanging out with humans! They even acclimated easily with the foster's cat. Purringly, they are lap cats with loud purr motors and the softest fur! Great with mini-humans!
PetConnect Rescue, www.petconnectrescue.org, 1-877-838-9171, info@petconnectrescue.org.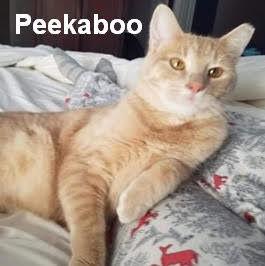 Peakaboo is a friendly and social fella who wants to share his fun-self with humans. He is sweet and playful. He loves to let you know when he is happy! He excels at catching toys flying through the air! He gets along with humans and other cats!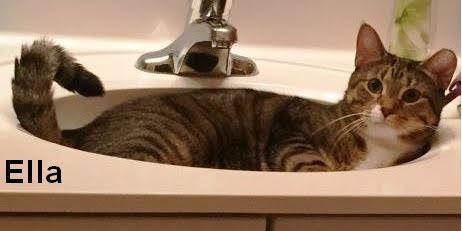 Ella is about 2-years-old. She is super friendly. She will greet guests with a "hello!" She loves getting attention, chin rubs, playing with toys and mini-humans, but not other cats! She loves watching the world go by from her window perch! Need a friend to watch TV or movies? She's it!
Humane Society of Loudoun County, www.humaneloudoun.org, helpanimals@humaneloudoun.org
About Me:
Noah writes about dog/cat adoption, humor, dog adventures and facts about dogs and cats at
www.fromthedogspaw.com. He is Dog to his human, Allen Pearson, Dog Photographer and Writer, www.allenpearsonsphotos.com, www.facebook.com/AllenPearsonsPhotos, www.instagram.com/fromthedogspaw, www.facebook.com/fromthedogspaw.