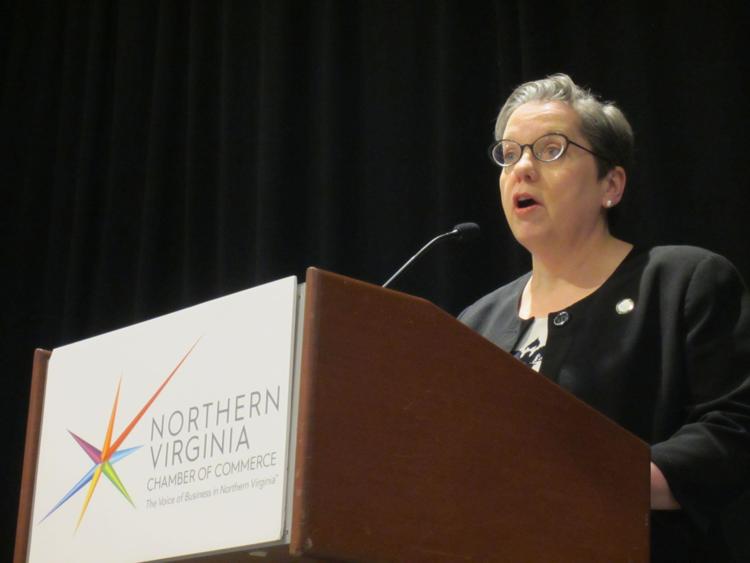 Northern Virginia Community College president Dr. Anne Kress has only held the position for a month, but she is already busy advocating for Virginia's largest public educational institution as a vital contributor to the region's talent pipeline.
In her first major speaking appearance since becoming president on Jan. 6, Kress touted NOVA's efforts to expand access to higher education and train students for a rapidly changing workforce at the Northern Virginia Chamber of Commerce's 28th Annual Regional Economic Outlook conference, which was held at the Hilton McLean in Tysons Corner on Jan. 30.
Kress's keynote speech came the same day that George Mason University (GMU) and NOVA unveiled plans to offer a dual-enrollment program for local high school students, a move designed to further the community college system's inclusivity and workforce development missions.
Open to juniors and seniors at Mount Vernon High School in Alexandria starting with the 2020-21 academic year, the dual-enrollment program is an expansion of the ADVANCE partnership that Mason and NOVA have to support community college students who transfer to the Fairfax-based four-year university.
"We have an incredible partnership with George Mason ADVANCE, which is really a national model," Kress said after stating that one of her goals is to "continue the incredible momentum that NOVA has had in establishing partnerships with businesses in the region to help advance our students economically, and then, also to grow our transfer partnerships."
ADVANCE grew out of talks between Mason and NOVA leaders looking to alleviate financial and bureaucratic challenges that many community college students encounter when transitioning to a four-year institution.
Roughly 3,000 students transfer from NOVA to George Mason every year, more than between any other schools in Virginia, but only about 20 percent of the NOVA students who plan to go on to a four-year school end up acquiring a bachelor's degree, then-NOVA president Scott Ralls said when ADVANCE formally launched in October 2018.
Under the ADVANCE partnership, NOVA and Mason more closely coordinate their admissions criteria and academic curricula to ensure that participating students are automatically accepted into Mason after completing their associate's degree and that all of their course credits transfer.
In addition to having access to recreational facilities, clubs, and events at both GMU and NOVA, ADVANCE students work with advisors and success coaches to determine what courses they need to take and develop a financial aid plan that enables them to earn a bachelor's degree in four years.
The ADVANCE program's inaugural class consisted of 129 students. Enrollment has since exceeded 1,000 students in two years after 420 students joined this January for the spring 2020 semester.
More than 50 students have now matriculated from NOVA to Mason through the program, GMU says.
Formally announced at Mount Vernon High School on Jan. 31, the early college pathway that Mason and NOVA have added to their ADVANCE partnership will give junior and senior high school students the chance to earn dual enrollment college credits at no cost while completing high school courses in English, history, math, political science, early childhood careers, theater and cybersecurity.
Enrollment in ADVANCE has surpassed expectations for the program's initial years, according to ADVANCE executive director Ashlie Prioleau.
"It is incredible that in such a short time ADVANCE has opened the door for so many students to earn a bachelor's degree," Prioleau said in a GMU news release. "…We are changing the lives of real people, families and their future generations."
Kress says programs like ADVANCE are crucial for improving equity in education and building a diverse future workforce with the skills and knowledge necessary to succeed in a world where emerging technology like artificial intelligence, automation and smart tech is transforming how many industries operate, fueling what she calls a "fourth Industrial Revolution."
She also hopes to expand NOVA's offerings of internships, apprenticeships, and other less traditional pathways for students to gain job training, credentials and experience.
With Amazon setting up its second headquarters in Crystal City and other major tech companies (including Google) expanding their presence in Northern Virginia, the region will likely see the competition for workers — particularly ones qualified to fill those jobs — intensify in coming years, according to GMU Center for Regional Analysis director Dr. Terry Clower.
The Washington, D.C. metropolitan region added 52,000 jobs in the past year, about 45 percent of them in northern Virginia, Clower reported in a presentation at the Regional Economic Outlook Conference.
While Clower anticipates that the region will continue to see job growth, he cautions that it could be constrained by the availability of labor as technology evolves and disrupts business practices, requiring workers to learn new skills.
Northern Virginia Community College moved to fill some of the technology sector's growing demand for talent with the opening of a Fabrication Laboratory at its Manassas campus on Jan. 13.
Equipped with a woodshop, maker space, 3-D printing workshop, computer control and design center, and other engineering technology facilities, the "Fab Lab" is intended to serve as a hub for the developing tech workforce and was created partly in response to Micron Technology's plans to invest $3 billion and add 1,100 new jobs at its Manassas memory chip production plant by 2030, according to NOVA.
Lee District Supervisor Rodney Lusk, who attended the Regional Economic Outlook Conference with Springfield District Supervisor Pat Herrity, says Fairfax County wants to do everything it can to support workforce development efforts that help local students and residents obtain the certifications and skills they need to compete for jobs that companies like Amazon are bringing to northern Virginia.
"How do we allow for people who are in parts of the county that don't have access to those emerging technologies to learn that those technologies exist?" Lusk said. "…If there are trades and other programs that we can expose our students to in our high schools, and then, some of our residents who've been in lower-paid retail positions, it's an opportunity for them to learn a trade, learn a skill, and get into the middle class."
The integration of automation and other kinds of technology into everyday life raises other issues that the county needs to contemplate as well, Lusk says.
For instance, Milestone Communications President Len Forkas noted during a panel discussion at the Regional Economic Outlook Conference that wireless technology, such as the towers that his Reston-based telecommunications company develops, has made it easier and more acceptable for many people to work remotely.
That helps with traffic as workers cut down on daily commutes, but it also means that businesses now tend to want less space, which translates to less new office construction and less commercial tax revenue for the county, according to Lusk, who worked for the Fairfax County Economic Development Authority before he was elected to the Fairfax County Board of Supervisors in November.
The Lee District supervisor plans to introduce a board matter at the board's next meeting on Feb. 11 that focuses on attracting technology companies to the Richmond Highway corridor in part to spur office development there.
"There's been no new office construction since the South County Government Center," Lusk said. "We need some commercial office. We need some businesses to come to that area that are not retailers to help provide higher-paying jobs for the people who live there."
He also anticipates that housing affordability could become Fairfax County's "Achilles' heel," if costs continue to rise and drive away the new workers that institutions like NOVA and Mason are trying to train.
"If we're not smart about it, it's going to cost us companies, because what companies are going to realize is they have to follow their talent," Lusk said. "They might have to move to where those employees are actually living, so that means they might have to leave Fairfax County and go somewhere else. So, I would argue that that issue is very imperative."