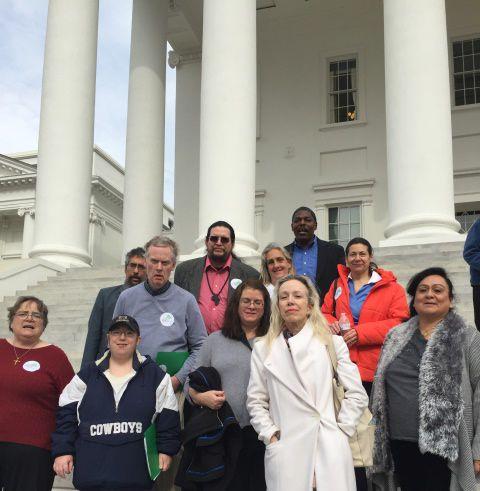 Tina struggled with a crack cocaine addiction and found herself living in the woods for five years with an abusive partner. Marti battled depression, and when her husband of many years died, she was unaccustomed to taking care of herself and became homeless, moving from shelter to shelter. Mitchell has a number of advanced degrees ranging from philosophy to math, but also has schizophrenia – which resulted in him having unstable jobs and even more unstable housing. Jonathan struggled with schizophrenia, Emilio with bi-polar and schizophrenia. They rotated in and out of hospitals and in and out of homelessness.
The five individuals around the table have each been on a life-long journey with homelessness, with mental illness, or with substance abuse. With the help of Fairfax-based Pathway Homes, they now have stable housing. Today they serve as advocates for the homeless and proponents of long-term supportive housing as part of Pathway Homes' Consumer Advisory Council (CAC).
"The CAC gives voice to the issues and challenges that our clients face. Their personal stories and experiences educate us here at Pathway Homes as we deploy outreach and services. By sharing their stories, they become an important advocacy voice to local, county and state government policy makers as well," said Anna Smith, director of development at Pathway Homes.
Pathway Homes provides housing and supportive services to adults with serious mental illness and other co-occurring disabilities. The organization currently serves more than 400 adults in community-based homes in northern Virginia. The feedback collected from the monthly meetings of the CAC enables Pathways to be responsive to the needs of its clients and to the changing issues and challenges of the local homeless community.
"We share what we see - things that others might not see or notice. We share what people need in terms of services to get through their mental problems and their struggles," said Marti.
Members of the CAC have also become advocates to county and state government on issues impacting homelessness. This spring, they travelled to Richmond to meet with state delegates and policymakers at the state capitol, where they spoke about the importance of funding for housing and for support services for the homeless.
"Being on the CAC helps me help people who might be in the same situation I was in. It enables me to have a voice and to become an advocate," said Tina.
Pathway Homes takes pride in assuring that its clients always feel like they have a voice to be listened to throughout their journey to recovery and self-sufficiency, said Anna Smith. When Pathways recently collaborated with HomeAid Northern Virginia to renovate several of its group homes, residents were consulted about their specific needs and preferences.
"The four women living in the Reston townhome slated for a kitchen and bath renovation felt so empowered by the generosity of HomeAid. When HomeAid and its construction partners came for a walk-through of the property, they asked our residents what they needed and what they liked. Being asked for input gave our clients such pride of ownership. Being involved in the decision-making that will make their home beautiful was priceless," said Anna.
HomeAid Northern Virginia builds and renovates homeless shelters and supportive housing facilities via the donated expertise, labor and resources of local homebuilders – enabling nonprofit organizations like Pathway Homes to invest more of its budget into supportive programs and services rather than building expenses.
The four male residents of a Pathway's townhome in Fairfax that was getting a renovated kitchen, bathroom and flooring update from HomeAid also shared input into that project. Several of the men were avid readers, so built-in bookshelves were added. The home's residents were provided swatches of flooring to pick the one they liked best.
To have the opportunity to play a role in the future of their home is enormously empowering and important. Being a part of the process reinforces to these individuals that they are valued and that their opinions count. It reiterates to them that their home is permanent, and that they belong there. In this way, the renovations empowered the residents as well as breathed new life into homes for Pathways to serve, support and house its clients.
"At HomeAid, this collaboration is the key to the success of our projects. We strive to get the buy-in of all parties involved, including the clients who will live and heal in these homes whenever possible," said Kristyn Burr, executive director and CEO at HomeAid Northern Virginia. "Because Pathway Homes already has programs in place – like the CAC — that empower their clients in this way, working with them is a natural fit. We hope that every time the residents look around their new space, they are reminded that people care and that they matter – and that this will encourage them to keep moving forward on their journey to recovery."
Having a stable home, a community of peers and supporters around him, and a role as an advocate for others in similar circumstances have been key for keeping CAC member Jonathon, who has struggled with schizophrenia for much of his adult life, engaged, active and healthy. Now in his 60s, Jonathan highlights that "instead of getting depressed about getting older, the future excites me. I feel better. My nervous system is better. I feel relaxed. I am not isolated. I'm interested it what's going on around me and in having a voice."
Building connections & solutions to homelessness:
HomeAid Northern Virginia brings together disparate groups – local homeless shelters/ transitional housing providers with the local home builder business community – to build/renovate homeless shelters and supportive housing facilities. These collaborative partnerships enable homebuilders to do what they do best (build) and service providers to do what they do best (provide supportive programs and wrap-around services). This series shines a light on the individuals and organizations that benefit from these collaborative solutions to homelessness in northern Virginia.