When people asked McLean-based filmmaker Nina May if she ever thought of running for president, her immediate response was, "No, but I'd love to run for first lady." As you read our phone conversation, you will learn more about why and how this idea became "stuck in her head" and inspired a film that got a theatrical release.
The film "First Lady" – "the only romantic comedy coming out Valentine's Day weekend" – was written, produced and directed by May and stars Nancy Stafford ("Matlock") and Emmy Nominated actor Corbin Bernsen ("L.A. Law").
"I think it's a miracle," said May about "First Lady" getting a theatrical release: "There's only seven movies releasing on Valentine's Day across the country, and we're one of them. And we're the only romantic comedy. And we're up against movies with Liam Neeson, with Will Ferrell, with Jim Carey, Sharon Stone. I mean, these are big budget major studio releases, and here we are, sort of like, little David and Goliath." She credits the distribution strategy that this "boutique distributer" ArtAffects Entertainment adapted: "They worked the way we wanted to work, which was start small, start in about a hundred areas across the country, and then grow big. You don't have to be in all 4,000 theaters opening weekend. You just don't have to do that. But you want to get the word out."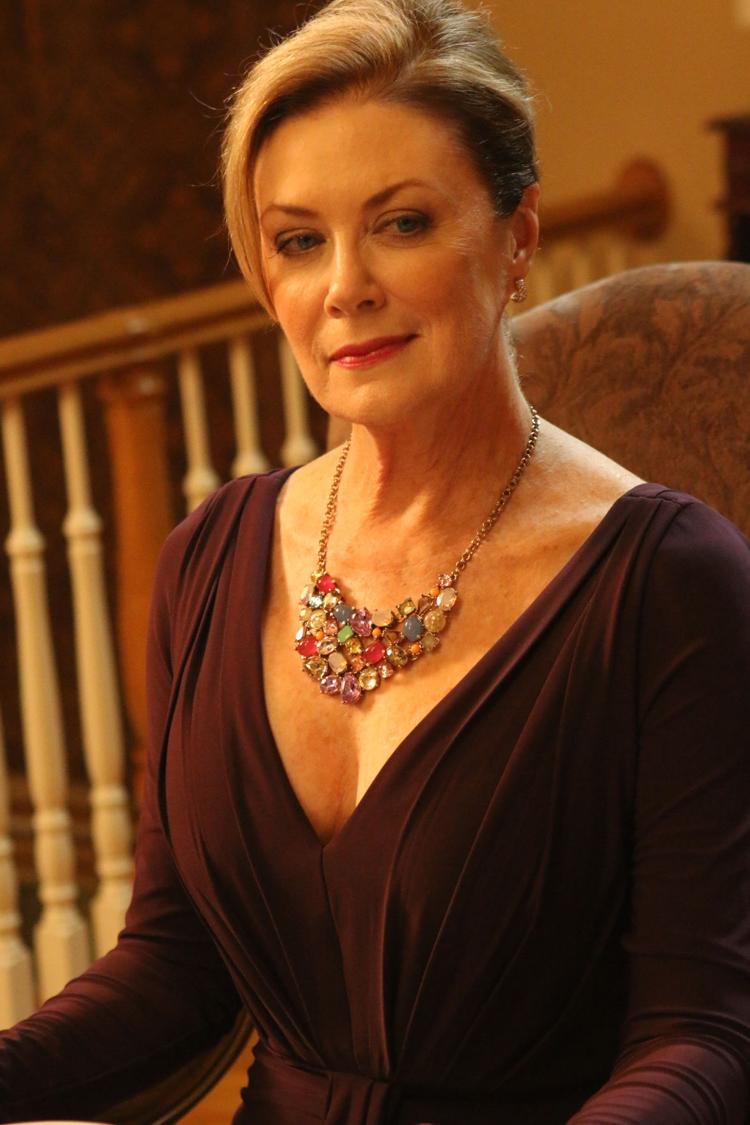 Stafford described the atmosphere on set with May directing, stating, "She's great at creating a family." May has known Stafford for years: "It just hit me one night. I was like, 'Oh my gosh, Nancy is first lady.'"
But what did she think about Corbin Bernsen, who was recommended to her by a friend?
"I just couldn't really see Corbin in a romantic comedy. … I always see him as a tough guy: that policeman and that bad guy. And my friend said, 'No, no, no. He's very funny and very charming. You'll love him; he'll be great.'"
I can see the funny side in Bernsen; in fact, his presence on screen reminds me of Robin Williams in a way.
In addition, Bernsen told May, "I've always wanted to be in a movie with Nancy Stafford." And May's reaction was, "Isn't that the sweetest thing?"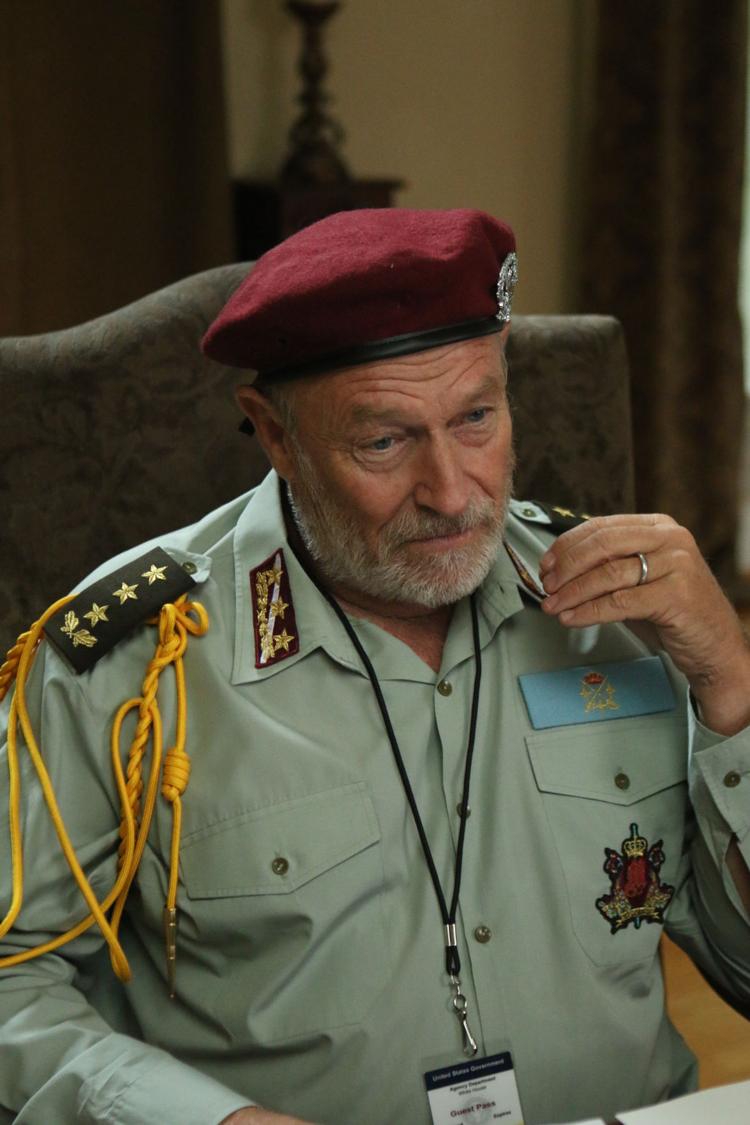 Congratulations on the experience of directing and coming up with the idea of the film. First of all, I would like to know more about your background in filmmaking, Nina.
May: Well, I've been doing it for about 20 something years. I used to have my own television show and production company, publishing company. And so, just moving into movies was sort of logical. I started with documentaries, and then moved into shorts [short films] and then other television series ... What was next? It was movies.
We actually do have a series out now. It's a post-apocalyptic, dramatic television series. It's called "Daily Bread." And I kind of cut my teeth on doing some more in-depth moviemaking as a result of making that, because every one of the episodes is 45 minutes, basically an hour. So there are 12 of them, so it was like making six movies in a short period of time, in about a year and a half. So when we did "First Lady," it was really sort of to take a break from the intensity of doing a post-apocalyptic type of TV series, because you can't have any sounds of electricity, because it was a solar flare that knocked out all electricity around the world. So you can't have airplanes going over, or cars going by, or air conditioners clicking on. So it was very, very difficult to do. So when we shot "First Lady," it was like falling off a log. It was a delight. It was so much fun.
So what made you think of being a filmmaker? Where did your interest start?
May: I am an artist, I like to paint, and I like to write. And to me, the logical combination of the two is making movies. Because you're literally painting with pictures, with sound, with people's personalities, with lighting ... And it's sort of 3D painting, basically. And then, of course, you've got the script, which is what I love doing. I love writing. It just sort of fell into place.
Filmmaking is really complex somehow. I mean, you need to deal with equipment and you need a crew.
May: You know what the key is? The key is finding people that are really good at what they do. So you know that you're going to need a camera crew, so you get people that are great at that. You know that you're going to need someone that can build your set, someone in costuming, someone that can do your sound design for you. You need a first AD [Assistant Director], you need a DP [ Director of Photography], you need an AC [Assistant Camera], you need all these different elements so that you, as the director, can make it happen smoothly and seamlessly, because they've done it before. So even if you personally haven't done it before, you surround yourself with a lot of people who have done it before, and you work together as a team. You can't do it alone. You've got to have a really good team with you.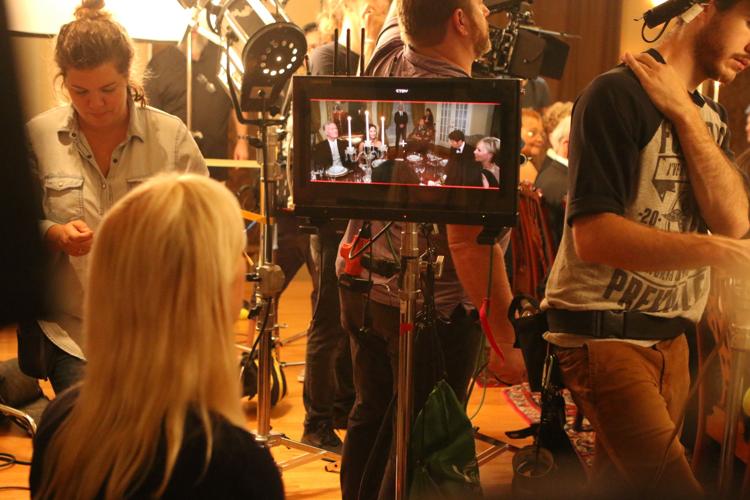 I'd love to know about the local resources you used for your film.
May: Oh, everyone has been wonderful. I mean, it's just so amazing. We filmed, I'd say most of it in McLean, and a lot of it out in Rappahannock County, which is very close to Culpeper, which is a very small town. And so there's basically two small towns; McLean's about the same size as Culpepper. Since we've been in both for a long time, we could call on the local restaurants to help us with craft services. We put a lot of our actors up at the Staybridge, that's right there in the heart of McLean. And they were wonderful to work with. In fact, they let us film a couple of scenes there in the hotel, which was amazing and wonderful. And so everyone was just fabulous and so supportive and so excited … and a lot of local actors, a lot of the crew came from the McLean, Virginia area, and Fairfax County, of course. But yeah, it's like a hometown movie.
So how did you find the crew, actors and actresses?
May: We have a very dear friend, Cheryl Rhodes, who has an acting school in the Arlington area [The Cheryl Felicia Rhoads Northern Virginia Acting School]. In fact, she's actually been using our location in McLean for her acting classes. And I always, anytime I'm going to do a movie or a short or anything, I send her the list of characters I'm looking for, what the specifics are, the age, the sex, what race, or height, weight, whatever it is, whatever the character is that you're defining. And then she goes through her list of students that she's had through the years and she casts those for me. And she'll send them to me and then we do the casting call and they have to do the reading and then we narrow it down to who we think it's going to be. For this one, we had about 14 SAG [Screen Actors Guild] actors and I basically cast all the SAG actors myself, only because they were basically friends and people that we knew, friends of friends kind of thing. It was pretty easy to do. It was actually harder casting locally than it was to with SAG, which was kind of funny.
But, and then the kids that come on that are the new actors, intern actors, basically … They are working side by side with professional actors. They're honing their skill; they're perfecting their ability to be on a set. And they actually couldn't decide, "You know what, I really wanted to be an actor, but that's a lot of work." And it's 18-hour nonstop days. It's a lot of hurrying up and waiting. It's not the glamour you think it's going to be. It's a lot of hard work. And then they'll say, "I really liked what the cameraman was doing." Or, "I really liked hearing how the sound person was coordinating all the sounds." So people come onto the set thinking they are going to be learning or doing one thing, and it ends up by the end of the shooting that they're in a totally different direction professionally. And it's really wonderful. And to me, it's thrilling to jumpstart careers that way and find undiscovered talents and just help people along the way.
I know your production company is a nonprofit, did you receive funding for this film?
May: It was through our foundation, the Renaissance Foundation, and Renaissance Women Productions is a project of the foundation. And it's educational; it's a 501c3 nonprofit. And it's always been about educating, and we've done a lot of things internationally, but when we stopped doing the international, we came back and we were starting to do more production, we thought, "You know what, this is a perfect learning opportunity for people." Because we were learning on the job, we didn't really know what we were doing either. So I thought, "Well shoot, if I can learn that, certainly someone else can without having to feel they've got to go to a film school or something and spend three years doing that." They can jump in immediately and learn it, and just jump start their career.
Let's go back a little bit to the idea and the concept. So, what made you think of the idea of running for the first lady role? That's an interesting concept.
May: Well, years ago someone asked me if I'd ever consider running for president. And without missing a beat, I said "No, but I'd love to run for first lady." And I don't know why I even said that, but I guess it's because I love to entertain. And I love throwing parties, and I love protocol, and I love history. And it just seemed like a logical thing. And I was thinking, "And I know my husband will never run for president, so the only way I'll ever get to be first lady is run for it." And the idea just kept sticking with me and I couldn't shake it. And then I actually did the first one as a thriller, and then I did a comedy. I had, like, 12 rewrites in the whole thing. And then finally it just hit me, "Well, why not a romantic comedy?"
Let's expand this out a little bit and see what that would look like. So that's why we're calling it a modern fairytale, because you've got the romantic, the royal charm element of it, where someone from her past comes back into her life and he had pretended to be something he wasn't when he was younger. And now he's a king, but he can't tell her he's a king, because he didn't tell her he's a prince in the first place. So it's just kind of cute. It's a little Shakespearean in the sense that everybody's pretending to be something they're not.