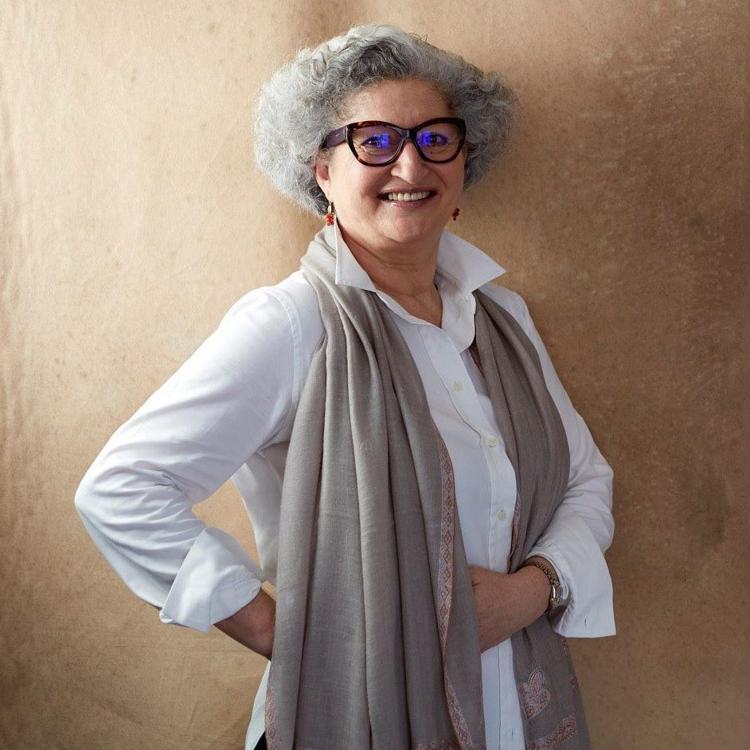 It's a huge book. How could it not be, when the title is "Feast: Food of the Islamic World"?
With about 500 pages that include 300 recipes spanning centuries of food culture in the Muslim world, influenced mainly by three great cuisines: Persian, Ottoman and Mughal. The minimal, rustic style of photography, created by a pastry chef who is a friend of the author, takes you to a spiritual and an ancient time.
Writing this book, Anissa Helou, a half Syrian, half Lebanese Christian who grew up in a Muslim neighborhood in Beirut, wants Western readers to "view the religion [Islam] and Muslims in a positive light, because food is a unifier, and it gives them another perspective. Instead of reading about terrorists and countries at war, they're reading about the history, the social culture, the traditions, the food that people eat, Ramadan, what it means, celebrations, what kind of food they cook to celebrate Eid. So, it is a completely different outlook," said Helou, who wrote the book in five to six years, taking several trips to countries in the Middle East, as well as other countries in Asia and Africa, looking for recipes.
Helou was looking for "home cooks, street vendors, even restaurants chefs. … In these countries, it's home cooks who are the most interesting. But street vendors are also interesting."
She is very familiar with Middle Eastern food, but while working on the "The Feast," she explored new recipes. "There are some countries I had not been to like Indonesia, Zanzibar, Senegal, so I discovered new countries and new dishes," said Helou. "There were techniques that I was not aware of. I discovered variations. [For example] I realized there were so many biryanis," said Helou.
Helou's author statement hints at the unexpected turn that led her to become a chef. The statement reads: "To my late father, who would have preferred me to follow my first ambition to be the Arab Marie Curie, but was then perfectly happy to see me switch to art and later to food."
Since Helou grew up seeing her mother in the kitchen most of the time, and because she was influenced by reading many French books, Helou had a negative impression about women and cooking. "I just did not want to be domesticated," she said and shared the story that inspired her to start cooking:
"It was because then I was dealing with a man from Baghdad, and I had announced to him from the very beginning that he shouldn't expect me to cook for him. ... So one night he invited a very glamourous American friend of his, a beautiful blond lady to the house. He asked me what was for dinner. I said, 'Open the fridge and see what's in the fridge. Maybe you will see what's for dinner.' Then she cooked dinner. I was sitting at the table looking at both of them and looking at how happy he was at the dinner. I thought, maybe I should start cooking, which was not basically a feminist pose. But what I did was not cooking for him every day, like you would be expected to do. I decided to cook a big dinner party for all of our friends, a Lebanese dinner party. In those days, I had never actually cooked apart from one dish. Also, in those days, London was a culinary desert. There wasn't the possibility of me finding…all these things that I needed. So I had to go all around London looking for the ingredients I needed. I did actually get what I needed…I couldn't even talk to my mother because there was a civil war; there was no communication between England and Lebanon. But somehow, I managed to cook from memory because I spent all my time in the kitchen with my mother and grandmother. I could use this dinner party, which I had no idea whether it was good or not, but everybody loved it, and everybody was impressed. From then on, I started cooking for parties, like when I invited friends. But it wasn't until much later that I started cooking for work."
"The Feast" includes recipes that Western readers can relate to such as meatballs and risotto dishes. Helou shared one of her favorites with Fairfax Times readers: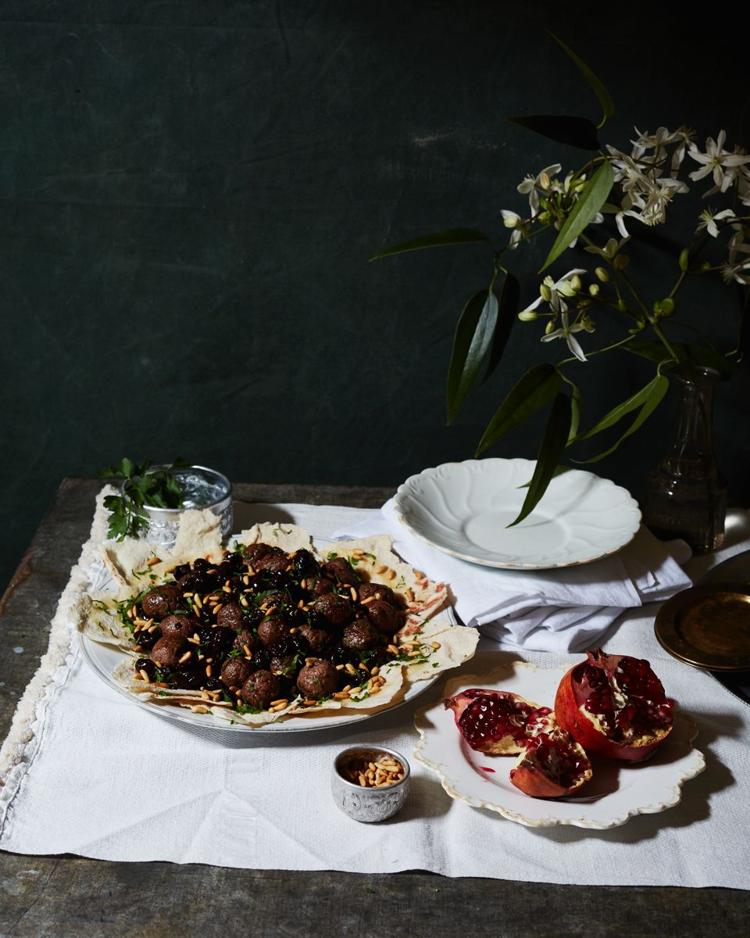 Meatballs in Sour Cherry Sauce
Kabab Karaz
SYRIA
If there is a dish that symbolizes the cooking of Aleppo, this has to be it. Maria Gaspard Samra, a rare Syrian woman chef who gave cooking classes before the destruction of the city, grinds the cherries before cooking them, while my friends Lena Toutounji (famous for having one of the best tables in Aleppo) and May Mamarbachi (creator of the first boutique hotel in Damas¬cus, Beit Mamlouka) both leave the cherries whole. May very kindly gave me cherries from her frozen stock so I could test the recipe. If you can't find fresh or frozen sour cherries, use dried. SERVES 4
For The Meatballs
1 pound (450 g) lean ground lamb, from the leg or shoulder
1/2 tablespoon sea salt
1/2 teaspoon Lebanese 7-Spice Mixture (page 358) or allspice
1 tablespoon (15 g) unsalted butter
For The Cherry Sauce
21/4 pounds (1 kg) fresh or frozen pitted sour cherries (see Note)
1 tablespoon raw cane sugar
1 tablespoon pomegranate molasses
For Assembly
2 to 3 pita breads, split into 2 disks and cut into medium triangles
1 tablespoon (15 g) unsalted butter, melted
A few sprigs flat-leaf parsley, most of
the bottom stems discarded, finely chopped
1/4 cup (50 g) pine nuts, toasted in a hot oven for 5 to 7 minutes, until lightly golden
1. To make the meatballs: Mix the lamb, salt, and spice mixture (or allspice) and shape into small balls, the size of large marbles. Melt the butter in a large skillet over medium heat and sauté the meatballs until lightly browned.
2. Put the cherries, sugar, and pomegranate molasses in a pot large enough to eventually hold the meatballs and bring to a bubble over medium heat. Reduce the heat to medium-low and simmer for 15 minutes, or until the sauce has thickened. Add the meatballs and simmer for another 15 minutes, until tender.
3. To assemble the dish: Arrange the pita bread triangles all over a serving platter, coarse side up, making sure the pointed ends are nicely arranged on the outside. Drizzle the melted butter all over the bread. Spoon the meat and sauce over the bread. Sprinkle the chopped parsley all over, then the toasted pine nuts. Serve immediately.
Note: If you can't find fresh sour cherries, use dried sour cherries and simply rehydrate them by soaking them overnight in water: 2 cups (500 ml) water for 14 ounces (400 g) pitted dried sour cherries. Add the soaking water along with the cherries when you make the sauce.