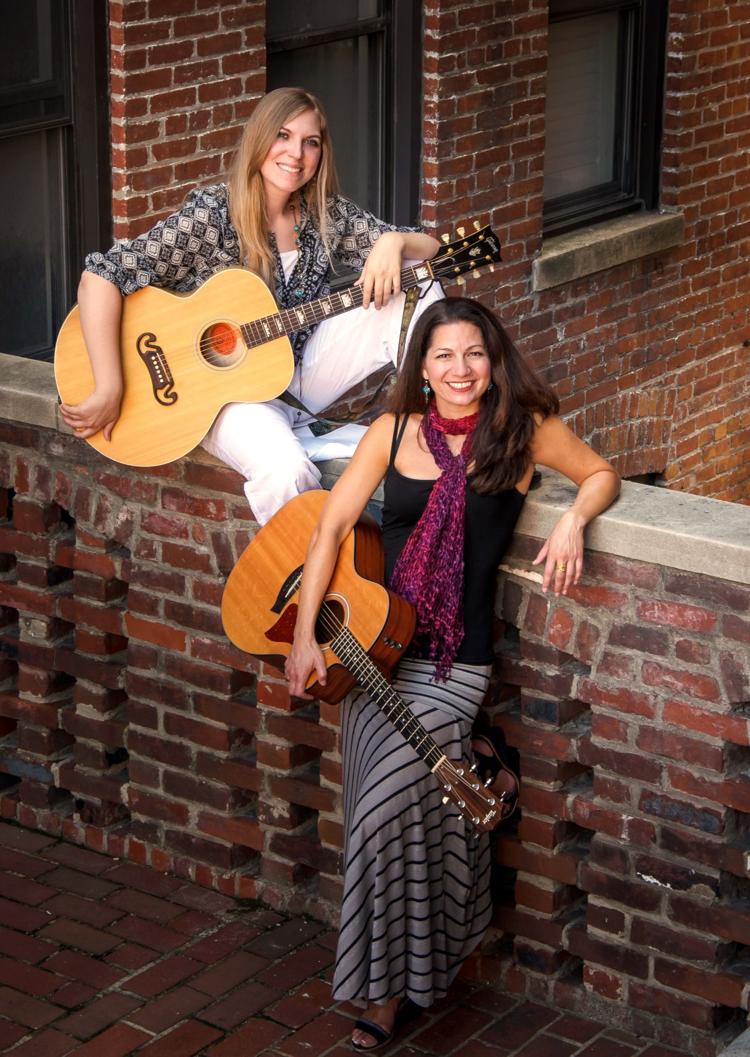 Allison Shapira, a "recovering opera singer," took a long journey to find her voice as a folk singer, and when she did, she met Kipyn Martin, an award-winning Americana singer-songwriter "whose roots sink into the banks of the Shenandoah River." Together, the local singer-songwriters formed Joan & Joni: a tribute to the Music of Joan Baez and Joni Mitchell, and they are performing this Sunday at Jammin Java. We had this conversation over the phone:
I'll start with you, Allison. You had an interesting journey going from being an opera singer to teaching others voice lessons and public speaking, to writing a book about public speaking, and now you are back to singing as a folk singer. Do you think you found your artistic voice now?
Shapira: That's a great question. I have definitely found my voice as a folk singer as opposed to finding my voice as an opera singer. And the link that I like to make is that folk music is about authenticity, while opera is about perfection and a lot of people relate more to being authentic as opposed to being perfect. So I've definitely found my voice as a folk singer.
What did you learn from this long journey?
Shapira: I learned that everything we do will connect in some way to what we do next if we're open to making those connections.
As a folk singer now, what did you learn from teaching public speaking? Did it help with voice training or being confident on stage?
Shapira: There are a lot of musical concepts that I've brought into public speaking, such as breathing and breath support to calm your nerves and project your voice. But most importantly, it's that message of authenticity over perfection that I brought from folk music into public speaking, because a lot of people feel like they have to be perfect speakers, when in fact what they need to do is be authentic. And that authenticity takes away a lot of the pressure they feel before they go on stage and speak.
I agree. That's a great way of looking at it. How about you, Kipyn, do you consider yourself a musician or a folk singer?
Martin: Yes, definitely both. Actually, when I started to play music, my earliest songs that I was learning on guitar and singing were Joni Mitchell songs. So, finding my own way as a composer and songwriter was largely rooted in learning the kind of music that Allison and I get to perform, which is of course Joni Mitchell's music.
How did you meet Allison?
Martin: Allison, you want to take that one?
Shapira: Sure. Kipyn and I met through the Northeast Regional Folk Alliance Conference. The acronym is called NERFA. People from all over the northeast come to that conference of folk musicians, venues, bookers, anyone who works in the folk realm goes to that conference. Kipyn and I were looking for roommates for the conference and so we met on a message board looking for roommates and we wound up driving to and from the conference and realized we had a lot in common. We were both classically trained musicians, both independent singer-songwriters and each one of us was deeply influenced by one of two great musical legends, Joni Mitchell for Kipyn, and Joan Baez for myself.
On the ride home after the conference, we thought, what if we did a tribute show and what if we called it Joan & Joni? As soon as we came up with that title, we realized there was such a powerful demand for that music because so many people had grown up listening to Joan Baez and Joni Mitchell, and they wanted to reengage with it again in an intimate environment, and that's what we were able to do with our tribute show.
Also, for some reason — I don't know why — Kipyn makes me feel that she's a songwriter first. Are you a songwriter too, Allison?
Shapira: I am a songwriter. Kipyn is a phenomenal songwriter and I'd say Kipyn is the songwriter who I aspire to be. I also write music as well.
Kipyn, can you tell me more about the process of your songwriting? For example, how do you decide what makes a song?
Martin: That's a great question. When I am usually either taking a walk or driving, I'll get a concept, an idea, sometimes even a blip, a phrase or a melody. And if the concept sticks around and the melody is still catchy over the course of a week, I think there's probably something to it. Sometimes I'll have a quick idea and it'll catch the next day. It's not quite as viable, but the ones that end up rolling through my head and through my mind for a good five days tend to be the ones that get written.
Wow. With this process, did you always find that it works?
Martin: Oh, no. I've written plenty of those catchy five-day songs, but only a good … probably 10 percent of those actually see performance.
So, looking at those that are performed, what do you think makes them win in the end?
Martin: Oh, the songs that have won some kind of awards in contests, you mean?
I mean the songs that met your expectations, because you said not all of your five-day songs meet your expectations in the end.
Martin: Yeah, it's a really good question. I find that there is a sort of a perfect storm that happens when a musical idea or concept carries, as a vehicle carried to the content of a lyric or a concept for a song and it actually speaks to what Allison was saying about finding her voice as an authentic folk singer. Much of that perfect storm is wrapped in authenticity. If I am singing something that is vulnerable but is also powerful, and authentically something I can write from my own perspective and weave that into the music, then those tend to be the ones that people remember.
OK. I read this testimonial and for some reason it is stuck in my head. It describes the experience of attending an event for you and Allison, saying that "It was totally respectful to the originals." And by this you mean that you were not trying to copy the original singers. Why is this respectful?
Shapira: I'll jump in on that one. Kipyn and I were very deliberate when we planned this show that we didn't want to be Elvis impersonators. So, we didn't want to dress up as and act out Joan Baez and Joni Mitchell, especially since both women are alive, we felt it would be personal disrespect for us to do that. And secondly, we don't want to pretend to be those women; we respect them; we're inspired by them. We wanted to interpret their music in our own way.
And it goes back to Kipyn's point about the power of music is its authenticity. So our goal was to be as authentically inspired by their music as we could and share that authentic inspiration with an audience, and that's what has elicited such a powerful response. We don't pretend to be Joan Baez or Joni Mitchell. We are Allison Shapira and Kipyn Martin inspired by Joan Baez and Joni Mitchell.
Do you think you will have your own Allison and Kipyn songs at one point, because right now you are touring as Joan & Joni, right?
Shapira: Correct, and we also bring, we also perform our own original music as well. So we do bring Allison and Kipyn to the show as well. We bring our own songs.
So this is what we should expect for your event at Jammin Java, both a mix of your songs and other songs?
Shapira: Exactly. And that's another angle to the show. It's not just a tribute show. It's bringing these songs that people know and love and then sharing them together with our own music. That makes it a really unique experience.
Very nice. Thank you so much. How do you see your audience? Is it growing?
Martin: Yeah. Our audience absolutely has ... We've been honored to see it grow throughout our travels in the D.C. and Baltimore area and as well as up and down the East coast, even so far out West as Chicago, and we're really looking forward to playing in Jammin Java because we feel like it's a really nice sort of central location for our fan base in the D.C. area. We hope that it will also allow us to greet our old friends as well as meet some new friends in the D.C. area that we can share the Joan & Joni tribute with.