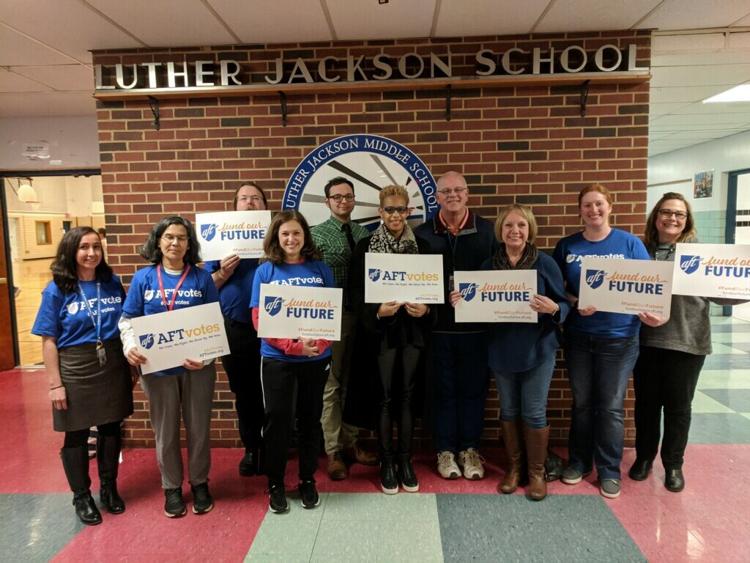 On Tuesday night, the Fairfax County School Board approved Superintendent Scott Brabrand's recommendation of beginning the school year virtually. The Fairfax County Federation of Teachers (FCFT) welcomes this decision to keep students and staff safe.
On July 17, the FCFT sent out a letter to Dr. Brabrand, the School Board, and FCPS Leadership urging that FCPS start the school year virtually and revisit returning to in-person instruction at a later date.
Emily VanDerhoff, an FCPS first grade teacher and FCFT Executive Board member, explained earlier this week that it was important to write the letter because many teachers were feeling unsafe. "We feel like the best decision now is to start virtually and then revisit reopening in person when we have more information and have our safety plans more established," she said.  
Brabrand made this recommendation during a virtual meeting on Tuesday.
In the letter to FCPS officials, the FCFT included 11 pillars for a safe reopening, as many teachers expected to have to teach in person during the upcoming school year. These pillars can now be used to plan for a safe reopening at a later date. They are as follows:
Communication
A virtual work option for all staff
Physical distancing
Cleaning and disinfecting protocols
Adequate school ventilation and building systems
Personal protective equipment and face coverings
Rigorous tracking and tracing
Controlled community transmission
Comprehensive staff and student supports
Compliance
Proactive school closures
VanDerhoff, like many teachers, was worried about having to keep her six and seven-year-old students separated in the classroom and having to tell them to socially distance. Although this won't be a problem for the immediate future, FCPS officials and teachers will have to find a safe way for students to interact in the classroom once schools open up again. 
Tina Williams, President of FCFT, said the following in a statement on Tuesday evening:
"We are pleased FCPS is putting students and staff safety first and listening to science, educational experts and our community by opting for a 100 percent virtual start."
She continued by saying that "everyone, but nobody more than our educators, want to open schools and get all kids back as quickly as possible, but we must open schools as safely as possible." 
VanDerhoff says Brabrand made the right call. "I'm glad he had the support of the School Board to move forward with a virtual start to the year. We are all ready to get to work and make Distance Learning the best it can be for our students," she says. 
Williams urges FCPS to "adopt our 11 Pillars of a Safe Reopening once we can return to face-to-face instruction." She stated that the pillars set out a clear plan for policies, procedures, and safeguards that must be in place before returning to in-person instruction. 
Now, the FCFT looks forward to working with FCPS on creating high quality education in a virtual space. "It will take a true partnership between FCPS, teachers, and support staff as we look to create a learning and working environment so our students and staff may thrive," said Williams.