Almost two years after voting to rename J.E.B. Stuart High School as Justice High School in Falls Church, the Fairfax County School Board is contemplating revisions to its policy for renaming existing school facilities.
Under the new policy offered by the board's governance committee at an all-day work session on Sept. 17, the school board would be allowed to consider a name change if the school or facility in question is repurposed for a new function or to "ensure consistency with our One Fairfax policy or when the Board deems it appropriate."
Adopted by the school board on Nov. 20, 2017 and the Fairfax County Board of Supervisors on Nov. 21, 2017, One Fairfax is a joint policy that commits county and school elected officials to considering issues of social and racial equity when making decisions and developing policies and programs.
Fairfax County Public Schools' existing policy allows for a facility renaming if it is used for a new purpose or function, or "where some other compelling need exists."
"It's a fairly simple change," Mason District School Board Representative Sandy Evans, who chairs the governance committee, said. "It's basically two sentences that reference the One Fairfax policy that has to do with inclusion and diversity."
The revision addresses language that emerged as a major flashpoint in the two-year-long debate over whether a public high school should be named after Stuart given his ties to the Confederacy as a general during the U.S. Civil War.
The campaign to rename what was then J.E.B. Stuart High School began in June 2015 when a group of students who felt the name contradicted FCPS's stated values of inclusivity and respect raised the issue with Mason District School Board Representative Sandy Evans, whose district includes the school.
The students' request led the Fairfax County School Board to revise its existing Policy 8170.5, which establishes guidelines for naming school facilities and grounds. The board voted on Dec. 17, 2015 to add the line that says a name change can be considered if a compelling need exists.
However, arguments between board members and within the community over whether a school name's association with the Confederacy and slavery constitute a compelling need for change persisted even after the school board voted to change Stuart's name on July 27, 2017 and to adopt Justice as the school's new moniker on Oct. 26, 2017.
Opponents of the name change later filed lawsuits against the school board criticizing its process for renaming the school with the vagueness of the phrase "compelling need" as a key point of contention.
According to Evans, the lawsuits have now all been dismissed in the school board's favor. The last one closed when the Virginia Supreme Court rejected a petition for appeal on Nov. 7, 2018.
"We absolutely need to move away from that," at-large school board member Karen Keys-Gamarra said of the "compelling need" language in the current school naming policy. "In litigation, you do not want to have a phrase that is undefined, and all that did was produce an opportunity, because we didn't define what compelling need is."
The revision to FCPS's facilities naming policy has been in the works longer than the preceding rewrite.
As a follow-on motion after the school board approved the name of Justice High School, Sully District Representative Thomas Wilson requested that the board's governance committee review Policy 8170 and that the FCPS superintendent review its corresponding regulation and processes prior to any future school renaming.
The motion was seconded by Springfield District Representative Elizabeth Schultz and passed unanimously except for Mount Vernon District Representative Karen Corbett Sanders, who was not present at the vote, according to school board records of the Oct. 26, 2017 meeting.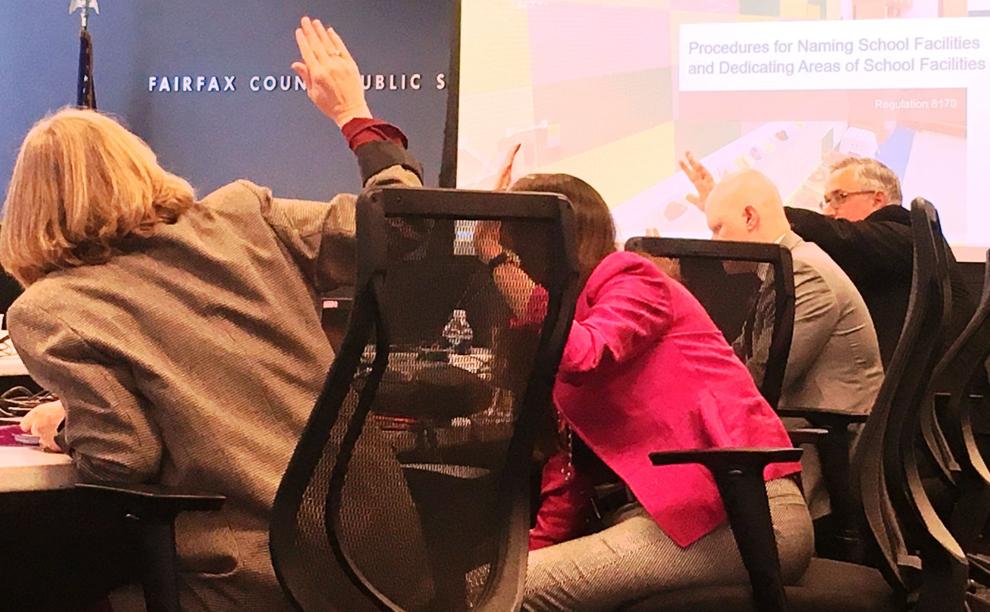 Lee District Representative Tamara Derenak Kaufax brought the possibility of modifying the naming policy back to the school board's attention with a forum topic at the board's Feb. 7 regular meeting, citing a desire to look at changing the name of Robert E. Lee High School, which is located in the Lee District and is named after a Confederate Army commander.
"I know there is a desire within Fairfax County to have this conversation," Derenak Kaufax said when introducing the forum topic. "Our schools need to be places where all students, staff, and members of the community who walk through the doors feel safe and supported."
Derenak Kaufax, who currently serves as the school board's vice chair, suggested that the policy be revised "to ensure an inclusive, respectful learning environment as outlined" by One Fairfax and to "examine in a transparent and comprehensive way the criteria by which FCPS can name or rename schools appropriately."
The school board unanimously voted to refer the forum topic to a work session, directing FCPS Superintendent Scott Brabrand to gather information about schools named after individuals with Confederate ties, including the dates of and reasons behind each naming, and to develop a new name change process for the board to follow in the future.
Brabrand returned to the school board during a work session on July 15 with a list of six schools with Confederate ties: Lee, Mosby Woods Elementary School, Haycock Elementary School, Lees Corner Elementary School, Sangster Elementary School, and Shrevewood Elementary School.
The school board then sent Policy 8170 to the governance committee for review and to make recommendations and directed Brabrand to continue revising Regulation 8170. In FCPS, policies are determined by the school board, while regulations fall under the superintendent's purview to dictate how a particular policy should be carried out.
In addition to replacing the "compelling need" language in Policy 8170 with One Fairfax-related criteria, the school board governance committee recommended based on discussions at its Aug. 21 meeting the addition of a line requiring mascots associated with school names to be consistent with One Fairfax.
However, the board decided on Monday that the mention of mascots should be taken out of the proposed policy revision, arguing that mascots should be selected by individual schools.
Brabrand's proposed revision of the FCPS regulation for school naming procedures completely rewrites the section pertaining to renaming existing facilities.
Under the revised regulation, a name change could be initiated through a forum topic introduced by an at-large school board member and at least one magisterial member who represents students attending the facility in question.
If a majority of the board votes to move forward with the name change request, the issue would be introduced at a regular school board meeting, and following a period of public comment or a public hearing, the board would vote on whether to approve a name change at a subsequent meeting.
If the name change is voted down, there would be no further consideration of the issue, but if the board approves a change, a second period of public comment would ensue for soliciting input on possible new names before the school board votes on a final name at a regular meeting.
Brabrand initially proposed that the public comment periods would be two weeks long, but the school board agreed during Monday's work session that they should be extended to a month.
Schultz questioned the motives driving the school naming policy and regulation changes, arguing that the newly proposed process makes community input secondary to the school board's desires by letting board members request name changes without proof of public support.
"I've lost confidence that any of this is going to be transparent," Schultz said.
The governance manual that outlines responsibilities and procedures for Fairfax County's school board states that the board may review, amend, adopt, or rescind a policy at any time, and any board member can bring any issue to a board forum, though support from most of the board is needed to take any further action.
Evans believes the process for suggesting a school name change at a forum should be the same as the one used for any other topic, but the board voted at Monday's work session to support Brabrand's recommendation.
"You need not one, but two board members, and they have to be a specific kind of board member, so it does create a slightly higher bar," Evans said. "I will emphasize we still need a majority vote of the board to then move it forward."
In accordance with the Fairfax County School Board's standard procedures, since the proposed Policy 8170 revision was introduced as a new business item at the board's meeting on Sept. 12, it is currently scheduled for a vote at the board's next regular meeting on Sept. 26.