On June 15, ArtSpace Herndon will present a special fundraising program to help Karim Maggio, a young talented cellist, participate this summer in a music study program at the Tanglewood Institute.
The program will feature singer-songwriter Rick Landers, as well as Karim Maggio performing "Romanze in F Major" by Richard Strauss and the Dvorak's "Cello Concerto in B Minor." Special guest virtuoso Russian pianist Suzanna Kolker will accompany Maggio on the keyboard.
The program begins at 7 p.m., and will be hosted by Karim's father, author-poet Mike Maggio, and will be followed by an open mic.
Fairfax County Times reached out to Maggio with some questions by email: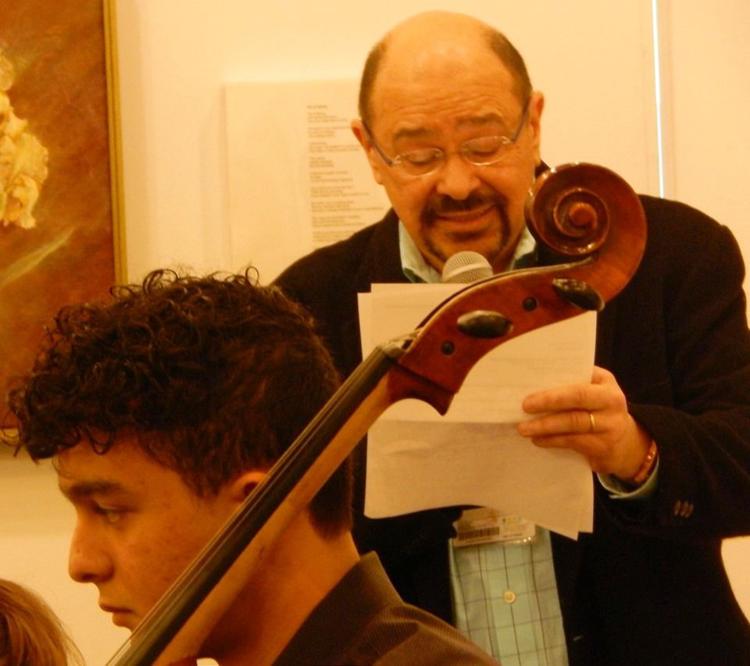 How was Karim's talent discovered?
MAGGIO: Karim is a rising senior who has been studying cello since the 4th grade. For the last 4 years, he has been studying under Miron Yampolsky, who is a virtuoso cellist and who, himself, studied under the world-renowned Mstislav Rostropovich. Under Yampolsky's tutelage, he has developed into a talented musician (he also plays piano) and plans on majoring in music when he gets to college. He also studies quartet under Natalia Yampolsky.
How did ArtSpace become involved? Also, I would like to know more about the artists who are going to perform with him. Why is he performing with these artists?
MAGGIO: As you know, I am a poet and fiction writer. I am also the northern regional vice-president for the Poetry Society of Virginia. For the last two years, I have been running a reading series and open mic at ArtSpace where Karim has performed. Rik Landers, a singer-songwriter who has performed at ArtSpace as well as Herndon Festival and other venues, suggested to me that we do a fundraiser to help Karim raise money for Tanglewood, this in addition to the fundraiser he has started on GoFundMe.
So, Rick Landers will be on the program and will sing original songs. [According to his website, ricklanders.bandzoogle.com, "Singer-songwriter Rick Landers writes songs of the American heartland and the spirit of our national heritage. His songs speak to us about the poor and disenfranchised, immigrants and refugees, love, romance and loss, errant rascals and desperadoes." ]
Suzanna Kolker is a Russian pianist. She is retired but she accompanies Miron Yampolsky's students at their recitals and competitions. She is a very accomplished pianist and will be accompanying Karim on a keyboard.
I will be hosting the event, which will be followed by an open mic at which I will read some of my poems.
What are the details behind the music study program at the Tanglewood Institute?
MAGGIO: Tanglewood Institute of Music is the most prestigious music program for high school students. To get in, you need to submit and audition. The institute is part of Boston University and takes place alongside the Tanglewood Music Festival in the Berkshires in Massachusetts where the most prominent musicians perform during the summer. The faculty at the institute are made up of some of the most prominent musicians. You can learn more about it at: http://www.bu.edu/mysummer/arts/tanglewood-institute/. Students who attend Tanglewood go on to have music careers and some have become quite prominent.
Why is this important to Karim?
MAGGIO: Karim has plans to become a musician. He works very hard, usually practicing around 6 hours a day. He is aiming to study at a major music conservatory; Julliard and the Royal Academy are at the top of his list. He's very excited that he's been accepted to Tanglewood, which is an achievement in and of itself.
What is music to Karim?
"Making music is something that I just cannot live without. I cannot explain it, but it has become an extension of me. When I am playing, nothing else going on in the world matters, just the music," shares Karim Maggio.
"I believe Karim was influenced by me and his sisters. I studied piano when I was a child for 6 years and I have a love for music and for all of the arts," explained his father. "His sisters studied piano with Margaret Coomber and he wanted to play from a very young age. When he was old enough, we put him in lessons with Mrs. Coomber and he did very well. When he got to elementary school and joined the string program, he became interested in cello.