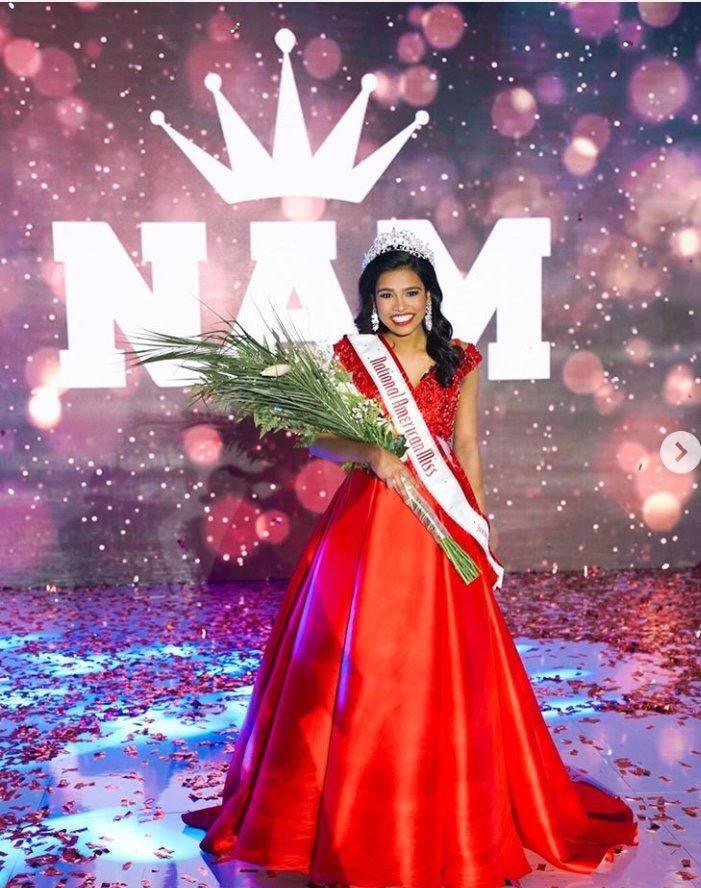 What does this story tell you about Anjali Nair of Fairfax, who was crowned National American Miss Junior Teen on December 1?
"At the National finale, when Miss Iowa and I were the last two girls, I was nervous, but I told myself that I would be happy with the outcome regardless of who won …" said Nair. I read this story on Thomas Jefferson High School's website, and it showed me her positive mindset, her inner peace and her tolerance.
I had an 11-minute interview with Nair on Facebook Live on Sunday , Dec. 29 in a gym near her home in Fairfax. Wearing her signature color, a warm, bright red, she shined with confidence and energy. In addition to her commitment to dancing 20 hours per week and volunteering to reduce animal euthanasia by finding permanent owners for abandoned animals, this junior at Thomas Jefferson High School is interested in engineering.
Her mother, Narmatha Arichandran, who has Sri Lankan roots, was born in the US and works as a pediatrician. Her father, Ram Nair, who emigrated from India and studied in the US on a full scholarship, is a management consultant.
During the Facebook Live interview, I asked her the following questions:
1. Why do you think you won the pageant?
2. Why is beauty important for the mind?
3. As a female, what is the biggest challenge you have faced?
4. As an animal rights advocate, why do you think that many shelters are overpopulated? Do you have a vision for a solution?
5. What is your response to this statement: "Behind every great woman is her father"?
6. What is next for you?
You can watch the interview by visiting our Facebook page:
https://www.facebook.com/FairfaxCountyTimes/videos/461370474546756/
After the interview, I had a few more questions for Nair that I promised to share in an upcoming article in our newspaper.
How have your Sri Lankan and Indian roots shaped your American identity?
Nair: Well, I think that this definitely has an effect on my life because I not only have American culture, but I also have Sri Lankan and Indian cultures impacting me. I think sometimes people think it's okay to make fun of those cultures or badmouth them. I think that they actually just enrich my American culture and combine with it.
What are your top three priorities in everyday life?
Nair: I think number one is definitely to be kind to other people. Number two is to time manage and have a list of priorities and get things done in the order and the way that you need to get them done--to make sure you are efficient and you're not wasting time. Number three is to look at the positives in life and find something fun to do every day so that you're happy.
How do you find peace?
Nair: I'll listen to music, or sometimes I'll draw, or I'll cook or bake or anything like that.
Really? How do you find time? What comes first when you are stressed?
Nair: If I'm really stressed, I'll just take a deep breath, look at everything, and then make a list, and then see how many hours I have to complete what I need to get done, and then I'll just break it up into chunks and then do that.
Can you give me an idea of what kind of a child you were?
Nair: I was definitely very active, a little bit disobedient and kind of messy. But I think I was good-hearted. I loved to talk to everyone and make friends with everyone. All the kids in the neighborhood, we don't really talk as much now because we all go to a bunch of different schools. When we were younger, we used to play with each other all the time and it was fun.
What advice would you give to other girls who are competing in pageants?
Nair: So, I would definitely say that for one, to make sure that you're not telling the judges something that you think they want to know, but you're telling them what you want them to know. That you're always authentic and genuine, you're never fake and you're never too rehearsed. Obviously, practice does make perfect, but it's also good to make sure that you're not over-rehearsed and you're just saying things that you think will appeal to them. Also, I would say make sure that you practice in your dress and your shoes, because once I got onstage, I definitely should have practiced in my dress and shoes more. I was tripping a little bit. That's okay.
Traveling the country on her tour as National American Miss Junior Teen, "Nair plans to promote her message of female empowerment. Her platform will be to encourage girls to participate in any field or pursue any goals they choose, including in STEM or the performing arts, and to have the work ethic and determination to reach these goals."