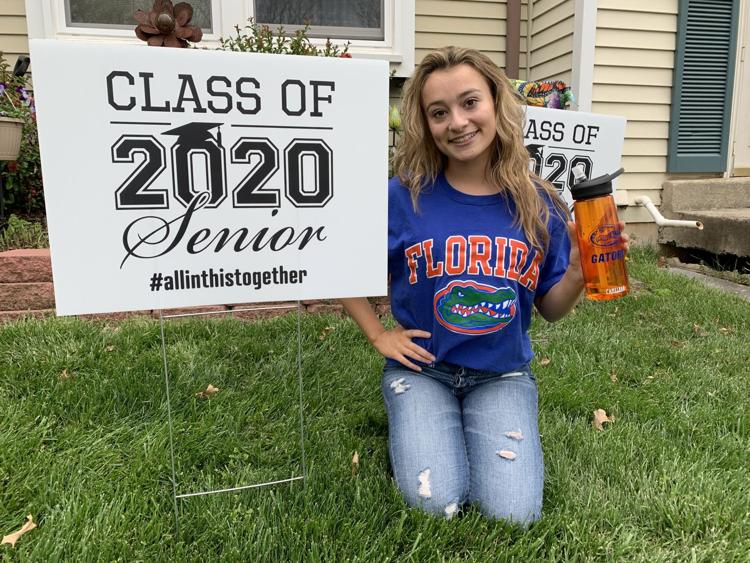 Like many of her classmates, James Madison High School senior Abby Diamond has had to adjust to a new reality – one that doesn't include a prom or a high school graduation. But this didn't tear the 18-year-old down: Diamond has now sold almost 100 signs that spread a message of unity for seniors who are going through the same thing.
The white yard signs, which include the words "Class of 2020" and the hashtag #allinthistogether, were first started by two students in Loudoun County, Arianna Wright and Aiden Bullis. A mutual friend contacted Diamond, and she soon started to spread the same message in Fairfax County.
"The main goal behind selling these signs is to really spread closure and togetherness and a little bit of happiness throughout the state," she says. She explains that everything the class of 2020 has been looking forward to has been taken away from them. "But this project brings a little bit of hope and unity to everyone." 
Although the signs were first being sold in Loudoun and Fairfax County, they are now making appearances throughout Virginia and other parts of the country. "We put out a website where you can order from all over the country and now it ships to you. So, it's starting to make a big spread." The website, 2020yardsign.com, is run by the students and the profits are used mainly for gas whenever they decide to make deliveries themselves.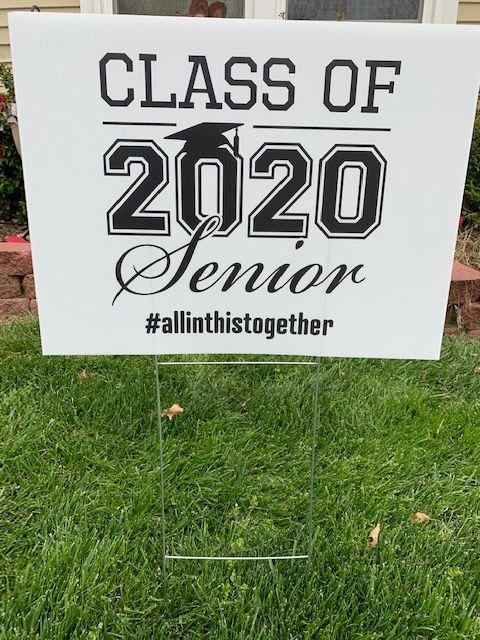 The hashtag, #allinthistogether, is being used on social media to support seniors throughout the U.S. The phrase, which is also the name of a song from the popular High School Musical (HSM) movies, is most likely one that many seniors today have been hearing for most of their lives, seeing as the first HSM movie was released when they were four years old.
Sharon Wright, mother of Arianna Wright, one of the seniors in Loudoun County that started this movement, says that the students involved have brought joy to other seniors and their parents. "Parents have cried on the phone to Arianna and Aiden and kids have proudly posed in front of their signs with college t-shirts, their family pets, prom attire and one wearing a cap and gown."
Wright, a Pittsburgh native, has been living in Northern Virginia since 1999 and is now the parent of a high school senior experiencing her last months of high school at home. She explains that her daughter and a classmate wanted to show support to other seniors and their families, so they designed the signs and had them printed and ready to be distributed in 48 hours.
While Arianna and Aiden started the movement in Loudoun County, they soon got in contact with Abby Diamond from Fairfax County and brothers Ben and Eric from Anne Arundel County, MD who were interested in helping out in their own communities.
"We couldn't be more proud of the hard work these kids have put into this project," says Wright. But it's not just in Northern Virginia that these signs have made an appearance. "Just last week, a school in Jefferson County, Missouri with 107 graduating seniors decided to replicate our sign effort and teachers there drove around house to house to place a sign in every graduate's yard."
Diamond explains that what seniors want right now is "closure and hope for the future." She says that many people in her graduating class are going separate ways after high school, and that supporting each other through these times is maybe the last chance they have for class unity. "One last little thing to keep us together and know that we're going to be there for each other is really helpful."
For those who want to become more involved, the Facebook page Fairfax County Seniors 2020 #allinthistogether is accessible to the public.