Tuba and Bilge Sapanli believe the independent fishmonger is about to make a comeback in the United States. In fact, they're betting their family business on it.
The Sapanlis are the owners of MediterraFish, a combination seafood counter and restaurant that recently celebrated its grand re-opening on Merrilee Drive, in Fairfax's Halstead Square community, after leaving the Mosaic District a year ago. They are wagering that what remains somewhat popular in parts of Europe can be more so again on the other side of the pond, especially given the growing interest people have in the origins and quality of their food.
"Here in [the] D.C. metro area, we are on the coast and yet we only have supermarkets when it comes to fresh fish," Bilge Sapanli said. "People are so spoiled in Europe, finding a fresh fish market on almost every corner you turn. You go to your neighborhood market street, walk into a fish market where the fishmonger knows you by name, cuts and cleans your fish the way you want and that's it."
The Sapanlis said the 900-square foot location they inhabited in the Mosaic District for five years worked well for their seafood counter and wholesale business, but they needed more space to meet a demand by customers that they cook their food on site. Their new 2,000-square foot location, which is roughly a half mile away, has one counter for cold seafood and another with cooked meals as well as a 65-seat dining area.
While using an email list to educate past customers on the couple's new location, Tuba Sapanli said she is setting up an online ordering site, so consumers can buy her company's fish from anywhere in the country. Additionally, the family is establishing a franchise operation so that it can help re-ignite the popularity of fishmongering throughout the US.
In particular, the couple is focused on selling fish species from the Mediterranean, like branzini, orata, sardines and anchovies from Turkey, Greece, Spain, Portugal and Italy, although the business also has a staple of non-Mediterranean products commonly found at seafood counters, including wild-caught shrimp from the Gulf of Mexico, Atlantic salmon from Norway, and scallops from New Bedford, Massachusetts.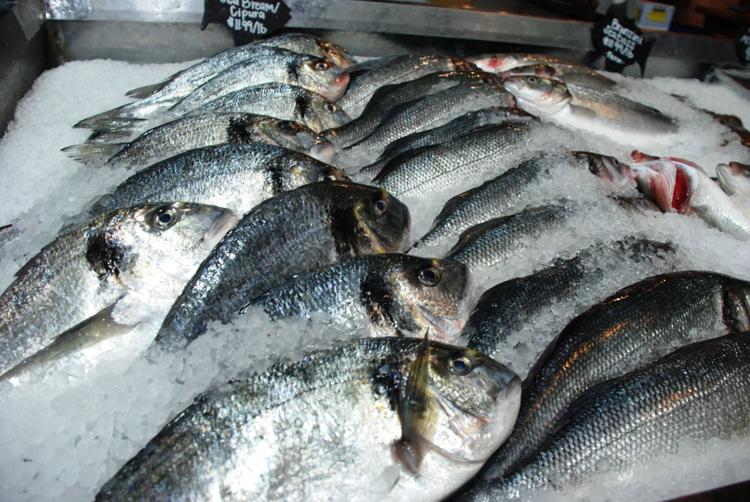 As for what to order in the dining area, Tuba Sapanli said her crabcakes, salmon burger and the branzini plate are her best sellers.
"Everything is house made," she said. "There is no outsourcing, no preservatives and no fillers. We don't smother things in sauces or do a lot of freezing. It's the way you should eat seafood."
'Some people care and some don't'
Seafood counters remain popular in parts of Europe, including especially in England where a recent study found that there are nearly 1,000, down from between 7,000 and 8,000 that existed in the 1940s. The industry has its own trade association in the UK, the National Federation of Fishmongers.
Independent fishmongers are more rare in the US than they used to be, too, thanks to the large number of grocery chains that offer fish counters and the seemingly growing number of people who are less willing to cook their own fish. Tuba Sapanli estimates that there are only about five seafood counters similar to MediterraFish's in the Washington, D.C. area.
"It's very hard to survive where there are chains and corporations with power and money to do great marketing," she said. "It's very hard to fight with what's available from everywhere else."
But Tuba Sapanli doesn't really see seafood counters at local grocery stores as being on the same level as her store, saying they don't always know how to properly preserve or display their fish. Often the people behind those counters know little about the products they sell, she said.
"We were closed for nine months and some of my customers told me they haven't bought fish from anywhere else for nine months," Tuba Sapanli said. "They couldn't match the quality or freshness. Some of the fish we sell is available at grocery stores, but it doesn't look the same. It's standardized, prepacked and you don't get the personal attention. Some people care and some don't."
'Just give me a fish to clean'
Tuba Sapanli said it was the lack of independent fishmongers in the D.C. area that drew her and Bilge into their business after she convinced him to leave his branzini farming business in Turkey in 2008 and move to the US. She also left her job marketing for the construction industry.
In case you were wondering, Bilge is not a salty nautical nickname but means "wise" in Turkey. Tuba refers to a tree that grows in heaven. She jokes that her friends in the US have asked her about her name, advising her that she does not at all resemble the musical instrument.
The couple now has two children, five and two years old. Tuba Sapanli said her oldest child was born a week before they opened their new business and served in a "public relations" capacity, entertaining the new customers as they entered her family's store.
Those in fishmongering know it's hard work and involves early hours. Tuba said her store's shipments arrive at 5 a.m. But she said she loves spending time at the counter.
"I didn't grow up with fish and couldn't have gone through a fish market before because of the smell," she confessed. Though she has numerous duties, including helping to run and promote their business, she said she tells her husband now, "'Just give me a fish to clean. I would just go there, gut the fish, scale the fish, and talk to the customers. I wish that was my job.'"
A good tip, if checking out MediTerraFish, is to find the parking garage which shares the same group of buildings but is located behind the store.