Fairfax County could potentially increase the amount of paid parental leave it gives employees to six weeks under a proposal being considered by the Board of Supervisors for next year.
As part of an assortment of 19 different types of leave, the county currently grants workers 80 hours of paid parental leave – the equivalent of two work weeks – to use following the birth, adoption, or foster care placement of a child.
"Our employees are the backbone of our County," Fairfax County Board of Supervisors Chairman-elect Jeff McKay said in a statement. "They're dedicated to making our community a better place for everyone and they're the ones who bring our world-class programs and services to life…This is a great step toward my goal of making Fairfax County the best place for working families."
After months of conversations with Service Employees International Union Virginia 512, which represents county employees, McKay introduced a resolution asking staff to compile information on the county's paid leave opportunities. The board unanimously passed the motion at its July 16 meeting.
In a presentation given to the board's personnel committee on Nov. 26, Fairfax County human resources staff recommended that the county replace the 80 hours of parental leave that it offers now with 240 hours of paid parental/family leave that can be used in the event of a personal or family health issue as well as the birth or adoption of a child.
In accordance with the federal Family and Medical Leave Act, county employees can take up to 12 work weeks of leave within 12 months of child birth, for the placement of a child for adoption or foster care, or to care for themselves or a family member with a serious health condition.
Family and medical leave can be job-protected, unpaid leave or a combination of sick leave, annual leave, and compensatory leave, according to Fairfax County's personnel regulations.
Full-time county employees receive 13 days of sick leave per year, along with annual paid leave that varies from 13 to 26 days per year depending on how long they have worked in the county.
With only two weeks of paid parental leave under Fairfax County's current system, employees who have a new child are forced to burn through their annual or sick leave in order to take more time to recover and settle into their new life, giving them little flexibility in case the child gets sick or an emergency once they return to work.
The county permits employees to donate annual and sick leave to their colleagues, but the person in need can only use it after they have exhausted their sick leave and have less than 80 hours of combined annual and compensatory leave.
SEIU Virginia 512 President David Broder says he also often hears from workers who use up their allotted paid leave while taking care of a loved one who has gotten sick, a challenge that is especially common for people who have both children and aging parents.
"I hear every single day from members about why this is so important, from workers who are expecting…to another member who was battling cancer," Broder said. "…For them, it really is a matter of quality of life and what the quality of life that they and their loved ones are going to have."
Fairfax County social worker Brandie Chaney, for instance, is expecting a child by the end of December and has already depleted her annual and sick leave to the point where she is not sure if she will be able to get up to eight weeks of paid leave.
"I am sure I am not the only employee who has been through this or is currently experiencing it," Chaney said. "It's a scary thought to think that, while recovering and adjusting to life with your new baby, you also have to worry about the financial repercussions if you run out of leave."
Another Fairfax County employee was due to give birth on Christmas Eve and spent the weeks leading up to the event agonizing over a spreadsheet and talking to human resources to figure out how much paid leave she will be able to cobble together.
The employee, who asked not to have her name or position identified for fear of retaliation, says she has been fortunate to have a supervisor who let her tele-work so that she did not have to use up sick leave on doctor appointments during her pregnancy, but the situation with her paid leave has still been a source of unnecessary stress.
"I feel like we should be focusing more on, like, taking care of the child and prepping for that, and worrying about how my leave is going to be coded and if I can get to that three-month point is not the greatest," she said.
From the county government's standpoint, increasing paid family leave for employees is critical to staying competitive with other jurisdictions, the federal government, and the private sector in terms of worker recruitment and retention, according to Fairfax County Department of Human Resources director Cathy Spage's presentation to the Board of Supervisors.
According to data released in March by the U.S. Bureau of Labor Statistics, 91 percent of local and state government workers get paid sick leave compared to 76 percent of civilian workers and 73 percent of private industry workers.
However, only 17 percent of U.S. workers have access to paid family leave through their employers, according to the nonprofit National Partnership for Women and Families.
The unpaid leave protected by the Family and Medical Leave Act is available to fewer than 60 percent of workers, and many workers who do get unpaid leave through the FMLA, which was signed by President Bill Clinton in 1993, cannot afford to take advantage of it.
Research shows that paid leave policies benefit employers as well as employees by reducing turnover costs through improved retention, increasing worker productivity, and boosting morale and loyalty, the National Partnership for Women and Families says.
Efforts to improve paid family leave have gained more traction in recent years with eight states and the District of Columbia passing laws to establish publicly funded family and medical leave programs.
Congress approved 12 weeks of leave for 1.2 million federal government employees through the Federal Employees Paid Parental Leave Act, which was incorporated into a defense spending bill signed by President Donald Trump on Dec. 20.
On the state level, Del. Jennifer Carroll Foy (D-2nd) introduced a bill to establish a paid family and medical leave program through the Virginia Employment Commission during the Virginia General Assembly's 2019 session, though the legislation was left in committee and has not yet been reintroduced for the upcoming 2020 session.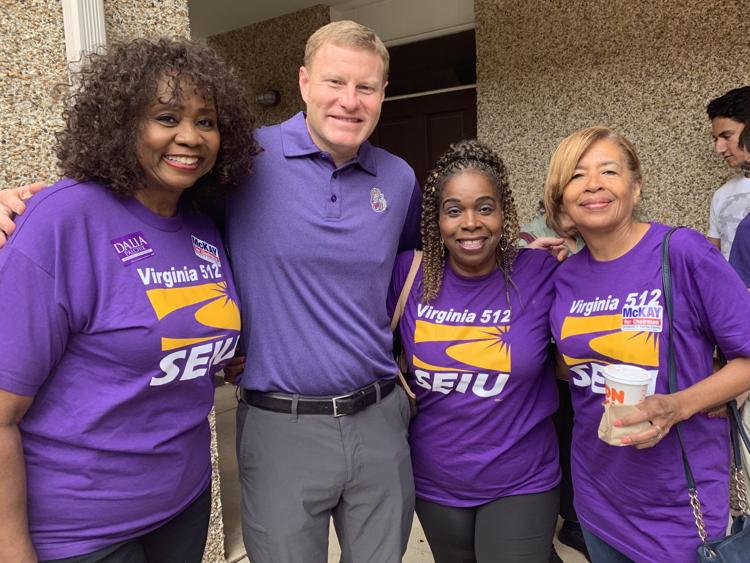 If the Board of Supervisors adopts the proposal to expand the county's paid parental/family leave to 240 hours, Fairfax County would be in line with the City of Alexandria, which created a six-week paid parental leave program for eligible city employees in 2018.
Arlington County currently gives FMLA-eligible employees up to four weeks of paid parental leave, while Loudoun and Prince William have no parental or family leave programs aside from the 12 unpaid weeks employers are required to offer under the Family and Medical Leave Act.
While six weeks of paid parental/family leave would be a significant step for Fairfax County to take, it would still fall short of what state government workers and some private sector workers can already get, Broder notes.
Virginia Gov. Ralph Northam signed an executive order in 2018 granting Commonwealth employees eight weeks or 320 hours of parental leave at their full regular salary following the birth, adoption, or foster placement of a child 18 years old or younger.
According to county staff, Amazon offers up to 14 weeks of maternity leave and six weeks of paid parental leave, while the consulting firm Deloitte, which has several locations in Northern Virginia, offers 16 weeks of fully paid family leave time in addition to six months of paid time off for mothers after child birth.
If approved, the paid leave increase would likely take effect in July 2020 in conjunction with the county's Fiscal Year 2021 budget, which would be too late for employees like Chaney who are facing challenges with parental leave right now.
"[This is] a great step in the right direction, but we've really got to make sure it's enough," Broder said. "I think we've really fallen behind, and I think we need to expedite the process."