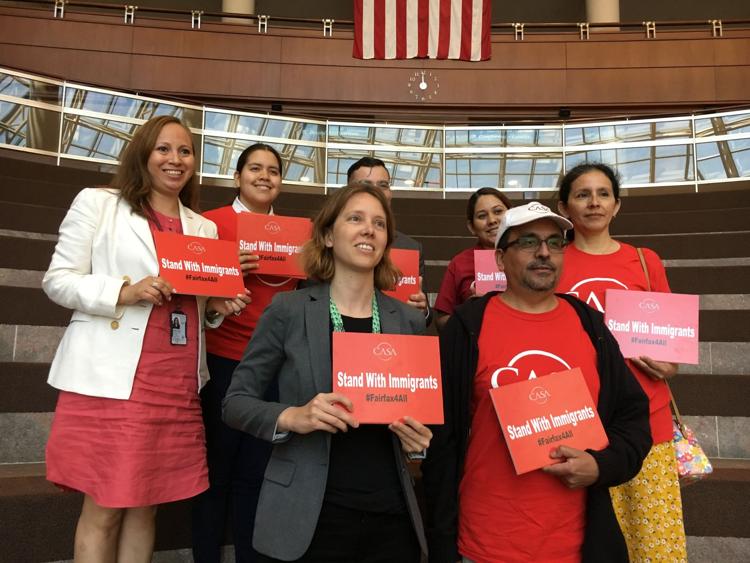 Fairfax County government employees will now earn at least a $15 minimum wage thanks to the budget that the Fairfax County Board of Supervisors unanimously adopted on May 7 for Fiscal Year 2020, which will begin on July 1.
The board increased minimum hourly wages for county employees from $14.83 to $15.14 per hour when it preliminarily approved an FY 2020 general fund budget during its annual budget mark-up meeting on April 30.
May 7 represented the county's formal adoption of a budget for the coming fiscal year.
"We all know that rising costs of living are a significant challenge facing many of our hardworking employees," Lee District Supervisor Jeff McKay said. "When we take care of our own employees, they are better equipped to provide the services and programs that make Fairfax County a world-class place to live, to all our residents."
As chair of the board's budget committee, McKay says he was proud to support the minimum wage increase and to see Fairfax County take a proactive role in addressing income stagnation, rather than waiting on the rest of the state or the federal government.
Virginia's minimum wage remains in line with the federal rate, which has stayed at $7.25 per hour since July 24, 2009.
Legislators introduced two bills during the 2019 General Assembly session that would have incrementally increased the state's minimum wage, one that aimed for $15 by 2021 and another that escalated to $11.25 in 2022.
Senate Republicans killed both pieces of legislation in January.
Fairfax County's establishment of a $15 minimum wage comes after employees challenged an advertised FY 2020 budget that fell short of a promised market-rate adjustment increase.
The MRA is intended to help county employees keep up with the cost of living in Fairfax County and ensure jobs stay competitive compared to surrounding jurisdictions.
Fairfax County is generally affluent with nearly 29 percent of households earning $200,000 or more, but poverty still affects many residents. More than 7 percent of households and almost 6 percent of families receive an income below $25,000, according to the Fairfax County 2018 Annual Demographic Report.
A single adult needs an annual income of $36,271 in order to earn a living wage in Fairfax County, while a couple with one child has to earn $70,137 annually, according to a living wage calculator developed by the Massachusetts Institute of Technology.
The formula used to calculate the MRA for Fairfax County employees dictates that it should be 2.51 percent for FY 2020, but the advertised budget proposed by County Executive Bryan Hill on Feb. 19 included funding for only a 1 percent MRA.
After hearing testimony from employees, the Board of Supervisors tweaked the budget under consideration to allow for a 2.1 percent MRA.
The newly adopted FY 2020 budget provides an average 4.1 percent raise to general county employees, including librarians, social workers, nurses, engineers and parks staff, according to Service Employees International Union Virginia 512, which represents Fairfax and Loudoun County employees.
"Fairfax County employees love our community and work around the clock to help local families and businesses thrive," Fairfax County Government Employees Union, FCGEU-SEIU, President Tammie Wondong, a county social worker, said. "Today's budget vote will help frontline county employees take care of our own families, as we work to care for others…It is proof that advocacy works, and that the voices of working people have been heard."
Representing a $50.56 million, or 1.1 percent, increase over the FY 2019 revised budget plan, the adopted FY 2020 budget allocates $4.45 billion in general funds to county services and the Fairfax County Public Schools, which received its full $2.35 billion funding request.
While the real estate tax rate will remain at $1.15 per $100 of assessed value, the budget includes increases to the refuse collection and disposal fees along with sewer service charges.
Among other items, the budget provides $15 million for affordable housing initiatives and $276,749 for two staff positions in the county's new Office of Environmental and Energy Coordination.
One of the more notable budget items is a one-time funding of $200,000 for a comprehensive universal representation program pilot that will support legal representation for county residents subject to federal immigration enforcement actions.
Proposed in January by the nonprofits CASA and Capital Area Immigrants' Rights Coalition, the pilot will cover representation for an estimated 22 individuals facing detention proceedings.
It will also let the nonprofits conduct community workshops for immigrants, including lawful permanent residents, Deferred Action for Childhood Arrivals recipients, and Temporary Protected Status holders.
The workshops will be designed to educate immigrant residents on their legal rights, how to plan in case a family member is detained or deported, and other issues they may face, according to CASA Virginia field employment specialist Nayely Lopez.
"It is going to help a lot of the community that is already in immigration proceedings," Lopez said. "But also it's going to help many of the low-income communities that live here in Fairfax."
Fairfax County is the first locality in Virginia to establish a legal representation fund for immigrants, though Prince George's County and the City of Baltimore in Maryland have tried similar pilot programs.
CASA staff who were present at the Fairfax County Government Center when the Board of Supervisors adopted the FY 2020 budget on Tuesday admitted they were surprised that funding for the universal representation program passed without any last-minute objections.
Springfield District Supervisor Pat Herrity has questioned why the county should fund legal services for immigrants in federal court when it does not provide legal services to low-income residents for civil cases.
Braddock District Supervisor John Cook has also expressed reservations about the program in a statement, saying that he believes those involved in immigration proceedings should have legal counsel but funding it should be a federal responsibility.
Herrity moved to strike the $200,000 for the universal representation pilot from the FY 2020 budget during the mark-up session on April 3, but the motion failed 7-3 with Cook and Providence District Supervisor Linda Smyth voting with the Springfield District supervisor.
Lopez says the representation program is important not just to make legal counsel available to people who might otherwise not be able to access it, but also as a tool to educate the community.
"I think [Fairfax County is] going in the right path and helping the community, so hopefully they will continue to do so," Lopez said.