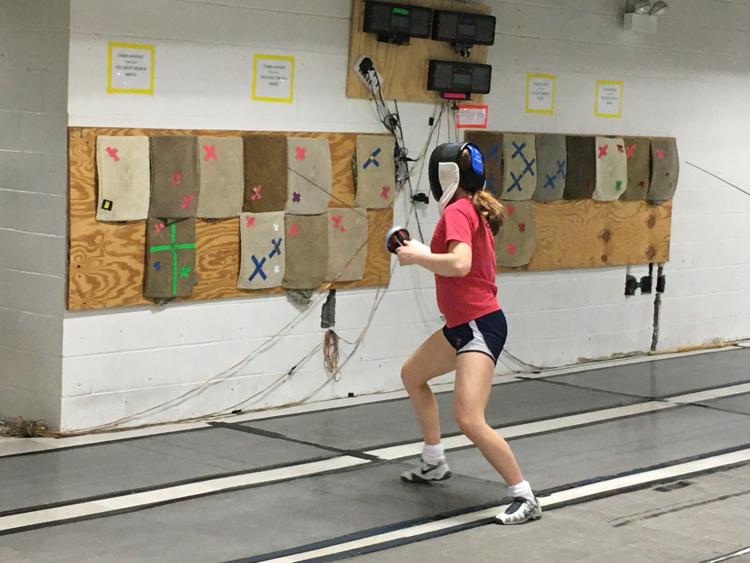 Swords are at play at the Fencing Academy in Old Town Fairfax. Fencers of all ages are coming to hone their skills. The Fencing Sports Academy (FSA) is run by Connie Schrieb, who has seen many people come through and go on to great things; including some fencers winning local tournaments and events in the Olympics. There is no specific time of year for fencing. According to Schrieb, "fencing happens year-round."
The Academy has made some adjustments due to the pandemic. There are hand sanitizing stations and equipment is washed and disinfected after its use. Schreib has noted that the usual slate of camps coming up this summer are taking this issue seriously. However, due to the nature of the sport, social distancing won't be a problem. 
 "Each sword is three feet long," Schreib explained. The point of the sport is to keep your distance and also wear protective gear, so both fencers will be safe as long as they follow the guidelines and rules in place for the sport. The Academy is not taking any chances with COVID-19: their morning classes are online and they hold some in-person training sessions as well.
 In the studio, there was a combination of some students practicing with instructors. Others were taking their lessons via Skype or Zoom sessions.
One of the instructors at the facility was Patricio Moreno who has been teaching fencing for 20 years. Moreno, who is originally from Chile has "been fencing since I was 6, my whole family fenced." Moreno moved to North America in 2016 and started in California before arriving at FSA 18 months ago. The pandemic has been hard on Moreno and his students because "the main part of fencing is with another person," he explained.  
 According to Moreno, FSA needs to help other fencing academies and show them how to work with the pandemic, in order to prevent COVID-19 from crippling their training facilities. Meanwhile, "other clubs are struggling," Moreno said, which puts the FSA in a position to try and help those clubs out. If there's any club that can pull this off in Northern Virginia, it's this one.