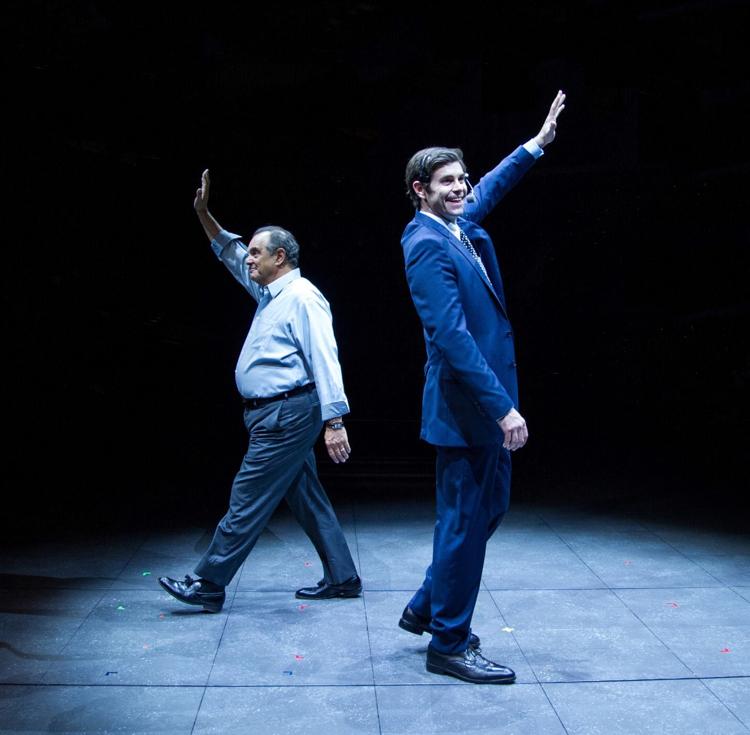 Four-time Helen Hayes Award-winner Edward Gero, who is taking on the role of Thomas Everson Jr. in Ayad Akhtar's "Junk," is also an associate professor of theater at George Mason University.
"Junk," which urges us to question our financial system, revolves around the brilliant and calculating Robert Merkin, who prepares to take over Everson Steel and United, a family-owned manufacturing company that is led by third generation Chief Executive Thomas Everson Jr. The play gets its name from the term "junk bonds."
Before we get lost in all of the economic jargon, let's discuss the purpose of the play with Gero, whom I met right after his performance at Arena Stage last week:
"This is a basic story about generational change taking over and creating a whole new world, and my role represents the old world and the old way of thinking," said Gero, and explained why this story is important, "Ayad Akhtar [Pakistani American, Pulitzer Prize-winning playwright], who wrote the play, had his intention, and he talks about it. He explored the question of how we changed from being American citizens to American customers. He believes it was at this moment of time [during the '80s] when, suddenly, debt becomes an asset, that everything was quantified, and that the humanity of working with people that you've known for generations doesn't matter; it's all math. So now, we are suddenly in this amoral, untethered from human interaction and spirituality and it's just purely economics... It's amoral capitalism. What does a world look like, like that? Well, for someone like Merkin, he was discovering something new and thinking in a new way, but he went too far."
In the play, Merkin explains to his business partner Izzy, who is also young and Jewish, responding to what Wall Street Journal is writing about them, about how bad they are and that they do not represent the Jewish community, "Listen to me, when those white shoe guys go out and win? When they take the spoils? Then it's life, liberty and the pursuit of happiness. When we do it, suddenly it's greed."
"It suggests that this was part of the world, the US economy during the '80s; Wall Street was a white Anglo Saxon Protestant stronghold and they were called white shoe companies," commented Gero.
"What do you think about Akhtar's belief that 'the central story of our time is not identity, but money'?" I asked.
"The economy is larger than identity. Right now in politics it's all about identity politics, which is important; we all want to be who we are and have equal access and that makes sense and he [Akhtar] is saying that this is still in some way self centered, where the economy is more in the aggregate; it's all of us, so there is a way to connect all of us. As important as it is to be individual, he is saying there is a larger question, which is, look at the boat we are all in. So he is asking us to go macro rather than micro," explained Gero.
Playing the role of Chief Executive Thomas Everson Jr., whose steel business has fallen on hard times and continues to see through diversification of the company that began under his father's regime, Gero drew from his experience with his father, "who was a local United Auto Workers president from 1939 to 1965. He was working with labor deferred from World War II. There were 3000, mostly immigrant people working under him to make piston rings for the war effort during World War II, mostly women by the way, because most of the men were off to war. I grew up in that household. I always heard stories about labor and management and that whole tension, and he took me to the plant as a young boy, so my character talks about that," shared Gero. "Then there is understanding of the economics, the reading up on that. 'The Predators' Ball' is one of the books that we all read, which is about this particular Milken's takeover and his impact on the US economy and the world economy. So, there is some intellectual work to do, some research in that way. So, it's both personal and academic."
For Gero, acting is about "listening and listening and listening and paying attention, and it is not about me, it is about you, about listening to the stimuli; just respond to stimuli. Do not push it around; take it. Take it."
His interest in theater started in high school: "I was an outsider and suddenly, when I came to the theater, it did not matter what your social economic background was or what your heritage was. If you were willing to dig in and do the work and collaborate with others, you were more than welcome. I felt at home," said Gero. I asked him about his favorite scene in the play, "I love the scene in the boardroom because it is most intense and it's the climax of the play. He's fought to keep this company and it falls apart and it is beautifully staged in a kaleidoscopic way where we see scenes all over the stage. We follow the journey of each character. Brilliant. He committed suicide. I certainly fought battles and I was killed onstage, but to make a conscious decision to take my life, that is something I had never thought about."
This led Gero to remember the car accident that "freed him up," transforming him to become more spiritual and present and even accept death, "I was a 22-year-old man. I was in a car accident and was in a car--not driving--but driven off the cliff, 125 ft. cliff, and survived. So from that moment on, when I thought, 'That's it, I'm gone' -- when I found myself still here I thought, 'OK, I'm not finished. How did this happen? This is totally miraculous. There's no reason why I'm standing here.' And I started to drive out of that realization and go forward from there. Death has become my friend. It freed me up in a way. I would do this, but I wasn't that connected to it egotistically. I was just here, that is good enough.'"
As a professor, Gero likes to teach his students how to think, what questions to ask, what is important?
"I tell my students that when I was growing up my social platform were eyes; I looked, you look at people. Now you are looking at your screen, so it's hard sometimes for young actors to be able to get comfortable being with human beings, not virtually, but actually, so we do exercises where we ask them to look at each other for five minutes, observe something, be observed ... don't judge."