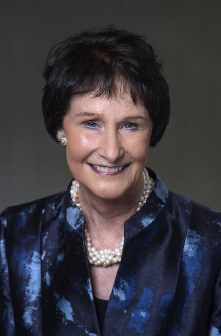 ARTSFAIRFAX, the nonprofit that represents the arts in the county, recognizes artists, arts organizations and arts supporters with four distinct awards every year.The Jinx Hazel Arts Award is the top award and is given to "individuals for their support of the arts and community and their significant impact on the arts and quality of life in Fairfax County." The 2019 honorees for this award are former Fairfax County Board of Supervisor Chairman Sharon Bulova and Shashikant and Margaret Gupta.
As reporter Janet Rems wrote for Fairfax County Times, "Bulova's arts-related accomplishments were her launching of 'Evenings on the Ellipse' summer concert series at the Fairfax County Government Center, ongoing support for the Workshop Arts Center at Lorton and commissioning a commemorative musical composition, 'Resolutions,' to celebrate Fairfax County's 275th anniversary and the Fairfax Symphony Orchestra's (FSO) 60th anniversary in 2017."
We had this conversation over the phone:
So, the first thing I want to know is what is your vision for the arts in the county in 2020 and beyond?
Bulova: Okay. So as you know, I am a believer in the arts as being integral for the quality of life for the community that we live in. So, I see the arts taking more and more of a role in providing beauty, entertainment for places where we live. In particular, I know that in Tysons, where we're doing a lot of redevelopment. There is a requirement that the arts are part of that redevelopment and that the planned owners and the development community are partners in making that happen. But there will be and there are other places in Fairfax County where you're going to see redevelopment of older parts of the county. Like for instance, the Route 1 Richmond Highway Corridor, but also other older industrial areas. It's important that when that happens, that the arts are part of that redevelopment revitalization.
What do you think the biggest challenge for the arts in the county is?
Bulova: The biggest challenge … it's really ... I think it's a mindset that we need to encourage. So, there was a time where the arts were considered just an extra thing and not important to foster and it really is a mindset. It's training people's vision and training people's minds to look for art, to look for incorporating the performing arts, visual arts, music, aesthetics into the things we do.
Who can change the mindset?
Bulova: I would say that you're already seeing those changes, and you're seeing it coming from the community, coming from the art, the community of people who believe in art, for whom art is important -- so, coming from the ground up. Elected officials are understanding the importance of the arts and are able to incorporate the arts into development, into the budget and into programs that the county has. So, it's really from the ground up, but then elected officials have embraced the importance of the arts in our community. So the Board of Supervisors in particular, but also the school board, if there is a will, and I think that there is, incorporating art and programs for the arts into our schools, into development in the county when communities are being revitalized and built, where there's a will, that is happening. I would like to give a shout out to supervisor Linda Smith, who until just recently represented the Providence district. And so, one of our major redeveloping areas is Tysons and the board made it clear that we wanted to see performing arts. We wanted to see public art happen in Tysons. And Linda, as the supervisor who represented most of that area, really held the developers' and landowners' feet to the fire during the development process that made it clear that this was something that the county wanted.
And frankly, it was not all that hard to do because the developers of Tysons, once they understood what was expected of them, they were interested in seeing that happen as well. I'll give you an example: in Tysons, the Cap One Project includes a theater, performing arts venues that will really bring excitement and vitality into the Tysons area. So it's just one of a number of venues that are going to be made available to the public.
When I attended ARTSFAIRFAX's 2019 Arts Awards event, I learned that having a Fairfax Poet Laureate program was your idea. Why do you think this is important?
Bulova: We don't think very often of poetry, you know, as being an important element in the arts. And so, in Fairfax County, I don't think that we've paid as much attention to poetry as we could. I thought about it when actually, a constituent came to me, and she was a poet, and she asked why we didn't have a poet laureate. And I had stated, "It never occurred to me."
So I wasn't quite sure what to say to her, but I told her that I wanted to think about it. And then, I did some research about what other jurisdictions do, and much to my surprise, I learned that Prince William County had a poet laureate; the state, the Commonwealth of Virginia has a poet laureate. I think Arlington and Alexandria may.
And so, I thought, "This is not a crazy idea, but clearly something that other jurisdictions are doing and it's something that we should do in Fairfax County." And then, the more I thought about it, I thought about ways that we could use the work of a poet laureate to build an interest in poetry and our schools; this person could also be part of ceremonies that we have and reciting poetry and creating poetry for Fairfax County.
So my next step was to talk with Linda Sullivan [ARTSFAIRFAX] and she loved the idea. She went back to her board to talk a little bit about, you know, how would this work and it would require an individual you know, within ARTSFAIRFAX to be able to manage a program like this.
When we had the swearing-in inauguration ceremony for the new Board of Supervisors, we played a beautiful original piece called "Resolutions," that was created by the Fairfax Symphony Orchestra for Fairfax County. And, actually, it was my idea during our 275th anniversary that we have an anthem, or that we have an orchestral piece for Fairfax County. And so, they sang that at the inauguration at the government center. It was beautiful. And I thought at the time, "Wouldn't it be great to also be able to incorporate into a ceremony like that, an original reading of poetry?" And so, I think that will be in our future.