"Many of our pieces are named for under-appreciated, iconic women who we believe to be symbols of courage and fearlessness that the modern woman can look to as heroes," said sculptor Natalie Abrams about the young wearable sculpture company, Abrams Wearable, that is located inside Alexandria's Torpedo Factory. Abrams Wearable is one of the companies participating in the District of Fashion Runway Show happening this year on Sept. 5. This is the story behind one of her creations:
"The Charleston was inspired by daredevil Gladys Roy who would fearlessly dance the Charleston on the wing of a bi-plane--without parachutes, without safety lines. The former Hollywood stunt woman became famous performing death-defying feats of skill and courage up amongst the clouds. And so, one of our most confident pieces we call the Charleston in her honor."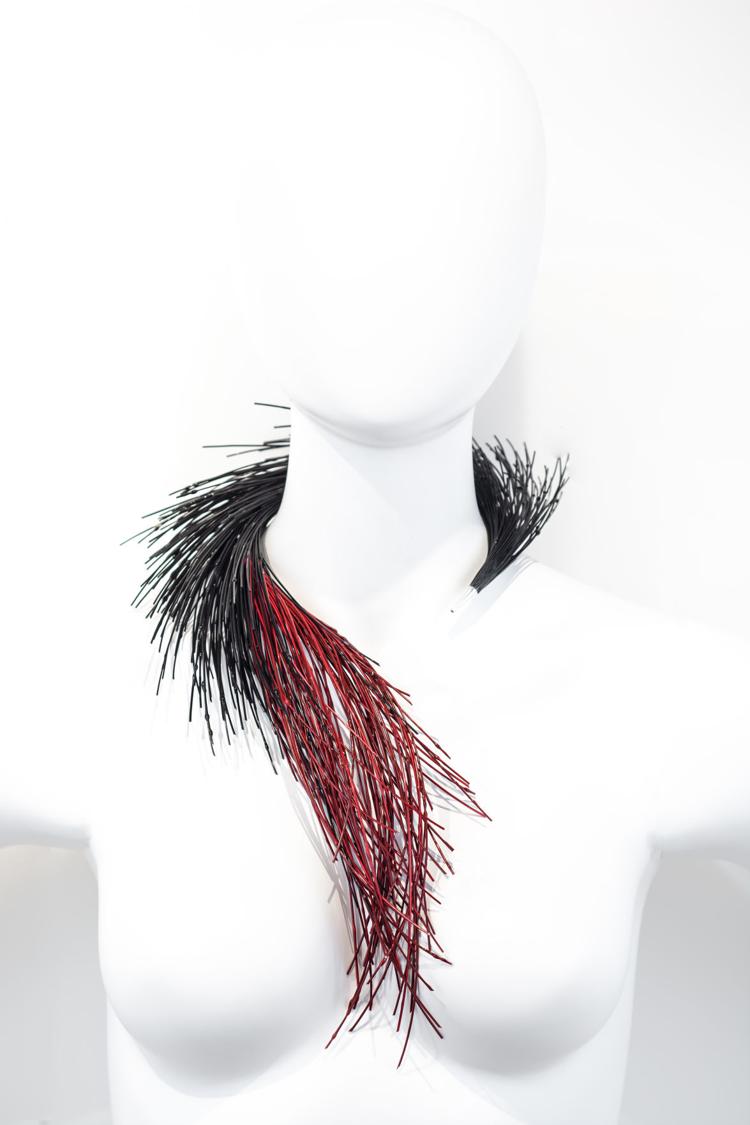 Fairfax Times asked Abrams to respond to the following statements, which are from her website, to better understand her vision:
"We strive to create some element of magic in every piece..."
ABRAMS: Our designs often include some element that surprises the viewer's eyes or expectations. For example, we use clear elements to allow pieces to look as though they are floating. Our flash pieces change color as you walk, "flashing" the color underneath. We also really like to play with perception vs. reality. The filaments look aggressive, but are actually very soft to the touch. We feel that the best modern art has some element of illusion or surprise. We strive to carry that over into our work.
"Wear your confidence like jewelry..."
ABRAMS: We based the company on the idea that the modern woman is forging new paths in society and ought to be fashioned in new types of adornments that symbolize a new age, not the same old jewelry forms, materials, methods and symbols that have existed as far back as we can remember.
Our slogan is "Tu Es L'art," which translates to, "You are the art." Our pieces incorporate acrylic paint and look like flowing paint to allow the wearer to be a piece of art themselves. They are the art, and the jewelry is merely a reminder of that fact. There is something really amazing and incredibly rewarding in having a woman come into our studio, try on a collar and see the transformation. Their face lights up, their back straightens, they just radiate joy.
Bryan Hammock, CEO and co-founder of Abrams Wearable, who grew up in the DMV area, reflects on the importance of the upcoming District of Fashion Runway Show, which is highly supported by the mayor: "The mayor has doubled the budget for fashion ... Every year it's gotten more and more. I grew up in this area and D.C., the last thing D.C. was, was a fashion place. D.C. used to be very conservative in terms of [art]. But now, our music scene is exploding and the young tech generation is coming here. We have Echostage and Anthem and we have all these different outlets that we didn't have when I was younger--not to mention all the weddings and balls--I mean, all of those things require fashion.
The reason why you see like 'Made in DC' banners all over the place because the mayor is increasing the budget for all these kinds of things to try to spur artists, to try to spur designers to create a fashion scene here. And I think this is the start of it. I think it's going to become just as big of a thing, not as big as Los Angeles or New York, but as big of a thing as it is in San Francisco or Chicago or any other major metropolitan city like that, Miami. I think it's going to start to become more and more of a thing.
And I think our jewelry, and everyone has always said that our stuff is tailor-made for the runway, is tailor-made for red carpets, but we've always wanted to maintain being a D.C. entity. We want to help grow D.C. fashion and we think there's a lot of amazing artists out there right now. Just the people who are in the D.C. Fashion Show this year: there's Grindstone, there's an artist who's worked with Jay-Z and worked with all these other influential rappers; we think his work is amazing. A lot of the young artists coming up through the D.C. scene we think are amazing. So we think it's going to be a big thing."
Abrams Wearable is located at 105 N. Union St., Studio 223 in Alexandria. For more information, please visit www.abramswearable.com.