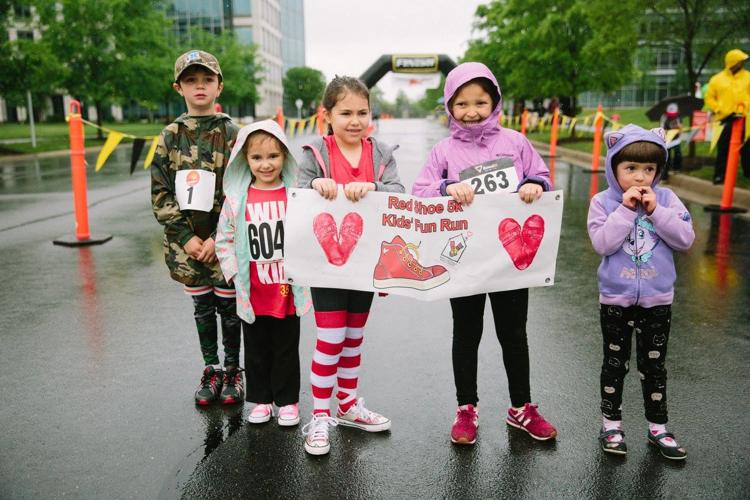 Raise your feet to raise hope on May 19
What image pops into your head when you hear about the annual Red Shoe 5k? Do you see Peter's red coat in Ezra Jack Keats' children's book "The Snowy Day," or do you see Red Riding Hood? Maybe you see Dorothy's ruby slippers?
Actually, the Red Shoe 5k, which is taking place in Centreville on May 19, has its own story: "Lisa was born not making enough platelets, and when she was 4, she had a bone marrow transplant. The hematologist in charge of her case looked around the country and decided Hopkins was the best place for her. So even though it was 60 miles from our home, the social worker suggested the Ronald McDonald House, which made it so much easier for us," said Lisa's mother Terry Herrmann, the founder of the original walk.
"I had a six year old and a two year old. Lisa was 4. After that successful transplant experience and the wonderful haven that the Ronald McDonald House provided for us, we always felt very grateful for that. Then, when Lisa was 10, 6 years later, we read in the paper that they were building the Ronald McDonald House of northern Virginia on the grounds of Fairfax Hospital, and that was just 5 minutes from our house. So Lisa said, 'Daddy, we have to get involved.' Tom said, 'Yes, ma'am,' and he started serving on the board.
When Lisa was 13, and the Ronald McDonald House was at that point almost completed, all three of our kids, as part of the bar and bat mitzvah projects, had to do community service. Our family required that. That was a part of becoming an adult in the Jewish faith. Lisa started a library with donated books from her guests who came to her bar mitzvah, and that meant that the family had books available to them, from picture books all the way up to adult books, that they could keep while they were staying at the house. It was very successful and gratifying.
The next year, when Lisa was in eighth grade, she didn't want to just not do something for the house, and she came up with the idea of doing a walk-a-thon around Burke Lake Park. So, as a family, we planned this walk-a-thon hoping we could raise $500, because that was about the maximum that we could write a check for. I wasn't even sure that anybody would show up. We ended up collecting $2500 that first year, and it was just a huge joy to be able to bring that in cash to the house.
Lisa had friends from youth groups and from school, and we did it on Mother's Day weekend, and we got roses donated. We said come with your family, roses for mom, bring your dog, so it was a family walk-a-thon. It was $10 per person, so that basically means 250 people showed up the first year. We decided to continue doing that and each year we made more and more money. The word spread. After a while, we realized this was serious income. After doing this for about, maybe 12 years, we handed it over to the house, because it had gotten too big for us to handle and we realized that corporate involvement was a real benefit both for the community to see that and for the financial end, because they could pledge bigger dollars. Since 1998, we probably raised close to $400,000."
The Red Shoe 5k has become the Ronald McDonald House Charities of Greater Washington, D.C.'s (RMHCDC) biggest annual fundraiser.
Although Lisa has moved to pursue a career in pediatrics at Cincinnati Children's Hospital, her mother, Terry, is still in the area helping to give back to the Ronald McDonald Charities.
Does the name Ronald McDonald ring a bell? Join me and Vice President of Development & Marketing for RMHCDC Sarah Quillen for a conversation that took place in the Ronald McDonald House in Falls Church.
How much is McDonald's involved in the Ronald McDonald House?
QUILLEN: We receive 20 percent of our total budget from the local owner operators of McDonald's, so we are not a McDonald's brand.
In the local Washington D.C. metro region, there are owner operators; they're franchises, McDonald's are franchises and one person can own ten to twenty different McDonald's around the region. So, there is a co-op and they all come together and decide to make Ronald McDonald House Charities their charity of choice. It's a voluntary decision. They decide to do it. They always come together and vote on it. Actually, we have several owner operators from that co-op who are on our board of directors.
If you go into McDonald's, they have little donation boxes for small spare change--that comes to us. The Happy Meals that children get, a penny of that comes back to us. This happens all over the country.
Is the house named after McDonald's mascot?
QUILLEN: Well, kind of... It's Ronald McDonald House Charities and there is actually a Ronald McDonald Charities Global. We are basically a chapter of the larger brand. It began in the mid '70s. A Philadelphia Eagles player, his daughter had leukemia, and he and his wife realized that if they both wanted to stay with their daughter in the hospital, they had to sleep on waiting room chairs and it is just really uncomfortable. So he got the NFL together, talked with the doctor in the hospital and said: 'What do we need to do?' and she [the doctor] said, basically, give us a million dollars to build a house. They approached the local McDonald's in their region and they gave money, the McDonald's brand gave money, and it sort of spawned from there. Then, they built this brand around Ronald McDonald House Charities around McDonald's. So, yeah, the origin does come from [McDonald's mascot].
I know that other big companies are involved as well.
QUILLEN: Here is the benefit of being a charity choice of McDonald's: they approach Coca Cola and Dr. Pepper and get them to support us. We would not be able to do it … We have a coke machine that we can offer to families for like 50 cents—much cheaper. There are a few larger national sponsors that we get the benefit of here locally because of that relationship with McDonald's, so we are super grateful to McDonald's for making us their charity of choice.
But even though these big companies are involved, Ronald McDonald House Charities still needs fundraisers.
QUILLEN: Just because they are big companies doesn't mean they are giving us huge dollars. So, the more sponsors, the more promotion we get, the more registrants for the race and for all of our fundraising efforts--that goes directly into the programs and services. We are very proud that we only have about 20-23 percent overhead for all of our services together. That means that over 75 cents on every dollar earned goes directly into the programs and services of the charity.
The Ronald McDonald House in northern Virginia earned Guidestar's highest seal of transparency, which is the 2019 Platinum Seal, by adding information to their nonprofit profile on GuideStar. What does this mean and why is it important?
QUILLEN: If you think of your own charitable giving, are you going to give to a charity that…maybe a couple of cents will go to the programs and services? No. You think of your own giving; I want that to benefit the mission that I am giving to.
Because there are these industry standards set up, to be accredited by the Better Business Bureau Wise Giving Alliance, to get those four star ratings from Charity Navigator, there are minimum standards you have to have. Of course, as a nonprofit, to keep your 501© (3) status, there are minimum requirements. We want to go above and beyond the minimum.
Are the people involved in organizing the Red Shoe 5k volunteers?
QUILLEN: The race is all volunteer-based; Lisa's husband has been on the volunteer run board. … At the 5k, there is an army of volunteers that helps. There are very few paid positions with the organization. I think we have 35 staff, full-time and part-time in the whole Washington D.C. metro region.
How many locations do you have?
QUILLEN: We have two locations: the Virginia house, which is an eight-room facility, so we can serve eight families at a time. In DC, it is about a mile from the Children's National Hospital; that's our primary service for there. That's 25 beds. We can serve 25 families at any one time there. In the hospitals, we have three family rooms: two over here in Inova, right around the corner, and one over in the Children's National Hospital. These are for folks who may or may not stay here in the house, but their child is in care in the hospital. They can have a room where they can prepare meals, read the paper, do some work—just get a little refreshed without having to leave the wing where their child is being served.
A Tour of RMHCDC in Photos