In 2016, Lincoln Center remounted "Falsettos," William Finn and James Lapine's groundbreaking, 1992 Tony Award–winning musical, garnering five Tony noms in the process. The national tour of the musical will play at the Kennedy Center from June 11-23.
"Falsettos" tells the hilarious story of Marvin, a charming, intelligent, neurotic gay man and those who occupy his world, including his wife Trina, lover Whizzer, about-to-be-bar-mitzvahed son Jason, their psychiatrist Mendel, and the lesbians next door (Charlotte and Cordelia).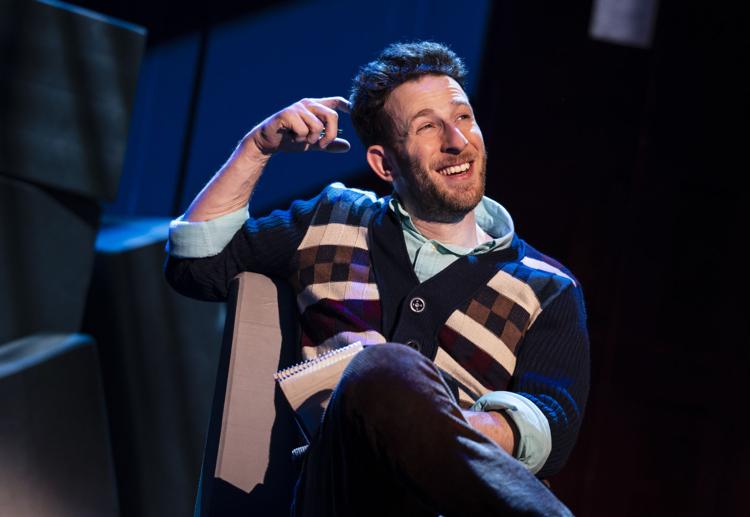 Nick Blaemire, who plays the role of Mendel, is a D.C. native who grew up in the area doing community theater from a young age until he was accepted to the University of Michigan's music program. Since then, he's had a successful theater career with several Broadway and off-Broadway roles. But, he's excited to be returning home.
"It's kind of blowing my mind honestly. I've performed a bunch in D.C., but I owe all of my passion for theater from stuff that I've seen at the Kennedy Center," he said. "To be coming back is kind of like a 'this is your life' scene that I always dreamed about but never quite knew how to obtain. It's quite fitting and cosmic to be coming back and doing this show."
He calls "Falsettos," which is sung through, one of America's masterpieces and is excited to be part of the tour.
"I think it speaks to the Jewish experience and the experience of being in an American family in a way that very few other pieces do, especially in musical theater," Blaemire said. "There are some great plays—family dramas—that make us feel the American family is being represented, but in musical theater, in order to create that nuance, detail and kitchen-sink subtlety, it's not done often."
In learning the show, Blaemire saw Mendel as the comic relief and the clown, and at first, had some trouble with some of the character's traits.
"He does something incredibly selfish and flawed in marrying his client, who is the ex-wife of his other client, and that thing alienated me at first, but then I realized that's really what I love about this show," he said. "These are flawed people trying to figure out how to be good people. I think the relationship Mendel has with Jason is so beautiful and well done. I was really moved at what's possible within the character. There's a lot to him."
The full cast includes Broadway vets Nick Adams as Whizzer, Eden Espinosa as Trina and Max von Essen as Marvin, with Audrey Cardwell as Cordelia, Bryonha Marie Parham as Dr. Charlotte, and Thatcher Jacobs and Jonah Mussolino sharing the role of Jason.
Not only has Blaemire acted on Broadway—appearing in both "Cry Baby" and "Godspell," but he also wrote his own musical that played the Circle in the Square Theatre on Broadway.
"Glory Days" had a book by James Gardiner with Blaemire writing the music and lyrics. It was originally produced at the Signature Theatre in Arlington, before playing 17 preview performances in New York. Unfortunately, it closed after opening night due to lackluster advanced sales.
Still, Blaemire, who was performing in "Cry Baby" at the time, is one of a handful of artists who has had a show on Broadway while appearing in a different production. And the experience taught him a lot about the business.
"I'm very grateful to have gotten to experience that, and getting to do both at the same time," he said. "'Glory Days' was a rarity that I never expected but always dreamed about. I learned so much from the experience and know better how putting up a production works and everything that goes along with it."
Blaemire is contracted on "Falsettos" for five months, and once it ends, he will continue pursuing both his loves.
"What I'm realizing is I am someone who feels alive creating, and I am both a writer and actor," he said. "What I've been doing on the road is writing from 8 a.m. to 6 p.m., and then doing the show, and that has been energizing -- enriching me and giving me the balance I need in order to feel full creatively."