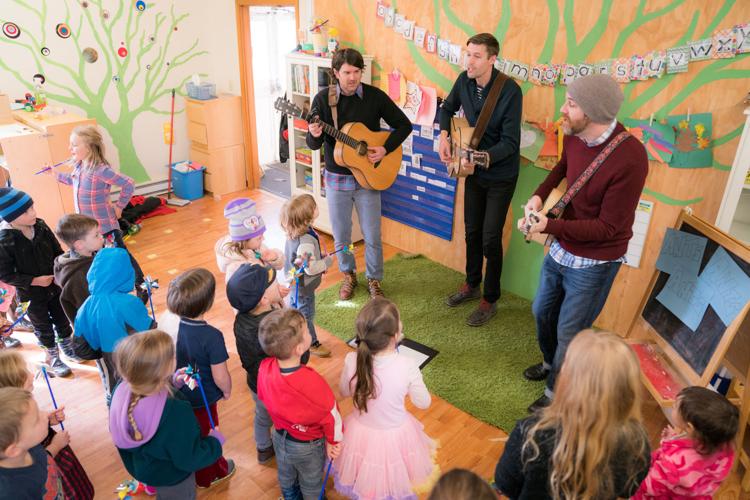 The ants are marching all the way from Portland to Wolf Trap in Vienna, carrying songs for "not only the kids in our lives but the kid in all of us," with nods to The Beatles and other great songwriters. After all, "Love Is All You [we] need."
Ants Ants Ants describe themselves as "an Oregon-based family music band with original songs that evoke vivid imagery of childhood at its best." I had this conversation with Ants Ants Ants songwriters-singers Johnny Clay and Dave Gulick over the phone.
When you see men singing for children, the first thing that comes to mind is, "Why do they want to sing for children?"
CLAY: Oh, well, it definitely was inspired by the kids. Dave and I have a lot of close friends in the community. We've been doing music in the Portland community for years. When the kids were born, a lot of friends encouraged me to start writing songs for kids because I was making up songs for the girls. It took about five or six years and finally a friend of ours that plays in Ants, Eric, showed me the play by Harry Nilsson. He said, "Look, you can do kids' songs like this. You love The Beatles. Look, you can do kid songs like this." I just was so inspired that I started working on ideas right away. Meanwhile, Dave and I were writing songs together for another project. Whenever we'd get together, he'd say, "What else are you working on?" I'd say, "Oh yeah, I'm writing a song about a raccoon that came up to the back porch." Or, "I'm writing a song about helicopter leaves that I've never heard of before, but we see them every day walking to school." I said, "You should do this with me. It's so much fun." I'm such a fan of Dave's songwriting. I knew it would be a blast. So a couple of weeks later, he showed up with a song about his dog, Finn, and it's been off to the races ever since.
So, how did you two meet? I know it's hard to find a writing partner. How did you find each other?
GULICK: We've been trying out and playing in different bands in Portland for the past fifteen years or so. Our different bands would play music together and play shows together.
Did you go to high school together?
GULICK: No. I'm actually from Oregon. I'm from a town called Crevasse, which is about two hours south of Portland. John is from Texas from outside of San Antonio. So, I went to school in Oregon and John went to school in Texas We kind of met in Portland ...We both ended up playing shows together and kind of hit it off.
After years of our own bands, Johnny approached me to do this. He was like, "Hey man, would you like to make some music with me?" We started writing for different projects. It was a very natural progression for us to work on these children's records. Being both fans of The Beatles and fans of seventies singer-songwriters, it was a really enjoyable experience to start playing music together and composing. ... I have three nieces that love music. It was fun to try out different songs and show them to them and see their response to these wacky, fun songs about robots or...my favorite dog, Finn. It's been a total blast.
It's interesting that you both are interested in The Beatles. How can The Beatles inspire songwriting and singing for children?
CLAY: Oh, gosh... Well, I think really early on, when Annie was born, our nine-year-old, that's the music we played for her. She's grown up... Those kids know all the words to "Love Is All You Need." The message of love and acceptance and inclusion... I mean, obviously the quality of the songs and the melodies as well, they [The Beatles] are the Beethoven of our time. They are just so timeless and so... I think Dave and I, being students of songwriting, we looked up to that example as, gosh, can you imagine writing that many great songs? I mean, the great songwriters have a handful of amazing songs. Lennon and McCartney and even George Harrison... It's ridiculous. It's just album after album after album of great songs. We take our inspiration from the quality of the music and the fact that when you're writing for kids, they see through that. They want that genuine authenticity in the music and in songwriting. I mean, I'm just going off of my own experience with my own kids. They connect with The Beatles in a way that... They don't want me to sing them nursery rhymes.
Very interesting. So, is this your full-time job?
CLAY: Music is our full-time job. Ants, Ants, Ants is a big part of it now. But, Dave and I are still writing for, what Dave? Four or five different groups. Most of which don't play shows. We just write music that ends up on television, sometimes in film.
Yes.
GULICK: Johnny nailed talking about The Beatles and just the positive message you get from those songs. I think that's why people can really grab onto those songs and they just make you feel good. The harmonies and the way that they create these other universes and the imagination can kind of run wild. So I think that's kind of what we wanted to do and put our little spin on it, but really have these generally fun songs that kids could enjoy, that parents could enjoy as well, that aren't necessarily children's music or kids' music. It's family music where everyone can enjoy a different point of the sounds from the guitars, from the synthesizer sounds. It was just a wonderful collection of that stuff. I think that kind of shows off what we were trying to do with Ants, Ants, Ants.
According to the band's press release, "this summer, Ants Ants Ants will release The Robot EP and the first single 'Robot Robot' will be available wherever music is sold or streaming on June 21. The band will perform at Wolf Trap Theater-in-the-Woods on June 28, and celebrate the EP release with sessions at SiriusXM and WTMD radio.
The four tracks on The Robot EP demonstrate the signature harmonic pure-pop sound of Ants Ants Ants. 'Robot Robot,' is jingly-jangly, hand-clappy tune asking, 'Robot, can you hear me?' It's a poignant refrain for our AI times, with all sorts of techno-buzzy sounds thrown in for fun. 'Dance Robot Dance' imagines an electric boogie robot who's a little weary after 'dancing all night' at the disco. With nods to The Beatles, ELO and Nick Lowe, the dreamy 'Robot Suite' continues the wonderment at the inner life of our electronic friend. A 'Robot Reprise' ends the EP with a clear signal that there's more imaginative fun ahead."
You can learn more about their music by watching their videos (www.YouTube.com/AntsAntsAnts).