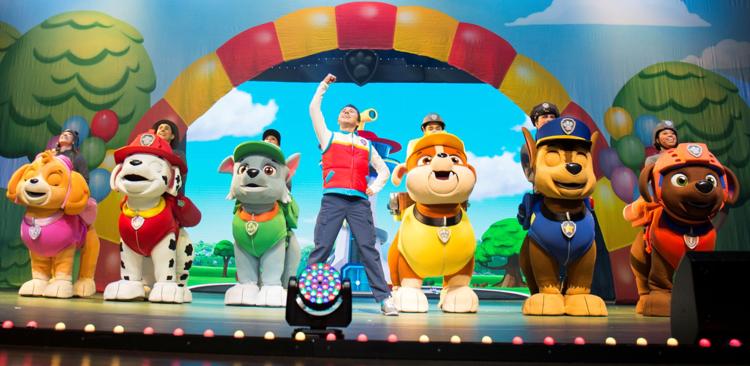 PAW Patrol Live! "Race to the Rescue," a musical adventure for preschoolers, uses an innovative costuming approach, Bunraku puppetry, to make the pups on stage look exactly as they are on Nickelodeon's top-rated television show, "PAW Patrol." But can technology enhance emotions?
The live show is coming to Fairfax's EagleBank Arena from Jan. 31 to Feb. 2. We spoke with actor Pen Chance about the show's costuming approach: "Every single costume is made a little bit differently. Just kind of like the pups are. They are different species of pups on the television show and so each costume is tailored just a little bit differently to them. For instance, Sky, since she's the Cockapoo, her costume might be just a little bit lighter in weight, and then Rubble, the bulldog, his might be a little bit heavier. But it takes a lot of training and many weeks of sweat and not necessarily skipping a workout because you go to work and that's your workout, just trying to get the controls of these puppets down because it's very intricate. It's very unique. But, I believe that it comes across very well. So, all the work our actors put in, you can really see it on stage.
How is this innovative costuming approach make a difference for the actors?
Chance: Well, literally because of our costume department's dedication, they look exactly like the cartoon characters. It just takes a different level of skill to be able to operate it. For instance, the front paws of the pups — those are our human legs. Then we're trying to get the timing right with the hands, so the pups' mouths can match what we're saying and it looks really unique, and there are small things that our company has learned that can make the biggest difference. Like, if you are bending your knees, that might just look like a human is squatting, but it's going to look like the pup is looking up. Or if you tilt your head one way a little bit to the right or left, it's going to mean something like a different tactic entirely for these characters.
Can actors still connect to their feelings while they are surrounded by all this advanced and overwhelming technology?
Chance: Absolutely, because I mean, as long as I've been acting, you go into the rehearsal process, and it's fine. You can tap into what you think the character is going to be like. But when you finally get into costume, no matter what that costume is, that's the final piece. For me, whenever I've put a costume on, I'm like, OK, I now get this character. I've been studying it for so long in rehearsals, but now that I have the costume, it's the final piece of the puzzle. And it's the same deal with PAW Patrol Live! Our costumes are just extensions of our characters and it really does help bring that energy to life.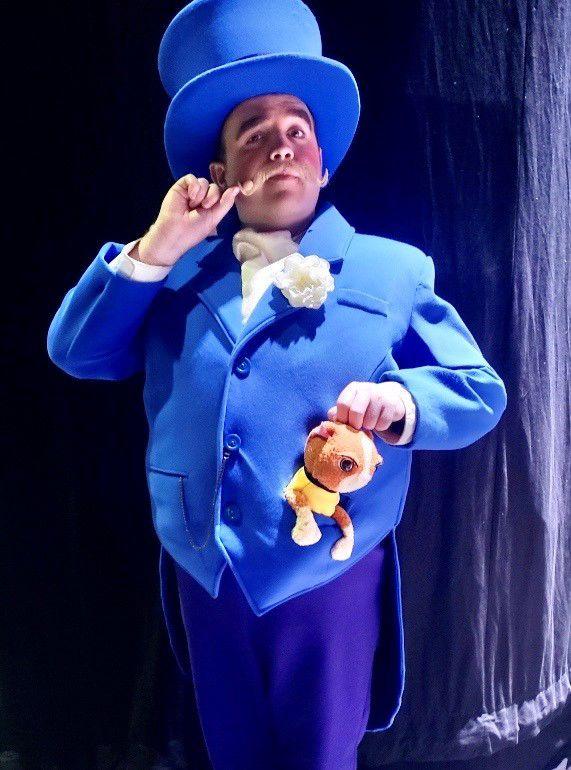 Chance, who worked as a teacher and an actor before joining PAW Patrol Live!, never expected a career in children's theater. He has been on tour for almost two years and loves every minute of it: "I will always remember one of my first times going to the theater; I was watching 'Wizard of Oz.' I was there with my school, and we got to sit in the front row. There was a part of the show where Dorothy, Scarecrow, the Tin Man and the Cowardly Lion had to run out into the audience, and the lion ran right in front of me, in the front row. I remember his tail; it kind of hit me a little bit. It bumped into my leg … I was thinking about his tail, like 'Wow, I actually felt the tail, and it was heavier than I thought it might be. I wonder what else is going on up there on stage, and maybe backstage, that I don't know about.' And that started my interest and my intrigue. And I would go to my sister's dance classes and eventually I said that I wanted to get more involved, and that was over 20 years ago, and I still remember that moment vividly," said Chance. "So, what I try to do every time we go out on stage is maybe recreate that moment for someone else. And we have so many opportunities: every single show, hundreds upon thousands, depending on how many kids there are that day. I like to say, if we can get at least one child asking, 'How did we do that? How did we make all this happen?' and it gets the wheels in their brain turning, thinking about maybe getting involved in the arts and having a bigger role in it in their community, that's a successful day at work for me."