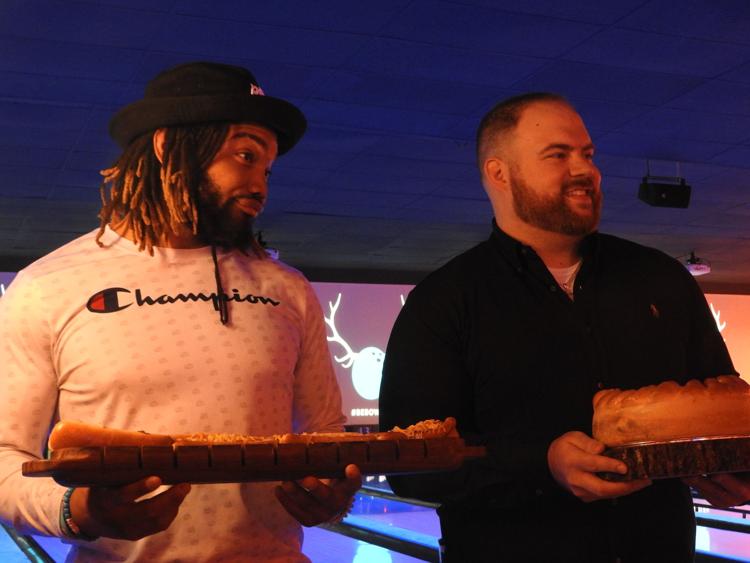 Derrius Guice bowls with controlled gusto.
Dressed in a white, long-sleeved Champion shirt, neon scarlet shoes and a black hat held onto his head by a drawstring, he approaches the foul line, cradling his ball in one hand, and slings the ball forward with an almost side-arm motion that sends it rolling in a rightward drift along glossy wood flooring.
Just as the ball seems certain to careen into the gutter, it hooks left and hurtles into the 10 defenseless pins positioned in an inverted triangle at the end of the lane — all of them scattering on impact.
A small red X above the pin deck lights up, and the Washington Redskins running back jauntily swivels back toward the lane's designated seating area, beaming.
The smile makes frequent appearances even when Guice has not just thrown a strike. It pops up while he lends his signature to a collection of bowling pins and miniature football helmets and later, when he takes photos, first with some food prepared by the bowling alley's staff and then with eager fans who have amassed on the other side of a cordon around his lane.
"Bowling's competitive, it's fun, and all ages can do it," Guice said when asked why bowling appeals to him. " … There's no restrictions or limitations on it. You know, it's fun. I'm a fun guy. I'm competitive. It's very competitive, and I'm still a big kid, and I like bowling, so it's just all components of it just adds up to who I am."
Though his name and face were the most recognizable, Guice was not the only person hoping to enjoy a game or two at Bowlero Annandale on Feb. 1.
Allen Morrison, the district manager for Bowlero's Beltway district, estimated that 1,000-plus people would attend the grand opening of Annandale's newest bowling venue, which offered free bowling and arcade plays to visitors from 11 a.m. to 2 p.m. that day.exhibit at MPA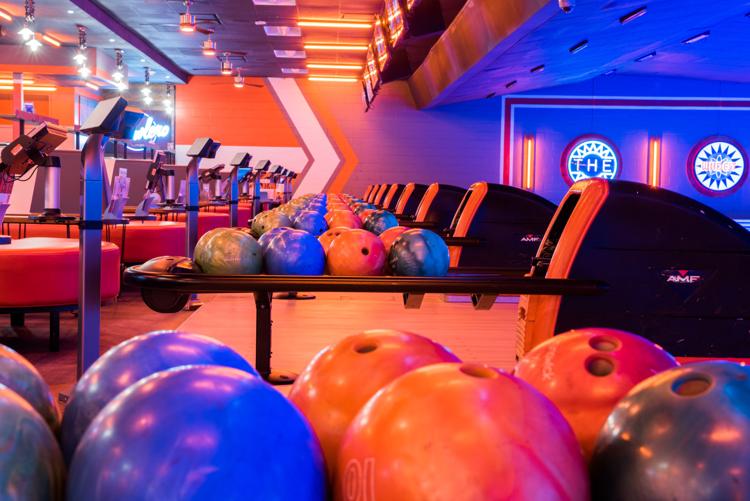 The latest addition to Bowlero Corp's roster of more than 300 bowling centers in North America, Bowlero Annandale is a revamp of AMF Annandale Lanes after the parent company decided to renovate and expand the existing building at 4245 Markham Street in 2018.
According to The Annandale Blog, the property had previously been considered for a mixed-use development project that would have turned the bowling alley into a 12-story apartment building with ground-floor retail.
While the Fairfax County Board of Supervisors approved a rezoning application for the proposal in December 2014, financing issues eventually sunk the Markham Place complex that developers envisioned for the 3.44-acre parcel before it could proceed past the planning stage.
The largest owner and operator of 10-pin bowling venues in the world, Bowlero Corporation was born in 2013 when the company Bowlmor Lanes acquired AMF Bowling Worldwide, which was the world's largest bowling alley operator until it filed for bankruptcy protection in 2012.
Initially called Bowlmor AMF, Bowlero announced in April 2018 that it would renovate AMF Annandale Lanes as part of a broader rebranding triggered by the adoption of the company's current name that January.
After about a year of planning and design work, AMF Annandale Lanes closed in May 2019 and underwent an extensive renovation that lasted seven-and-a-half months. Utilitarian fluorescent lighting and hard plastic seats bolted to the floor were ditched in favor of vintage light fixtures that cast a muted, neon glow and cushioned, sectional-style couches.
First introduced as a concept in May 2014 when Bowlmor AMF opened a new location in The Woodlands, Texas, Bowlero venues are designed to have a retro nightlife atmosphere with black-light bowling combined with arcade games, food options that range from the usual hot dogs and fries to tacos and salads, and a bar that serves craft beers and cocktails.
"We kind of have something for everybody here," Morrison said. "The arcade … is huge, and you know, the 5-years-old has just as much fun as the 35-year-old, and that's what we've been aiming for."
While it gave the building's interior a complete stylistic makeover, Bowlero ensured there would be some continuity with AMF Annandale by retaining 12 of its 25 staff members.
The new center has 100 hourly workers and seven managers, according to Morrison.
Boasting 48 lanes, 40 arcade games, and 41,000 square feet of space, Bowlero Annandale quietly opened its doors about a month before its official grand opening so that the staff could adjust and fix any operational issues that might have emerged.
Morrison says that, even though Bowlero did not advertise the soft opening at all, the response has been "amazing" so far with a steady stream of both newcomers and repeat customers.
In addition to being open for everyday retail guests, Bowlero Annandale hosts groups for events, including birthday parties and corporate events, as well as competitive bowling leagues, when the venue switches to white light.
The Annandale venue is the third Bowlero in the Washington, D.C. metropolitan area, following the establishment of centers in Centreville and Leesburg, though both Virginia and Maryland still have several AMF Bowling locations.
A fourth Northern Virginia Bowlero is scheduled to be introduced in two months in Crystal City.
For now, though, Morrison says Bowlero is just thrilled to welcome back Annandale residents after the bowling alley's extended closure.
"Annandale was a no-brainer for us. What a great community," Morrison said. "[It] has a really good neighborhood feel, but also isn't too far from the city as well, so there's a lot of volume, and we thought bringing something like this to this community would be huge for it."