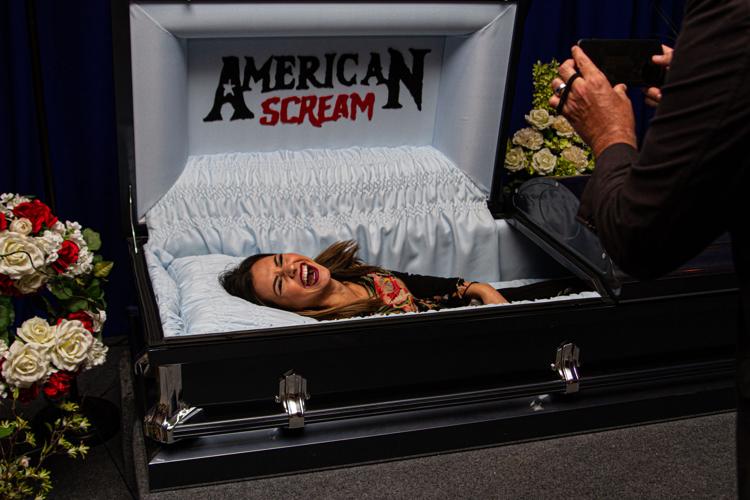 Inspired by other popular pop-up selfie museums in other cities such as the Museum of Selfies in Hollywood or the Museum of Ice Cream in San Francisco, Gravensteen Haunted Productions, a team of veterans 'Hauntrepreneurs' who have been doing haunted house attractions since 1998 and within the D.C. area since 2013, bring the first Halloween selfie museum to the D.C. area. The construction of the museum started in July and it took two months to design and build the handmade sets.
"The American Scream Selfie Museum will feature unique, interactive exhibits that will make you both laugh and scream, and the star of eye-popping selfies," said co-creator of American Scream Jon Libbesmeier. "Visitors of this seasonal pop-up activation can be the stars of their own horror movies."
When you enter the space, you can take a red-carpet-worthy photo with a zombie and then proceed to enjoy an array of custom-built, Halloween-themed sets that you can interact with, such as:
● Sitting on the Iron Throne and ruling the Seven Kingdoms.
● Visiting Warren's room of cursed artifacts that feature Annabelle herself.
● Standing in an ancient Egyptian tomb and facing the mummy.
● Entering a spooky witch's hut and seeing if you can survive her hex.
● Standing in the mouth of a horrifying, giant clown.
● Visiting a gruesome morgue.
● Sitting inside a real casket in a funeral home.
● Participating in a sinister voodoo ritual.
● Experiencing the dark night of the scarecrows.
● Challenging yourself to see how long you can stay in a twisted doll factory.
The space takes about 45 min to get through and folks are encouraged to snap away and fill their Instagram feeds. "There are no scare actors in the space; nothing will jump out at you like they do in haunted houses," assured Libbesmeier. "There are also signs indicating which rooms are extra creepy or classic horror film inspired rooms."