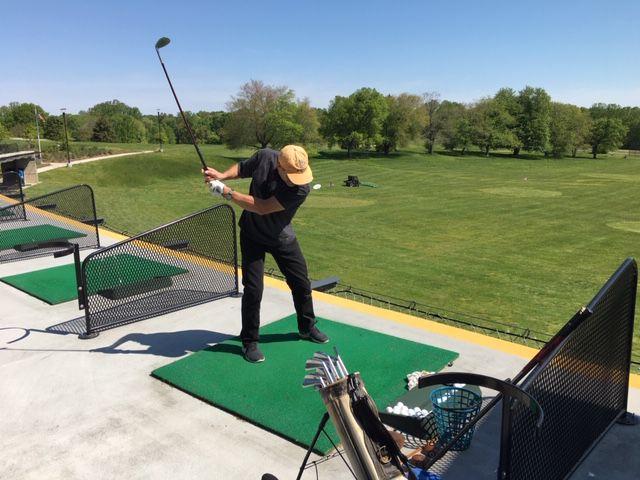 Fairfax County golfers are teeing off again at three county courses with four more scheduled to open today.
Burke Lake Golf Center, Greendale Golf Course, and Laurel Hill Golf Club reopened May 8. Pinecrest Golf Course and Twin Lakes Golf Course (Oaks) open today. Jefferson Golf Course, Oak Marr Golf Complex, and Twin Lakes Golf Course (Oaks) are slated to reopen May 22.
Lewis Musolf, manager of Burke Lake Golf Center, has monitored this closely. "We closed on March 16th, and started preparing to reopen on April 20th."
The staff has taken precautions, such as making the holes smaller and removing flags and rakes from the course. 
"We removed anything that a lot of people touch. We're sanitizing golf balls and carts," Musolf said. "These precautions will probably be around a few more months." So far, things have gone without a hitch.
Those who routinely play golf are elated to have their course back. "Everybody's relieved to get out of the house," said Billy Shepherd. "You get to see your friends that you haven't seen in 6 weeks." Fellow golfer Lawrence Wiedeman agreed, "Golf is my happy place, it's escapism from home."
Since the courses reopened, summer programs can occur with restrictions.  "We'll have our Father's Day tournament in June," Musolf said.
"We won't have a party in the clubhouse or share the leaderboard after the event," he said. "We'll share the results on Facebook Live."
Private golf courses remained open but had challenges. Springfield Golf and Country Club manager Bessam Medawar said they also took precautions. The restaurant and indoor facilities were closed. They removed anything that people repeatedly touch.
He also had people bring drinking water and keep their golf bags out of the locker room.
"We had to cancel some events in April and May," Medawar said. "We had to lay off 60 percent of the staff, but we kept the essential workers."