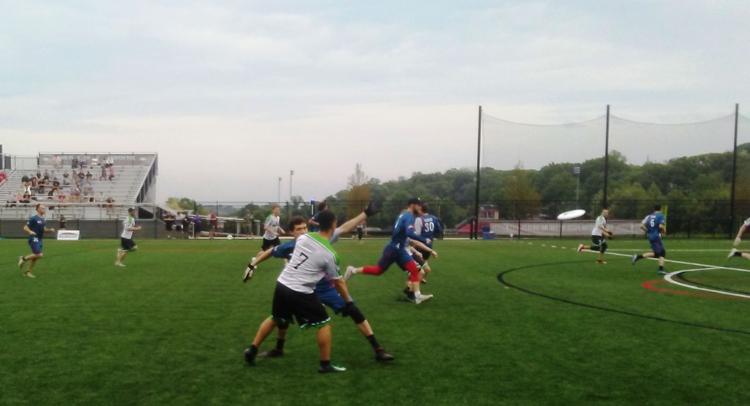 The DC Breeze had another home win last weekend, easily defeating the Ottawa Outlaws 24-15 at Catholic University.
DC now moves on to a solid 2-1 record and continues their dominance on their own turf. DC's offensive fireworks show started in the first quarter, speeding off to a 7-3 start. The defense was fairly impressive as well. The Outlaws had two goals in the first period, swatted away by a few members of the Breeze's defensive unit. The only time that Ottawa got anywhere near tying the game was when they were down 4-3 midway through the first period. DC would then score four straight goals between the late 1st and early 2nd period of the game. DC went into halftime with a comfortable 12-5 lead, including a diving grab by Max Cassell for the Breeze right before time expired in the first half.
Despite DC not being in any danger of losing beyond the 2nd period, Ottawa didn't go down without a fight. The 3rd period was a tense shootout between the two squads, with DC outscoring Ottawa 7-5, leading to a 19-10 game going into the final period. Both teams matched each other score for score in the final period, but there was nothing that Ottawa could've done by then.
DC's Head Coach Darryl Stanley was never sold on the prospect of winning until the last possible second. "As a coach, you always hope that your game plan will work," he said. "We always try to score as much as possible throughout the game. I was never sold that we would win until the game was over; nothing is a given."
There were many impressive scores for both squads and Ottawa's player Nick Boucher led the way for Ottawa, scoring 4 goals. DC's scoring was split between all the players. Everybody had an equal hand in beating the Outlaws.
Despite the strong output by DC, Stanley knows that there's a lot more to be done. "Hopefully we get better as the season progresses, because the opposition is always going to look for things to exploit." The Breeze will square off against New York, who beat them earlier in the season 21-18, thus setting up a possible revenge game for DC. When asked about what improvements need to be made moving forward, Stanley said, "We need to do better when we're close to the endzone; we've struggled with that so far. We gotta score when we get that close." DC's biggest challenge of this young season is about to come into play.