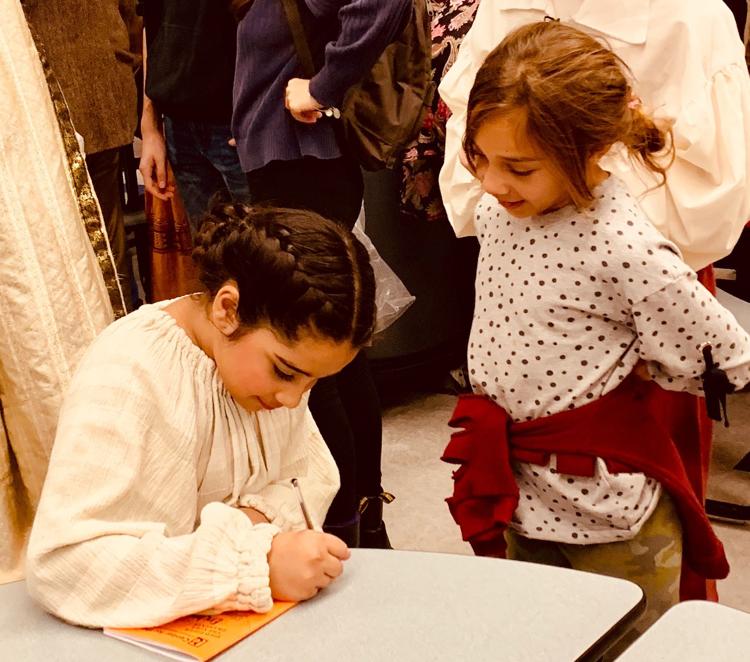 "As children sing joyful Christmas carols, three storytellers begin to tell the tale of an old man named Scrooge…." This is how the synopsis of Ford's Theatre "A Christmas Carol" starts.
In summary, Ebenezer Scrooge, played by acclaimed actor Craig Wallace, starts out as a man who is obsessed with money and does not care about people or Christmas. He does not even give his employees a day off on Christmas Day. As he is alone at his home, his old partner, Marley, appears as a ghost and informs him that three spirits will visit him that evening: Christmas Past, Present and Future, and warns him that this is his last chance to avoid what happened to Marley himself, who was punished for his greed by living as a ghost.
"A Christmas Carol" "was published in 1843. At the time, the celebration of Christmas waned for many as economic and social conditions worsened—a result of the Industrial Revolution. Rather than write a pamphlet on the injustices he saw around him, Dickens presented 'A Christmas Carol,' a story in which the redemptive power of Christmas overcomes the prevailing economic and social inequities of the time," according to Fords.org.
Written by Charles Dickens, adapted by Michael Wilson and directed by Michael Baron, "This 176-year-old play is a timeless reminder of our responsibility to our fellow citizens and the true spirit of Christmas," said Craig Wallace.
One of the memories that the Ghost of Christmas Past revisits with Scrooge is the memory of his older sister Fan who died many years earlier. She is telling young Scrooge to come home for Christmas. Fan used to love her brother and passed this love to her son Fred, who does not want to give up on his uncle.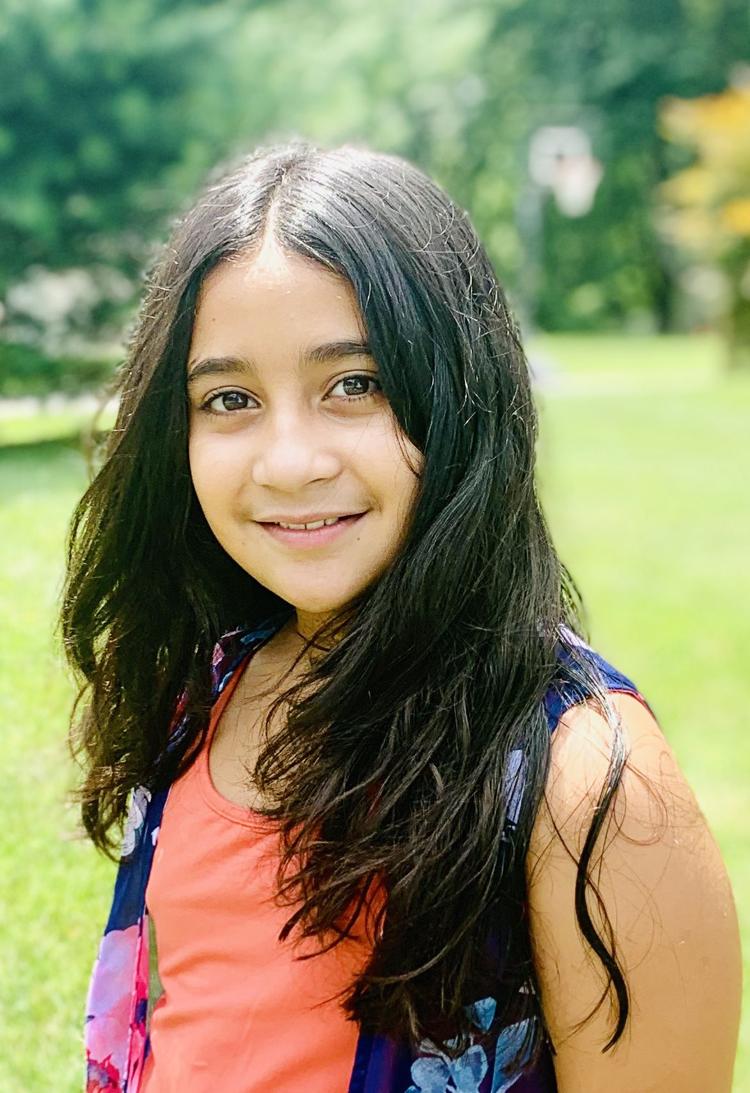 10-year-old Anoushka Sharma from Vienna is joining the young cast of "A Christmas Carol," playing Fan. We had this conversation over the phone:
This is your first big role in Ford's Theatre production. How did the theatre learn about you?
Anoushka: They had open auditions and that was one of the things I was auditioning for. So, I had to do a resume. It was very fancy. Yeah, I had to do, like, a resume and then they called us back and told us. So, I was originally auditioning for Belinda Cratchit, but somehow I ended up getting Fan.
So, you auditioned for different characters?
Anoushka: Yes. So, I wanted to be Belinda Cratchit and my friend, she was going to be Fan, but when I auditioned they wanted to see how I would be as Fan. So then, I got a call back for Fan, and my friend, she got a call back for Belinda.
What do you think of Fan as a character?
Anoushka: I really enjoy her because in the beginning, her title is rich girl. I really love money. So I kind of was really happy. She has very nice clothing. I really like the design of her, and I think she's very proper because, you know, she has a British accent. She's all dressed up.
I know that Fan is a kind sister, right?
Anoushka: Yeah.
Do you think of yourself as a kind sister?
Anoushka: Yeah, but sometimes I can be a little annoying to my brother.
Okay. When you play a character, what do you do? What skills do actors or actresses need to have?
Anoushka: Well, they kind of have to know what that character is like. So Fan, she's like ladylike and all proper. So she's like, grown up. She's a kid, but she's not an adult yet. So she's kind of in the middle and you kind of have to know how the character acts. Fan, she's calling for her brother because she wants to bring him home and she's all excited. You kind of have to know what that character is feeling at that moment. You kind of have to be with them.
Did you watch any other actors play the role of Fan?
Anoushka: I haven't watched the actual "A Christmas Carol," but I kind of know about the characters in it because I've read the books. There is this one book called "Once Upon the Sisters Grimm," and they have Ebeneezer Scrooge in it.
Do you celebrate Christmas?
Anoushka: Yes, I do. It's my favorite holiday out of all of them. I love it because I'm kind of with my family a lot and I'm not usually with them much because I'm at school and my mom's at work, and my dad's at work, my brother's at school. So, I kind of like how we have time to spend with each other.
Does practice take a lot of your time from school?
Anoushka: No, I mean it kind of does. It does take some time because there's a long drag because of traffic and stuff. We're carpooling with another character from the play. So, she'll be taking us home and we'll take her to the play by metro.
How many times do you go per week?
Anoushka: I have to go every single day, including weekends, except for Monday. Monday's the only day I'm free.
Really? It's not boring to do it everyday?
Anoushka: Nope.
Do you have any questions for me?
Anoushka: No, I don't.
For the 11th year in a row, "'A Christmas Carol' will devote time and energy to raising money for a Washington-based charity that is dedicated to eradicating homelessness, hunger and poverty…This year's charity is D.C.'s Bright Beginnings," Ford's Theatre announces in its press release. "Bright Beginnings operates early childhood and family learning centers for children and families experiencing homelessness in Washington, D.C. For more than 29 years, they have helped thousands of children and their families experiencing homelessness achieve self-sufficiency. Their centers offer full-day, year-round, developmentally appropriate early childhood education services for children birth to five [years old] at no cost to their families."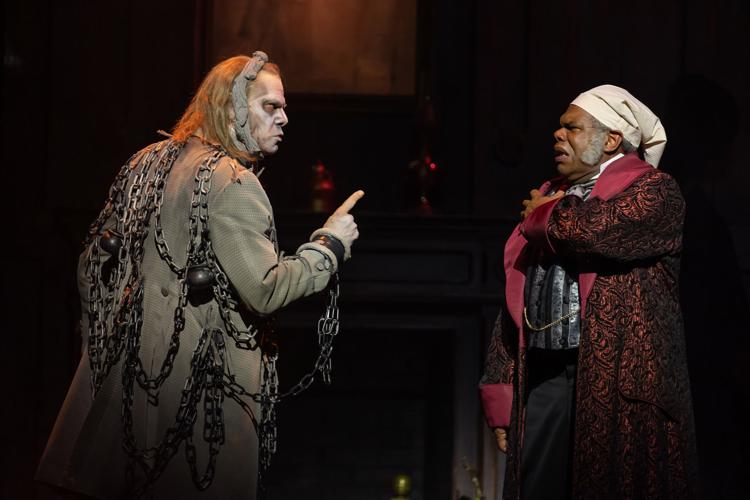 "A Christmas Carol" plays Ford's Theatre from November 21 through January 1. Tickets are available at www.fords.org.