The food disappeared almost as soon as Agora's servers brought it out.
There were platters of spinach-stuffed phyllo rolls and bowls containing different creamy dips and spreads, hummus and cacik yogurt waiting to be slathered onto puffy pita pockets on an adjacent tray. Toothpicks protruded from chunks of lamb, meatballs, and shrimp sautéed with olives, cilantro, and garlic.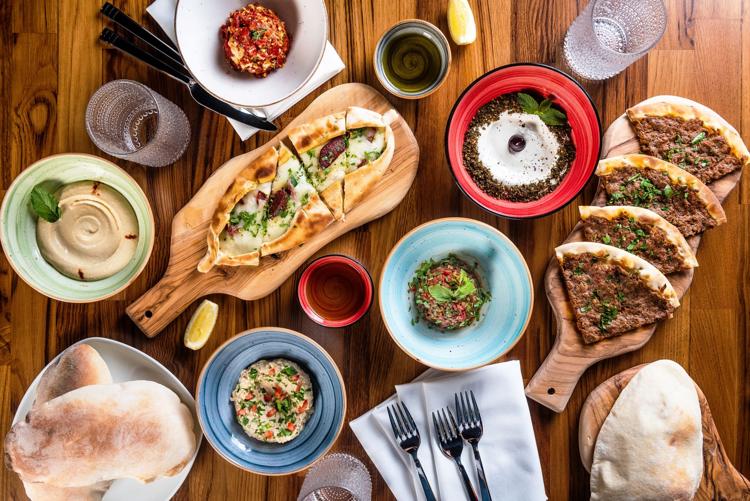 Hungry, curious patrons hovered around the buffet tables set up at the back of the Tysons restaurant and gobbled up every morsel.
Agora Tysons, the second location of a popular Washington, D.C.,-based Mediterranean joint, has been open to the public since July 16, but entry was more exclusive on the evening of July 25 as the restaurant hosted an invite-only grand opening celebration.
Situated in the Nouvelle complex on Westpark Drive, Agora Tysons boasts 4,000 square feet of space across two floors with a bar on both levels and an open kitchen by the entrance where customers can watch chefs prepare flatbread or slide sheets of pita dough into a brick oven.
The back rooms can be separated from the front and divided in half by doors when reserved for private events, though on the night of the grand opening party, they were open and cleared of all furniture aside from the buffet tables to accommodate the dozens of people in attendance.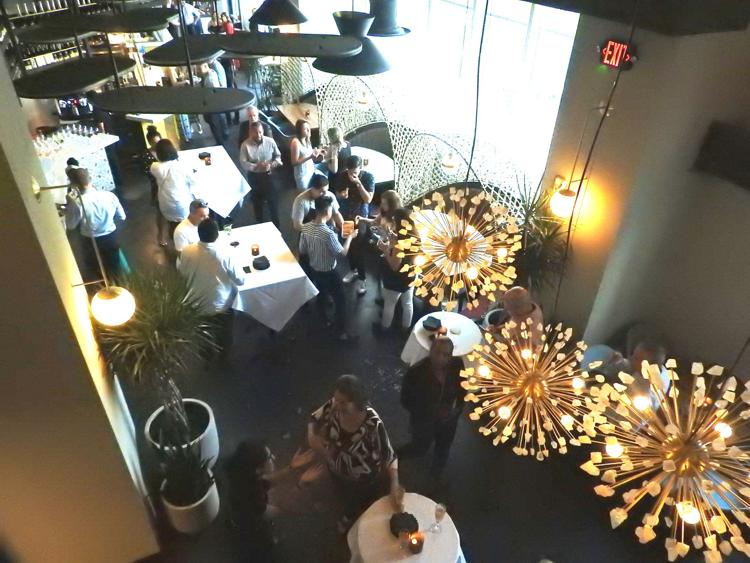 All of the restaurant's furnishings were imported from Turkey, the country of origin for Agora's owners, Ismail and Betul Uslu, a public relations representative informed the Fairfax County Times during a quick tour of the venue.
"Design-wise and everything, we could do whatever we want," Ismail Uslu said. "…Because we do serve Turkish food, Lebanese food, we wanted to show what is the decoration back home."
While Ismail and Betul Uslu were both born in Turkey, they took different paths to their current home in Alexandria.
Betul Uslu came to America about 30 years ago as a child when her father was stationed at the Embassy of Turkey for his job as a diplomat.
Her husband is a more recent immigrant, leaving Turkey 12 years ago for management training after being introduced to the food industry through the family farm where he grew up.
After meeting Betul, Ismail Uslu decided to stay in the U.S., and in 2010, he became general manager of Agora when founder Latif Guler opened the original location on 17th Street in D.C.'s Dupont Circle neighborhood.
With industry veteran and Lebanese native Ghassan Jarrouj in the kitchen as the executive chef, the Uslus helped turn Agora into a local favorite by offering an assortment of Turkish, Lebanese, and Greek cuisine, most of it as mezzes, or small plates, and by creating an environment that strikes a balance between comfortably rustic and trendy.
Agora's commitment to serving freshly made food also distinguishes it from other restaurants, even if that means dishes sometimes become unavailable before the day ends when ingredients run out, Ismail Uslu says.
The possibility of opening a second Agora had been on Ismail Uslu's mind for years, but making that dream a reality turned into a complicated process that ultimately took about two-and-a-half years due to the demands of finding a suitable location and getting all of the proper permitting.
The booming development that has cemented Tysons as an economic hub since the completion of Metro's Silver Line suggested the area would be a prime spot for Agora's expansion.
"We looked around to different locations, but Tysons really appealed to us," Betul Uslu said. "We felt like we needed to be around this area, and also in our D.C. location, we had a lot of customers asking us to come out this way."
About 70 to 80 percent of the menu will carry over from D.C. to Tysons, according to Ismail Uslu.
However, there will be some seasonal changes, and the restaurant's sous chefs, who are overseen in both locations by Jarrouj, also have the freedom to test run new dishes as specials before they are potentially incorporated into the menu permanently, depending on customer feedback.
After opening on July 16, Agora Tysons initially limited its offerings to a dinner menu available from 5:00 to 10:00 p.m. on Sundays through Thursdays with late-night hours until 3:00 a.m. on Fridays and Saturdays.
Starting July 29, the restaurant now serves lunch on weekdays from 11:00 a.m. to 3:00 p.m., and brunch will be introduced this weekend. The $39.99 "bottomless" brunch proved so popular in D.C. that Agora's flagship expanded into a neighboring building in December, according to D.C. Eatery.
While Betul Uslu admits she has "a bit of a disagreement" with her husband about the idea of adding even more locations, Agora's owners are both still driven by a desire to share good food and please customers even after running the restaurant for nine years.
Ismail Uslu says that getting to see people's expressions when they take their first bite of a dish remains the most rewarding motivation for him and Jarrouj, who, at 70 years old, still frequently surveys the dining room and makes inquiries if he sees a patron has not finished or is dissatisfied with their meal.
"It's a passion for us," Ismail Uslu said. "I love people eating. I love watching like people are having fun, and we wanted to drop that out here."