Tom and Trish Schroeder, the founders of Schroeder Design/Build, Inc., a Fairfax remodeling company, have completely transformed their own city of Fairfax home with a Frank Lloyd Wright-inspired take on open concept living, with an eye toward universal design and aging in place, and they are holding a special featured home event on Saturday, Sept. 14.
Schroeder Design/Build, Inc.'s founder, Tom Schroeder, has always been a fan of Frank Lloyd Wright, and it was during a visit to Fallingwater during the home's design process that he really became excited about incorporating aspects of Wright's work into the home. The finishing touches on the house were made in August.
"We wanted an open feeling from the front door through to the backyard; an open view concept," said co-founder Trish Schroeder. "Important Frank Lloyd Wright aspects to Tom were a contemporary look with very simple lines and a horizontal focus."
To get the feeling of a large, great room, the couple added a 16' clear story addition lined with windows, and 8' slider doors leading out onto the patio and backyard.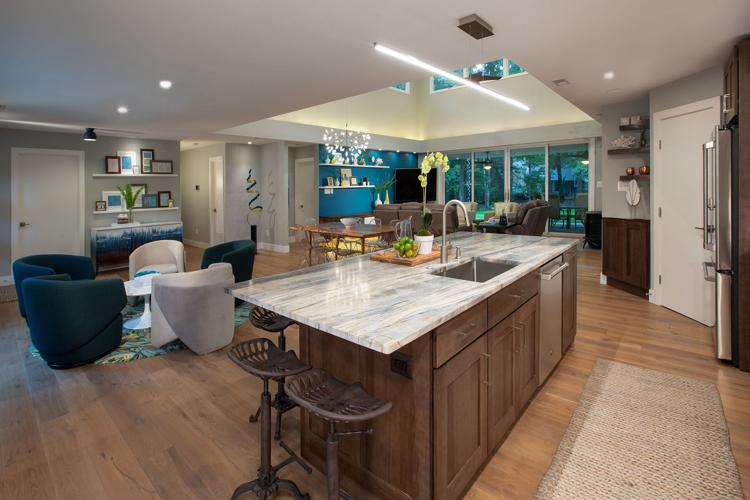 Examples of aspects of Wright's work in the design of the home include architecturally-interesting rooflines that meet at precise angles -- combining the new garage, the old garage, and the house rooflines was a difficult design challenge -- a cantilevered wall of cabinetry and shelving with underlighting that reminds the owners of Fallingwater, the use of natural elements like stone in the design, the beautiful wavy ceiling of the back patio porch that was designed and built by Tom, FLW-style ceiling fans and more.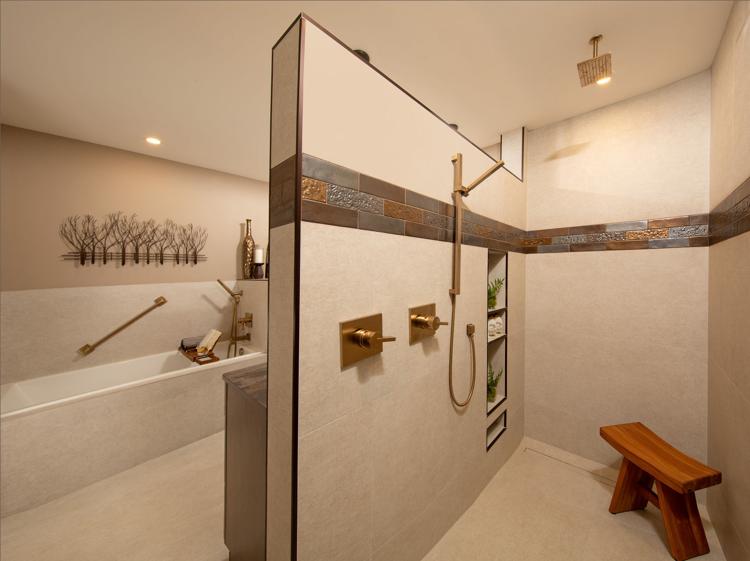 Those interested in learning about aging in place and universal design concepts can get ideas for their own homes and talk to remodeling experts who will be on hand during the event. Some of the universal design ideas used in the Schroeders' remodeled home are:
● No-threshold doorways.
● No-threshold master shower. The shower is a stunning feature that is very large (enough to hold a wheelchair), with a roll-in capability and no door.
● Materials had to be very functional. Trish is an active chef and wanted materials that didn't absorb oils and were easy to clean.
● Non-skid tile flooring in the master bath.
● Deckton resistant countertop in the master bath that is virtually indestructible.
● Rounded edges on countertops.
● No steps; easy access to any door in the home. Widened doorways in the house to 3'
● Lever knobs.
● Lowered countertop in the kitchen to accommodate Trish's height. "Usually there is 18' between the countertop to the cabinet. We installed the cabinets at 15" so I could reach the second shelf on the cabinets. This was a key part of making the kitchen functional for me," Trish said.
● Grab bars in the master bath.
● Accessibility to the drawers in the kitchen; pull-out drawers on the large kitchen island that are functional for aging in place. "You're not opening drawers and leaning or bending down. Everything is very accessible," Trish said.
● Plenty of space with the open concept that would be easy to traverse if one was in a wheelchair.
● Self-closing hinges on the doors that gently closes them as opposed to being slammed.
● Easy-to-reach shelving units.
● Heat-resistant kitchen countertops with beveled edges.
● Adequate lighting.
● Anti-scald devices on kitchen sink and water systems; single-lever faucets.
The open house event will take place at 4142 Orchard Dr., Fairfax from 3 p.m. to 6 p.m. RSVPs can be made at https://blog.schroederdesignbuild.com/featured-home-remodeling-event. The event is free and light refreshments will be served.