"Being a musician makes you a better doctor and being a doctor makes you a better musician. Do you agree?"
"Yes, they both deal with the heart."
This is how I started my conversation with local country musician and Mount Vernon cardiologist, Dr. Cleveland Francis, one of the few African American musicians in a genre that is sometimes criticized for being predominantly white.
"That's still one of the problems with country music, it's basically still segregated and there is only one [African American] man who is in the history of country music, Charlie Pride and now a little bit, Darius Rucker; I am not sure he is still in the industry anymore…it's unfortunate because the music did come from both black and white cultures. There is no reason for it to be separated like that … I am quite an established singer, I got put on Capitol Records for three years, but I could not get the radio to play [my songs]."
Dr. Francis released a number of songs and albums in the '80s and '90s that charted on the Billboard country music charts, and he now performs annually at The Birchmere.
I was introduced to Dr. Francis through WETA, the public broadcasting station that is producing short video segments on local country musicians and country music supporters. Local Emmy-award winning producer Mark Jones, who is producing, directing and editing several of the videos, just finished one segment on Dr. Francis: "… He was really, as he put it, the face of country music, as far as African Americans were concerned, for several years. The history of African Americans in country music is a story that has not probably got its just view," said Jones. "The art form is generally, I think it's safe to say, it's predominantly a white genre, and so the fact that he was pursuing this opportunity in the '90s, which was a period of tension, as were some other periods in our nation's history."
The purpose of producing these short video segments on local country musicians is to attract viewers to the eight-part, 16-hour documentary "Country Music," which will premiere on Sunday, Sept. 15 at 8 p.m. on WETA TV26/HD and PBS stations nationwide.
Directed and produced by Ken Burns, the film took eight years of work to make, and includes 175 hours of interviews. It is described as "a story of America, one song at a time," but Francis says it falls a little short in its telling the story of African American country musicians.
"What is happening with that Ken Burns documentary is that they kind of determined the narrative," he says. "When I was in Nashville, I went to the Country Music Foundation, and they said, 'Not a lot of black people come to the [Country Music] Hall of Fame [and Museum].' I said, 'Why would they? There is no representation here of us.' So, we started working on this project … for a whole year, and finally put this thing out; it is a 3-CD box set, 'From Where I Stand,' which [included recordings by]…all the black people that tried to make it in country music--and some of them were quite successful … You're born with this God-given talent and if you got to put it through another sieve, like, well, you're the wrong color. How many songwriters or how many great singers we're never going to hear, but that's the genre that they like."
"I didn't fake this out," Francis decrees, "I grew up in southwest Louisiana, it's rural, and all I heard was country music and bluegrass and zydeco and blues, so I became a musician out of where I was from. We were dealing with these guys that are white guys from New Jersey and New York with cowboy hats...so, I think I had just as much right to be there as they did."
Q: It looks like there is a lot of resistance and pressure that makes people give up, but in your case, you didn't try to choose another genre.
Dr. Francis: Well, not really, like right now, I'm actually going to concentrate on jazz music, vintage. I'm from Louisiana and all that New Orleans and stuff like that was a lot of jazz, so I grew up around that, so I'm exploring some things there. But, I'm going to also sing country folk blues.
Eventually, I would like to write a book ... which I think is going to be a good pathway for people who don't have money. See, money is not the issue here, you have to have the will in your heart, and you have to be defiant that nothing's going to stop you. When I did my music, when they wouldn't let me into the industry, I kept singing, I didn't quit. I came out and did my own CD, "Cleve Francis Live at the Birchmere," I did my own CD, and I'm still doing music. I will record again eventually.
Q: In the age of the internet, I think there should be a way to challenge the country music industry.
Dr. Francis: Oh yeah, everything will be challenged, but I think people have to continue to not give up. If they're interested in this acoustic music and they play guitars, I've seen very few black kids playing with guitars. I mean acoustic guitars where you sing and when you do hear it, it's a treat ... But, you should feel welcomed doing that. You shouldn't feel like it's a cop out if you play the guitar, or you're singing these kinds of songs.
They sort of force all black people into funk music, like you got to be jumping around and you go to a party and it'd be like you look at one of the black guys to dance. But, you're cheating these talented folks and forcing them into genres that they don't really want to go into.
If you had the tools that are available today, how would you use them to market yourself?
Dr. Francis: I would go and I would record my music. My advice to [the younger generations] would be to get a good studio, or even a home studio, get a very good microphone. And if you have some songs, just record them, and then upload them to YouTube. That's the media people are going to now. They'll either subscribe to you, and there's got to be some financial benefits for doing that, but I tell the young artists, just go in and sing. If you sing at a local club, sing; sing very well, you never can tell who is going to walk in, or what's going to happen. But, just hone your skills, improve, take voice lessons, music lessons, whatever you need to do, but be the best that you can be.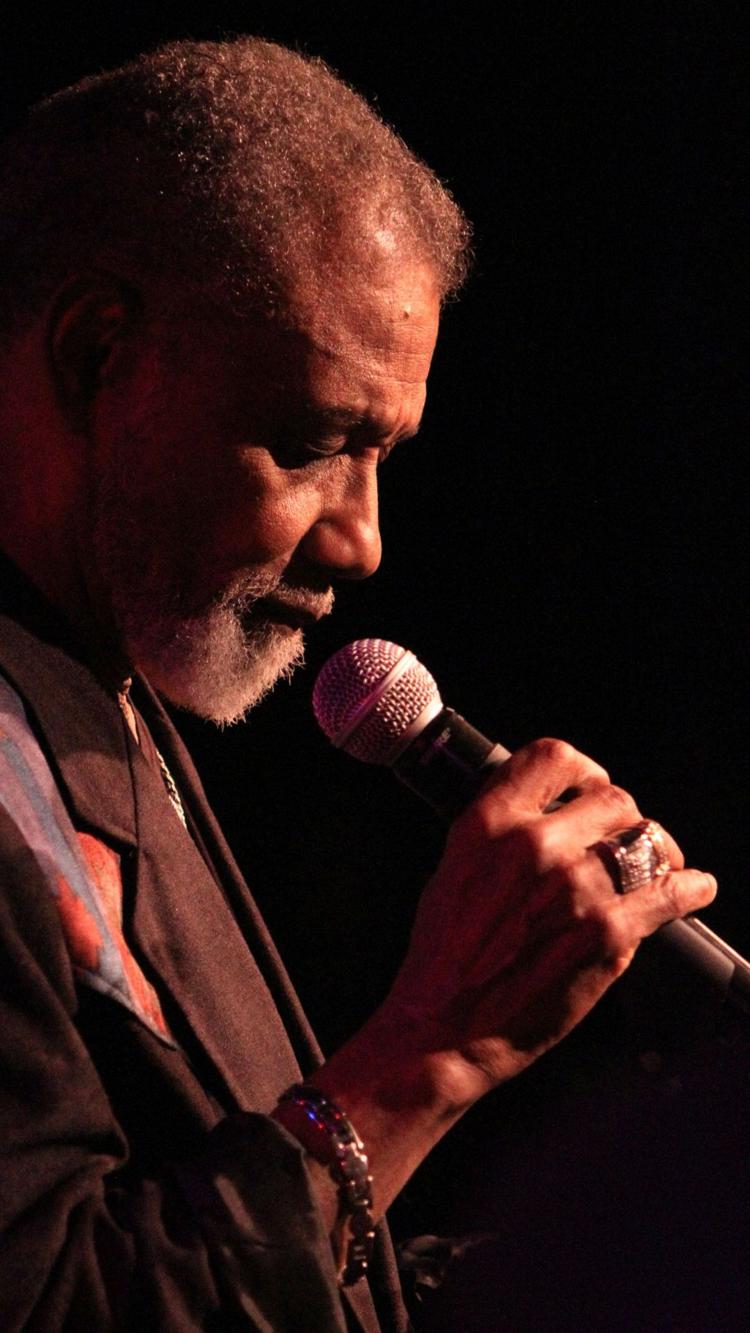 Dr. Francis started singing and writing songs at the age of nine. He was discovered by his mother:
Dr. Francis: I made a guitar out of a little cigar box, and she told my father, she said, "I think this kid is interested in music, we need to try to get him a guitar." She saved quarters for a whole year to raise enough money to buy me a $25 Sears and Roebuck guitar, Silvertone Sears and Roebuck. And she told me before she took it out of the box, she said, "Now, I got this guitar for you, but if your schoolwork starts to fade, I'm taking it."
When he attended Southern University, Francis' professor, Dr. Huel Perkins, the head of the music department, also noticed his talent. Impressed by his musical abilities, Dr. Perkins bought Francis a new guitar. "He set me up for my first concert before a hundred music majors at Southern University. And he told me, he said, 'Don't ever stop playing this guitar.'"
Francis kept his musical skills at a professional level, and one day, while he was treating a patient with a heart attack, the golden opportunity of being signed to a Nashville record company knocked on his door. "His [the patient's] brother was in the music business, and one thing led to another where the information about me got all the way to Capitol Records, and I got signed." Francis quit his job as a cardiologist and toured the country for three years, but he was not able to reach the national level because he faced resistance from country radio stations.
"The internet has come about and if people Google Cleve Francis, or they go on YouTube, the beauty of it is, all of my music is there. The music they never heard is on that," said Dr. Francis.
WETA's video feature on Dr. Francis, entitled "The Singer Scientist," can be seen here: https://watch.weta.org/show/country-music-washington/
Dr. Francis is thankful for taking his journey as a country musician regardless of the resistance he faced. I think his confidence and strong belief in himself made this long and lonely journey tolerable. He is a trailblazer, and I hope that his coming book will give the next generations great insights into breaking barriers within the country music industry.