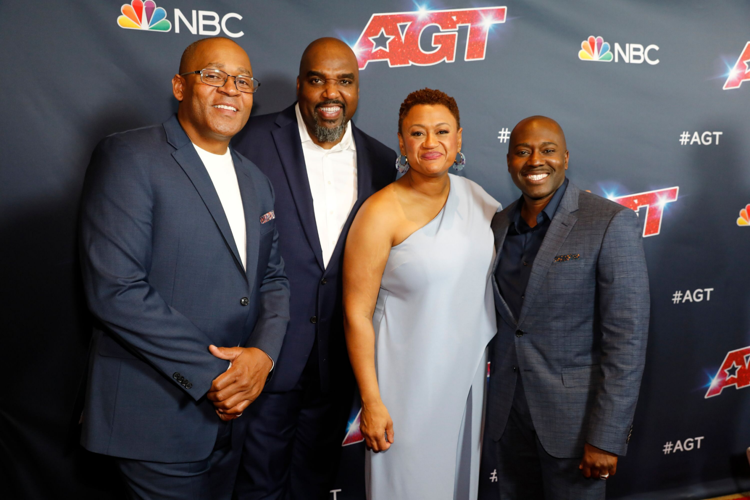 The Grand Marshals of the 29th annual Reston Holiday Parade will be Voices of Service, top ten finalists on the popular NBC network show, "America's Got Talent" (AGT).
Voices of Service is an acapella ensemble of veteran and active duty military members who perform for support, therapy, love for music and pure entertainment. The inspiring group will be represented by members Christal Rheams and Caleb Green who will be chauffeured in convertible sport cars to lead this year's Reston Holiday Parade.
The group leapt to fame with their voices that "move souls" and out of ten finalists that performed in AGT's 14th-season finale in September, they received fifth place.
Voices of Service has become the most well-known faction of CAMMO, the Center for American Military Music Opportunities, based in Fort Belvoir, Virginia. Caleb Green is also known as the anthem singer for the Washington Capitals.
Fairfax County Times reached out to Green with some questions:
What made you think of starting the Voices of Service and how does it provide music therapy to veterans with post traumatic stress disorder (PTSD)?
Green: Voices of Service was formed under the Center for American Military Music Opportunities (CAMMO).
The Center for American Military Music Opportunities was founded in 2009 when Cathie Lechareas and Victor Hurtado recognized specific challenges that some of our veterans and active duty service members face. After Cathie Lechareas and Victor Hurtado met for the first time to discuss their vision of a thriving music artist community made up of veterans and service members, the path was laid for what was certain to become rewarding benefits for troop artists today. They envisioned the creation of a military music community that would focus the world on America's most musically and technically talented service members.
Music artists with a history of serving their country in the military were not receiving the artist development needed to succeed in the industry. Veterans interested in pursuing music industry careers in production, recording, management and other related music careers were typically not given the opportunity to get trained and learn in these professions.
CAMMO is ready to bring the voice of the American veteran and service member to America and the world, through music.
Why did you decide to join America's Got Talent (AGT)?
Green: We auditioned for AGT about 1 year ago. Honestly, we didn't know we were even being considered for the live audition phase. We were determined to focus on it, if we got an opportunity. There was really no way to know we had a shot. You see and hear many other contestants, but we were excited to just do what we do.
What do you think of the experience?
Green: AGT was an incredible experience. We were already close as performers but we were galvanized through all of the challenges that were presented to us in the live television genre. We learned so many valuable nuggets to help us hone our musical craft. Also, I feel we were never less than authentic in our voices, message and our mission. There are only so many opportunities to be on a stage like it and we feel that we represented our military heritage, and our organization, CAMMO, positively through our purpose and passion in the highest possible manner. Our message is one of hope, inspiration and healing and I feel it resonated greatly with America.
What is next for Voices of Service?
Green: It's impossible to know what the future holds, however, if the Lord allows, it will be very bright … We want to continue to inspire anyone who's on a recovery journey and to broaden or proliferate their personal thresholds of resilience towards healing and helping their neighbors to do the same.
What should we expect at the Reston Holiday Parade?
Green: The Reston Parade offers us the opportunity to say hello to our community and to be connected with our supporters. If possible, we'll probably take some photos and enjoy the festivities planned for the day. It's not about us, but our community.