Christmas came three weeks early for 7-year-old Olivia Greider.
The Centreville resident was surprised with a series of gifts, from stuffed animals and clothes to a penguin-shaped suitcase, during a Wish Wednesday celebration held at Macy's at Tysons Corner in McLean on Dec. 4 as part of the department store's partnership with the Make-A-Wish Foundation.
Olivia's most important present, however, could not be contained in a plastic Macy's bag or a box embellished with wrapping paper and a ribbon.
Make-A-Wish Mid-Atlantic publicly announced on Wednesday that it has granted Olivia's wish to see the Penguin Parade on Phillip Island in Australia, making her and her family the latest beneficiaries of the nonprofit's efforts to fulfill the dreams of children with critical illnesses.
"We had no idea what to expect," Olivia's mother, Sarah Greider, said after the celebration at Macy's wound down. "I sort of thought we were going to come in and they were going to take a couple of pictures, and today was super fun and really incredibly generous and lovely, and the fact that they're sending us to Australia is totally nuts. I still can't believe it."
First diagnosed with leukemia when she was 3, Olivia completed two years of treatment only to experience a relapse five months later when she was 5. She underwent a bone marrow transplant about 18 months ago.
It has been a challenging few years for Olivia's whole family, which includes her parents and an older brother, and there were times when they worried she might not survive, says Greider, who still struggles to put the ordeal into words.
Make-A-Wish strives to be a source of comfort and inspiration to children just like Olivia.
Formed in 1980 by a group of Arizona public safety officers, the Make-A-Wish Foundation uses donated resources to grant wishes to children between the ages of 2-and-a-half and 18 who have a progressive, degenerative, or malignant condition that has placed their life in jeopardy.
Make-A-Wish Mid-Atlantic vice president of marketing and communications Tara Wilson-Jones says, contrary to a common misperception, wish recipients do not have to be dying.
All eligible children are guaranteed to get a wish fulfilled, and they typically get referred to the nonprofit by parents or a medical professional, or by reaching out themselves.
"Essentially, two trained volunteers go out. They meet with the wish child, and the wish child tells us what their one true wish is," Wilson-Jones said. "Then, we get to work with the community, and our wish coordinators put a wish together."
Wishes range from gifts like a toy or pet and trips like the one Olivia will take to Australia to meeting celebrities and giving back to the community. For example, one local boy recently opted to donate 22 PlayStation consoles to the oncology unit where he received treatment, according to Wilson-Jones.
The Greiders originally contacted Make-A-Wish through her oncologist when she was 4.
Olivia has long harbored a love of penguins, to the point where she started accruing a collection of the animals in plush form because people kept sending them to her when she was hospitalized.
So, when the foundation determined that she was eligible for a wish, Olivia decided that her stuffed penguins should meet their real-life counterparts.
Located off Australia's southern coast near Melbourne, Phillip Island is a popular tourist destination partly due to Phillip Island Nature Parks' daily Penguin Parades, where hundreds of little penguins waddle back to shore at the conservation's Summerland Beach every sunset after spending the day fishing.
At approximately 33 centimeters tall, little penguins are the smallest penguin species and breed in colonies along the southern coasts of Australia and New Zealand with an estimated 32,000 breeding adults located on Phillip Island, according to The Penguin Foundation, which supports research, conservation, and education to protect the island's natural environment.
The prospect of visiting Phillip Island and seeing the penguins has Olivia giddy with excitement.
"I thought I have so many penguins, so I should take them to their home," Olivia said.
Accompanied by her parents and brother, Olivia will fly to Australia on Dec. 10 for a two-week trip with all expenses, including food, airfare, and accommodations, covered by Make-A-Wish Mid-Atlantic.
Arranging the trip required not only working with Olivia's medical team to ensure that she is stable and healthy enough to travel, but also raising the necessary funds, which the foundation does entirely through individual and corporate donations.
While Make-A-Wish has an international presence, it is composed of dozens of independently chartered nonprofit organizations that serve localities throughout the U.S. along with nearly 50 countries total across five continents.
Each charter organization depends on local volunteers and fundraising and serves local children, according to Wilson-Jones.
Macy's has been a crucial partner since 2003, donating more than $122 million to Make-A-Wish.
The department store chain introduced an annual Believe fundraising campaign for Make-A-Wish in 2006, donating a dollar up to $1 million for every letter to Santa that customers write and drop off in a Macy's store.
The campaign, which lasts this year from Nov. 4 through Dec. 24, has raised more than $19 million for Make-A-Wish over the past 13 years, allowing the foundation to grant more than 14,500 wishes.
"Every dollar we raise, it goes directly to our wishes," Wilson-Jones said. "So, having a long-term partner with Macy's, which engages the community and allows people to support wishes, is literally the only way we're able to do the work we are, so we're so grateful."
As part of its Believe campaign, Macy's stores around the country host weekly Wish Wednesday events between Nov. 6 and Dec. 11 that celebrate a local Make-A-Wish recipient as they get their wish fulfilled.
When she arrived at Macy's on Dec. 4 for her celebration, Olivia was greeted by Make-A-Wish Mid-Atlantic president and CEO Lesli Creedon, Macy's Tysons Corner store manager Darran Whitlock, and local volunteers who lined the store aisles and cheered.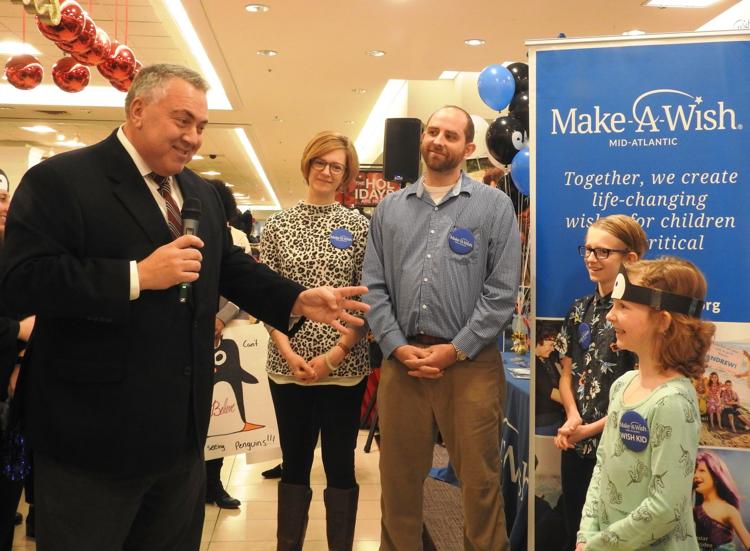 Ambassador of Australia to the United States Joe Hockey was on hand to congratulate Olivia and lead her on a scavenger hunt to find presents placed around the store.
"Your family is so lucky to have you, and we are too," Hockey told Olivia. "Thank you for inspiring us. Thank you for showing us what courage is."